When the nights turn cold and early darkness has really set in, quick and easy meals tend to appeal to me. Recently, it was particularly freezing (by California standards) and I just wanted to race home and cook dinner from whatever I had in the fridge and pantry.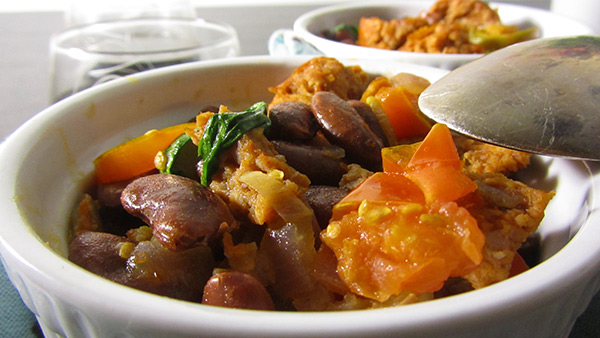 I found a package of spicy Italian sausage from Framani (fully cooked), some arugula, a few cherry tomatoes, and a hot chili- which equaled dinner to me. I have to say that my husband loved this dish in a way that I wasn't expecting.  He kept calling it upscale bachelor food and called it almost Japanese in it's pared down simplicity. I don't know that I would go that far, but I totally agree that almost any bachelor would love this (or non bachelor) and moreover, any one could make this for a simple hearty weeknight supper.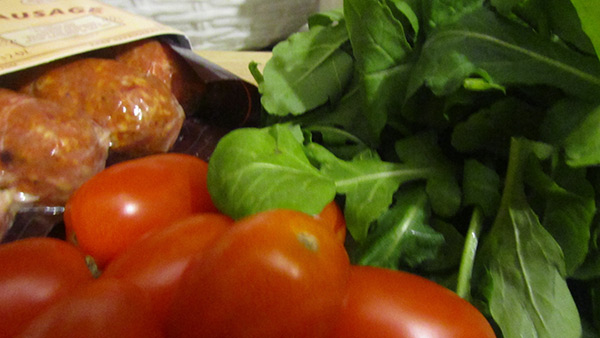 INGREDIENTS
2 spicy Italian sausages- casings removed and cut into chunks
1 cup of baby arugula
1 can of red kidney beans (rinsed and drained)
1 cup cherry tomatoes sliced in half
½ onion diced
1 spicy chili seeded and chopped (optional- or you could use red chili flakes)
1 clove of garlic- minced
½ tbsp olive oil
2 tbsp white wine
salt and pepper
INSTRUCTIONS
Sauté onions in olive oil in a heavy bottomed saucepan or dutch oven over medium heat for about 5 minutes or until they soften and gain a little color
Add sausage & garlic and sauté for another 3 minutes or until sausage pieces gain a little color
Add beans, chili, and cherry tomatoes and cook for 3-5 minutes, stirring often.
Deglaze the pan with the white wine, add the arugula, toss well and cook for another 2 minutes.
Season and serve. You can add a bit or parmigiano reggiano, but we ate it without, and it was delicious.