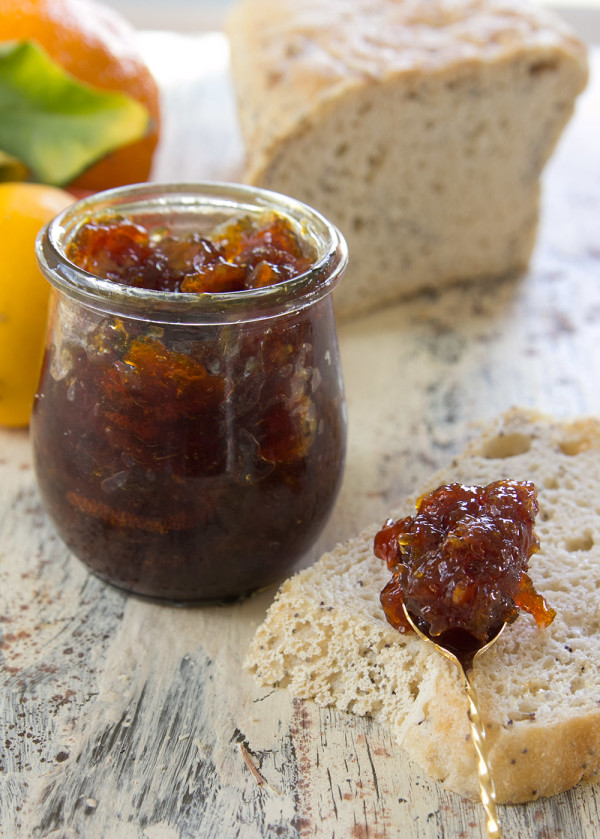 Warm café au lait, raisin toast kissed with salted butter, and topped with marmalade— this was the weekday breakfast at my grandmother's house. The smell of toasty cinnamon raisin bread would coax me awake.The promise of "chunks" and hot coffee for dunking lured me from my cozy bed.
At home, I eschewed marmalade in favor of my dad's preferred strawberry jam. Somehow, the marmalade was always better at my grandmother's house. It was sweet and tart and excitingly bitter to my young palate. At my grandmother's house, I wouldn't have dreamed of choosing any jam other than marmalade.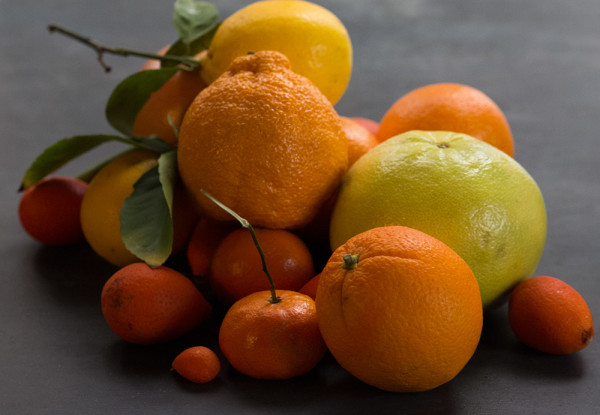 It's been more than 30 years since my grandmother died, but all it takes is the whiff of cinnamon and marmalade to bring me back to that big table. It is remarkable how quickly I'm transplanted to a time when my feet dangled and my head was far below the apex of tall-backed dining room chairs.
When I set out to make this batch of blood orange marmalade, I was unprepared for the flood of emotions that struck me as I smelled it bubbling away on the stove. Scent and memory are intertwined in our brains and I am so grateful for the memories of marmalade and raisin toast and coffee and love.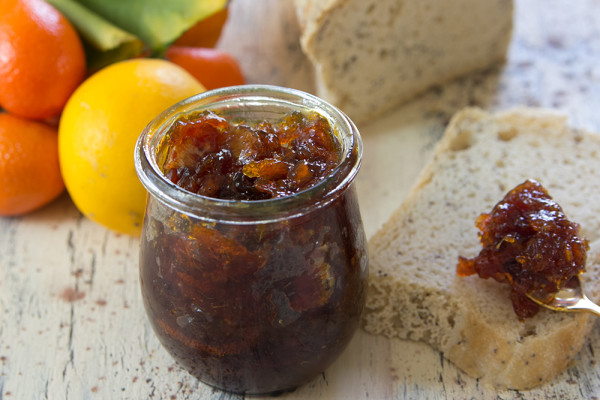 Honey Sweetened Blood Orange Marmalade
I hope you'll enjoy this recipe for honey-sweetened blood orange marmalade. It's gluten free & paleo-friendly. The traditional way of making marmalade means soaking and blanching the orange peels to take away the bitterness. I wondered what would happen if I avoided the bitter white pith in the first place. I hypothesized that removing the pith would allow me to skip the blanching and the waiting. That hypothesis was correct.
This blood orange marmalade is so much quicker than the traditional recipe and still shines with the sweet, tart, bitter notes that I love in a great marmalade. It is fantastic on raisin toast and mind-blowing on a crostini with goat cheese, rosemary, and black pepper. I even paired it with a piece of cold roast chicken to great success.
For this recipe, you can mix and match any kind of citrus, though if working with grapefruit or lime, I recommend tempering those sharper flavors with sweet oranges like cara cara. Also, if you're using grapefruit or lime, go gentle on the peel of those fruits. You can always add more. I have made this marmalade with vanilla bean, with black pepper, and with rosemary. All are equally delicious.
Here's a little refresher on how to segment citrus.
¼ cup blood orange peel, white pith removed

3 lbs blood oranges segmented and juiced

1 large meyer lemon segmented and juiced

1 ¼ cups honey

1 vanilla bean (optional)

pinch of salt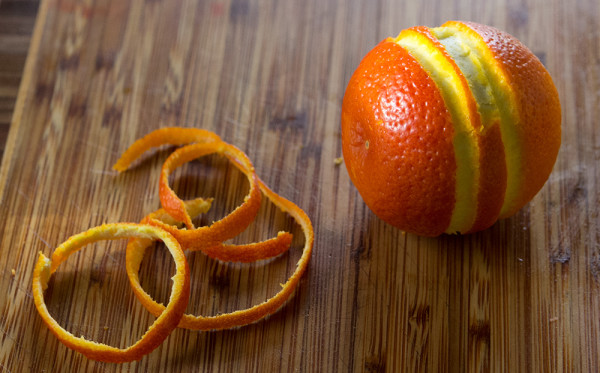 Add all ingredients to a heavy-bottomed sauce pan and bring to a boil over medium low heat. Reduce heat and simmer until the liquid is mostly evaporated and it easily gels when it hits a cold spoon (about 40 minutes)
Here are some gorgeous recipes using blood oranges
Candied Citrus 
Beet and Citrus Salad with Kale and Pistachios
Blood Orange and Blueberry Macaroons
Roasted Salmon with Citrus and Fennel
Small Batch Blood Orange Marmalade
Vanilla Bean Panna Cotta with Blood Orange Gele