The weather continues to get chillier, and for me, that means soup, specifically, hot spicy soup. I've always had Pozole Rojo with fatty juicy lovely bits of pork preferably chewed off the bone, but recently we were hosting my sister and brother in law. My sister in law is gluten-intolerant, pregnant and a little squeamish at the moment about some foods, and my brother in law is Jewish and doesn't eat pork. Here is my version of the amazing dish called pozole that (hopefully) honors the traditional pozole verde but also honors my family.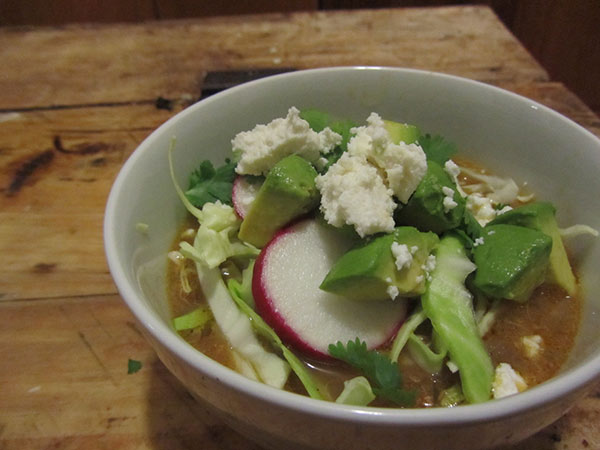 INGREDIENTS
1 cup hominy
3 quarts homemade chicken stock
3 chicken legs with thighs
1.5 lb tomatillos
4 large pasilla chiles
1 link chorizo—casings removed (I used beef chorizo)
1 large onion
4 chiles de arbol or serrano
epazote*
cilantro
salt
pepper
SOUP TOPPINGS
Cabbage- shredded
Radishes- sliced
Chiles- finely minced
Cilantro- roughly chopped
Avocado- diced
Lime wedges
Requeson- (available at good Latino markets- queso fresco or strained ricotta would also work well here)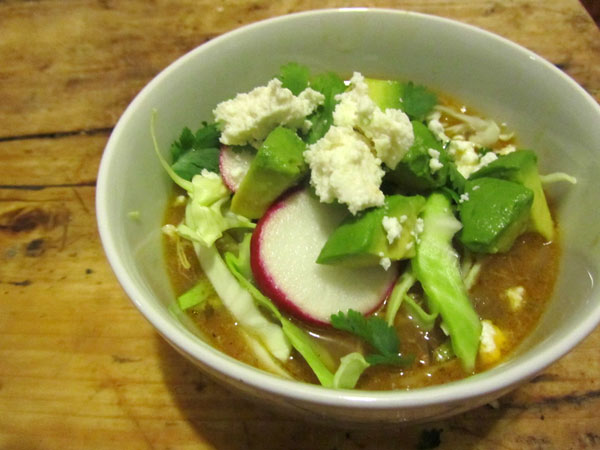 INSTRUCTIONS
Soak dried hominy overnight according to package instructions
Coat tomatillo, pasillas, 2 of the spicy chilies, and the sliced onion in olive oil and roast in 450 degree oven for 30 minutes
Put pasilla chiles into paper bag for 20 minutes and allow to sweat for easy skin removal
In a large stockpot, brown the chicken legs on all sides over medium high heat. For a richer flavor and slightly thicker broth, you can chop the chicken bones into pieces to add marrow flavor to the soup (I always do this when making chicken stock)
Peel, seed, and slice pasillas into strips
Add the chorizo and continue browning for another 5-10 minutes
Add chicken stock, tomatillos, 2 roasted chilies de arbol (seeded & minced), & roasted onion, & bring to a boil
Lower heat to a simmer and cook for 30 minutes
Remove chicken legs – allow to cool for a few minutes and shred chicken from bones then add meat back to simmering soup
SAVE BONES and freeze for later use in future stocks
Add epazote, cilantro, salt, & pepper, to taste. Cook for 10 + more minutes to desired thickness
Shred cabbage, thinly slice radishes, chop chilies, dice avocado, crumble requeson, pull cilantro leaves from stems, cut lime into wedges and place each in a pretty bowl so each person can ganish as they please.
Ladle soup into big steamy bowls and serve with thick corn tortillas if you like.
Eat it up, YUM
*epazote is a Mexican herb that is fairly easy to find in it's dried form in any Latino market and can also be found fresh. If you can't find it- no worries. It can also be an acquired smell & taste. I love it, and feel it adds a beautiful dimension to Latino Foods- it smells stronger than it tastes. Don't be intimidated by it if it smells weird in the store.