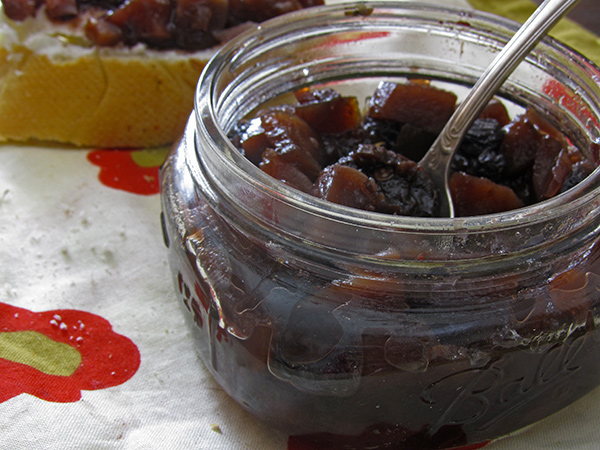 Pear and Apple Chutney for Canning
I have always been intrigued by the idea of canning and I LOVE the rustic charm of mason jars. Last summer, I bought 10 lbs of heirloom tomatoes with the intention of jarring up the bright red taste of warm summer days. Upon reading Ball's canning instructions, I gave up on my plan fearing there was too much room for error. As time marched on, my wariness of canning grew, but so did my varied collection of mason jars.
This holiday season, I stared down my canning fears. I resolved to finally can, and in doing that, I'd preserve the essence of the holiday. Though I'd missed out on those summer tomatoes,  now it was the season to combat cold by catching warmth itself, trapping it in glass, and giving it as a gift.
At the farmers market, I found comice pears- still firm, speckled green and brown, smelling wet and sweet. A few stalls down, I was greeted with the bright and woodsy scent of apples and my mouth began to water. Though countless varieties were piled high upon the market stall, my eyes immediately jumped to a basket brimming with red fruit whose shoulders kissed by the sun, glowed yellow- the gala. Apples and pears, every day fruit, comforting and familiar would be transformed into an exotic, heady, winter chutney.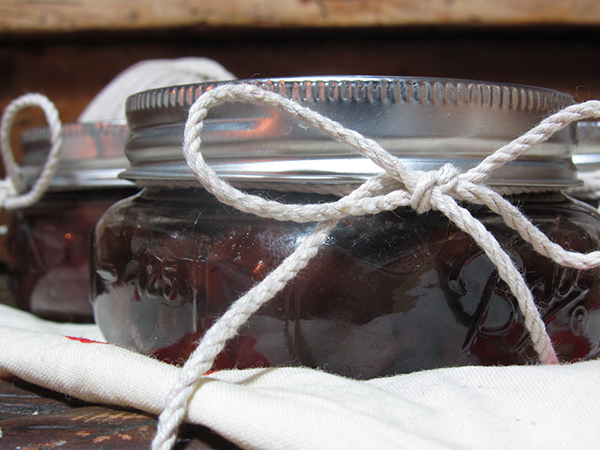 INGREDIENTS
3 lbs comice pears, peeled, cored and diced into ½ inch pieces
2 lbs tart crisp apples, peeled, cored and diced into ½ inch pieces
2 cups pomegranate juice
4 cups apple cider vinegar
2 cups of sugar
½ red onion diced
½ cup dried sour cherries
4 inch piece of ginger- grated
2 jalapeños seeded & diced
1 piece of star anise
Salt & Pepper to taste
INSTRUCTIONS
Bring pomegranate juice, vinegar, and sugar and star anise to a boil in a large stockpot.
Reduce flame to medium high and cook until liquid is reduced to 2 ½ – 3 cups. It should be rather thick and syrupy.
Add the pears, apples, ginger, jalapeño, onion, and dried cherries and cook until the fruit is soft- about 30 minutes.
Lower heat and cook down further until the liquid is very thick*
Remove from heat and let rest for about 30 minutes before canning in a water bath according to jar manufacturer's instructions.
Enjoy this chutney with brie, on turkey sandwiches, with roasted pork loin, with bagels and cream cheese, or with basmati rice and naan.
*note, if your fruit is very juicy and the liquid is not thickening, you may have to remove the fruit from the stockpot and allow the liquid to thicken on it's own so that the fruit does not break down too much. Once the liquid is thick and jammy, add the fruit back in and stir.
Other ideas for this chutney? Please add your comments, below.