Oh autumn is here. I can feel the cool crispness in the mornings when I take Ruby out for her walk. Though the days are still mostly warm, the nights are beginning to cool off and I'm no longer cooking barefoot on those cold tile floors in my 3rd floor kitchen. On these cooler nights, I begin to crave the delicious comforting flavors of fall. Roasted root veggies, all types of mushrooms, and of course that bleached blonde cousin of the carrot, the parsnip.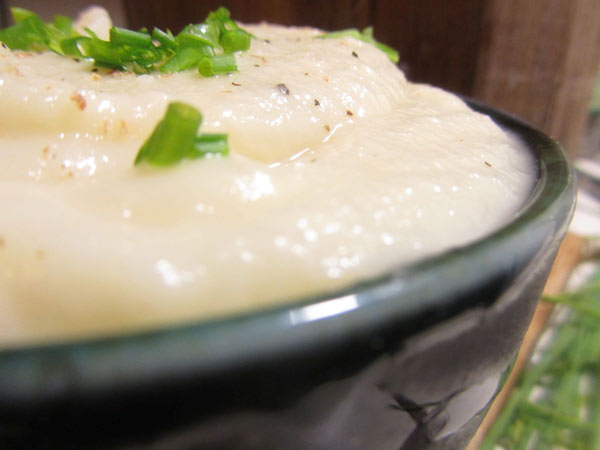 I first tried parsnips only seven or eight years ago, believe it or not! I remember exactly when and where. My husband and I were eating at one of our favorite pizza places, Pauline's, here in San Francisco. We inquired about the veggie special of the night and it was parsnip, sage, and fontina cheese. I wasn't sure what a parsnip was, and I think I actually had to ask. Well, I've never looked back. I roast parsnips, I make parsnip soup, I make parsnip fries, but one of my favorite things to do is this simple parsnip puree.  I hope you'll enjoy it as much as  we do around here.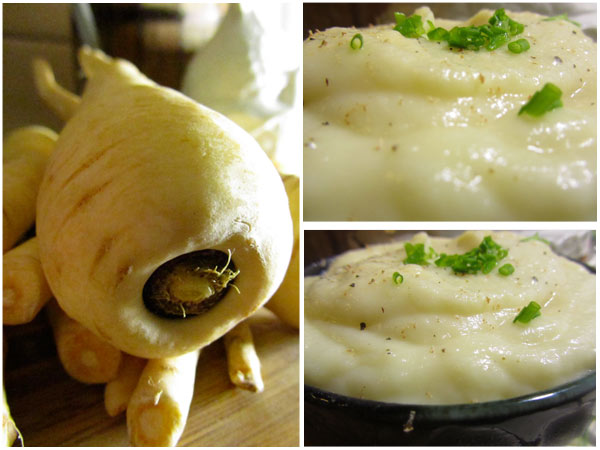 INGREDIENTS
2 lbs parsnips cut into 1 inch sections
Sea salt
Nutmeg
2 cups milk
3 tbsp butter
chives to top
INSTRUCTIONS
Cover the parsnips with cold water. Add a big pinch of salt and bring to a boil.
Simmer over medium heat until the parsnips are nice & tender, 20-25 minutes.
Drain well, reserving 1 cup of their cooking liquid.
Add ½ of cooked parsnips and ½ of milk to food processor. Process until mixed adding more parsnips and more milk as you go & process until smooth.  If you find you need more liquid add some of the cooking liquid one tablespoon at a time.
Finally add sea salt and nutmeg to taste and top with chives to serve.