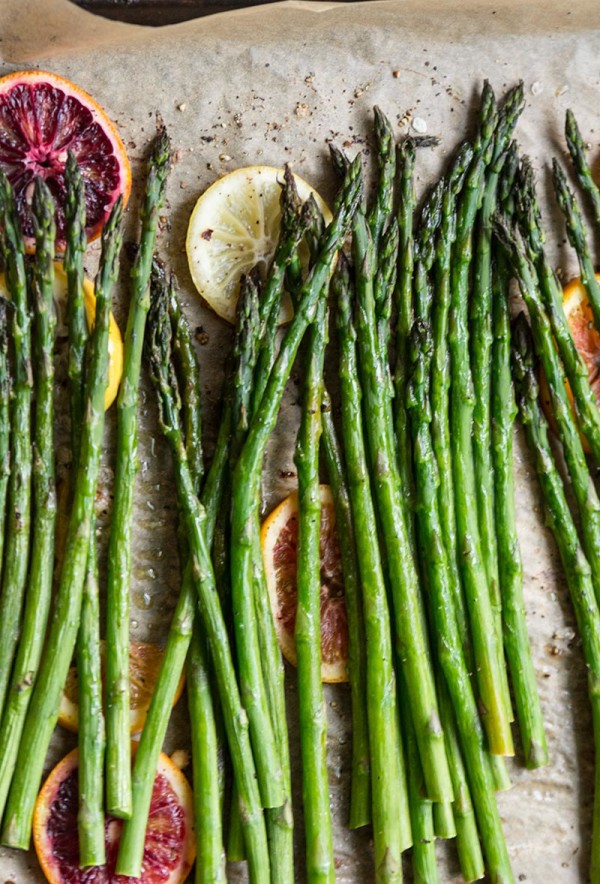 These oven roasted asparagus are cooked on a bed of lemons and blood oranges and served with a blood orange vinaigrette. This twist on a very classic French dish is ready in 10 minutes. Jump directly to the recipe.
In the spring, at the end of the day, you should smell like dirt.
~Margaret Atwood
This weekend, we began digging. Eight wide rows are marked in our back garden, four of them dug, turned, and covered with old leaves. We've four more to dig, and this weekend, I will cover them in compost and fill them with seeds. For our inaugural year of a Sacramento food garden, we'll plant tomatoes, beans, summer squash, winter squash, melons, a wide variety of herbs, lots of lettuces, corn, cucumbers, eggplants, onions, potatoes, strawberries, and carrots. Most of my favorites will be well-represented.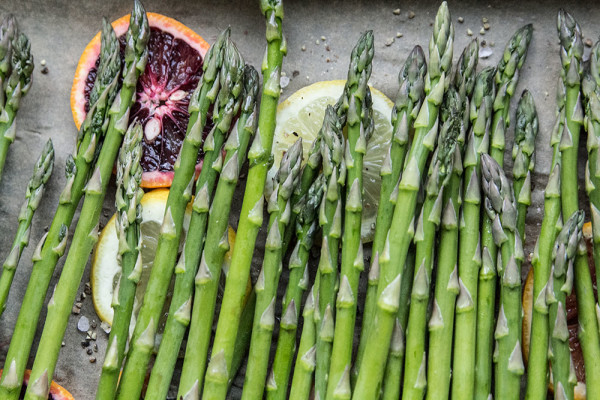 I will also be dedicating a big space to asparagus, though we cannot harvest them until next year at the earliest. Asparagus are outliers in the vegetable world, perennials, they come back year after year, to give you delicious food and stinky pee.  You do not eat the first crop of asparagus as they need time to establish themselves and grow strong. I've heard it said that a well-established asparagus bed is a reason to remodel your house rather than move.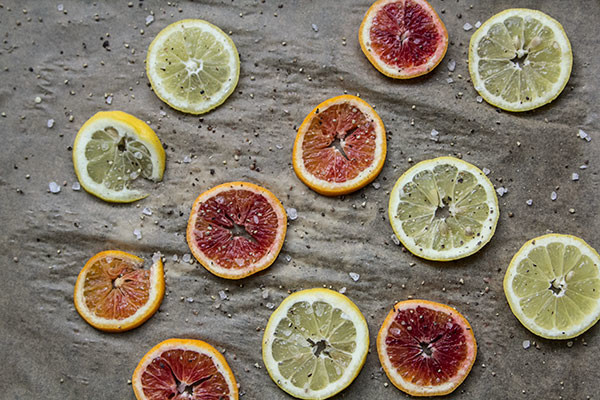 I grew up with asparagus vinaigrette. Because my grandmother had been a classic French chef, the asparagus were poached until they bowed when lifted. Slightly soft, mossy green, and served with a shallot-heavy vinaigrette, was the way they were served. I never ate a bright green, stiff, spear of asparagus until I was an adult and it took some getting used to.
Though I still love a thick spear of poached asparagus, these days, I usually buy the thinner ones and throw them in a hot oven or on the grill. Joshua would be fine if we never ate asparagus at all, but if prepared correctly, he really enjoys them. Honestly, I think he grew up with poorly cooked asparagus and it remains in his head as a food he dislikes. Then, when I make them, poof, he eats them up with gusto.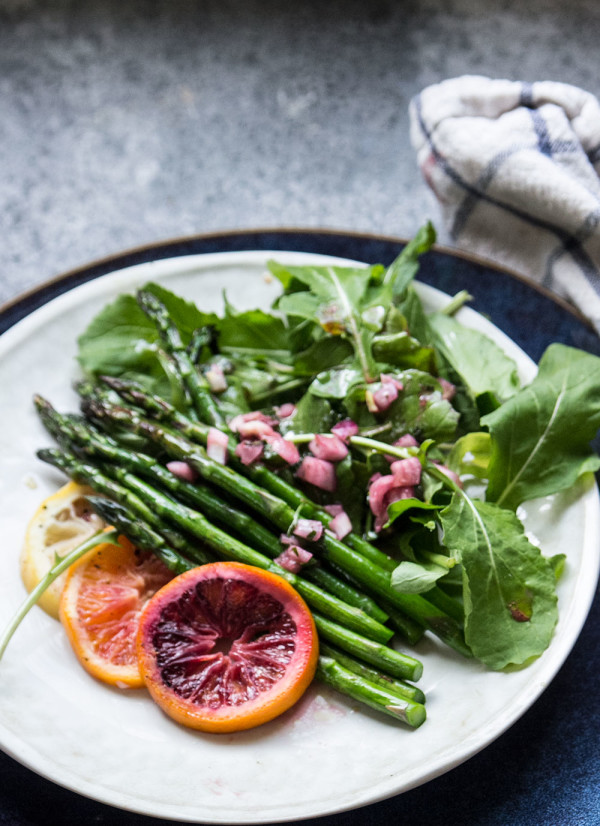 Oven Roasted Asparagus with Blood Orange Vinaigrette
When buying asparagus, please don't fall into the false belief that skinny spears are the only ones worth eating. Skinny asparagus are not necessarily the first shoots of spring. When asparagus grows, lots of stalks shoot up from the root system. The stalks in the middle are the fattest and at the edges are the skinniest. The fat asparagus are my favorite for poaching and grilling because of their soft and creamy center. The skinny asparagus are great for roasting, risotto, frittata, and stir fry.
This roasted asparagus recipe lends itself to either thin or chubby shoots. If you're using the thicker spears, cut off the bottom inch and a half and peel the shoots. Refrain from the bending to break advice, you'll waste a lot of tasty asparagus. If you do not have blood oranges, any type of orange or tangerine will be beautiful and tasty in their place.
Oven Roasted Asparagus Ingredients
1 lemon, thinly sliced
1 blood orange, thinly sliced
1 bunch of asparagus
1 tablespoon extra virgin olive oil
¼ teaspoon coarse sea salt
¼ teaspoon freshly ground pepper
Preheat your oven to 400º and line a baking sheet with parchment paper
Instructions:
Lay lemon and orange slices on the lined sheet, top with asparagus laid out in a single row. Drizzle with olive oil, salt, and pepper and roast at 400º for 10 minutes. If your asparagus are very thin, start checking at 8 minutes. Asparagus are done when they have a slight bend to them when you lift them by the bottom and are cooked all the way through.
Blood Orange Vinagrette
2 teaspoons champagne vinegar
2 tablespoons blood orange juice (about one small blood orange)
1 tablespoon finely chopped shallot
1 clove minced garlic
1 tablespoon dijon mustard
heavy pinch of salt
heavy pinch of black pepper
1 tablespoon chopped fresh herbs (parsley or tarragon are perfect here)
3 tablespoons extra virgin olive oil
In a small lidded jar, mix vinegar, orange juice, shallot, garlic, mustard, salt, and pepper. Shake well to combine and allow to rest for 10 minutes. This softens the flavor and texture of the shallot and garlic and infuses the liquid with their flavors. When you are ready to serve the asparagus, add the herbs and olive oil and shake vigorously. Give your vinaigrette one last taste and adjust the seasoning before serving.
Serve the asparagus on its own or atop a bed of fresh greens. I used arugula, here.
 More recipes to welcome spring:
Gluten free rhubarb crisp
Spring pea salad with creme fraiche and herbs
Ina Garten's roasted asparagus
Asparagus risotto from Simply Recipes
Strawberry rhubarb salsa