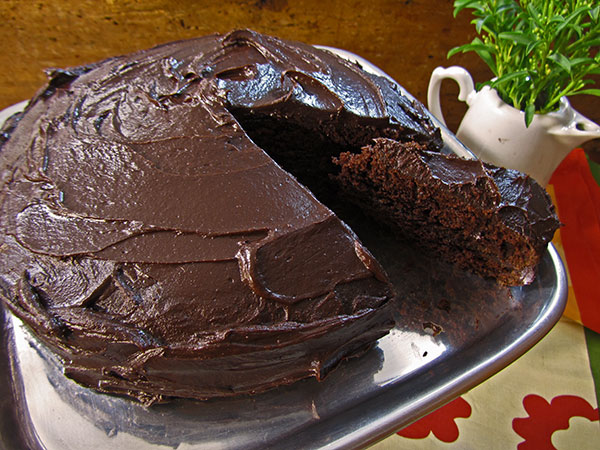 Sometimes, a girl can get a little blue. Home alone on a rainy Friday night with a lingering cold, I found myself falling squarely into this category. Rather than moping about the house, I did what I always do. I went through the list of things I wanted to cook. I've got notes on my fridge, a Google doc on my computer, and the list in my little brain. On this particular night, I didn't have to go far.
The level of melancholy I was facing called for something serious. Lately, I've been dreaming of a deep dark chocolate cake that tastes like Mexican hot chocolate. Specifically, I've dreamt of one that is reminiscent of the Aztec Drinking Chocolate from Vosges- which is a rich dark drinking chocolate flavored with cinnamon, vanilla, & chilies. The grocer near my house was out of decent baking chocolate for my ganache, so I went to my lovely corner store and splurged on Dagoba 70%. I used pure cocoa powder for the cake- not Dutch process.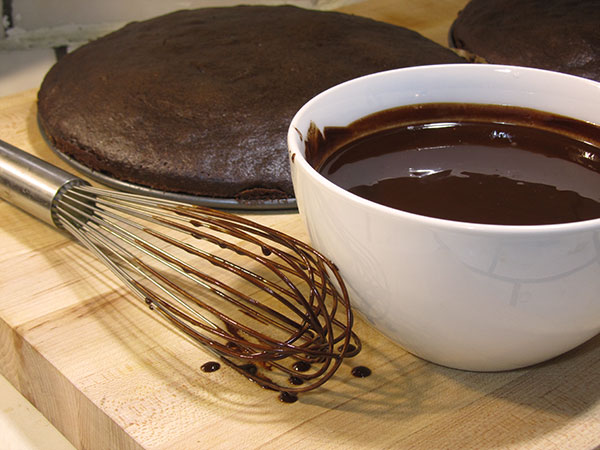 I started with a lovely devil's food cake recipe from one of my favorite bloggers, David Lebovitz, and I went from there. Baking is still sort of magic to me. I'm amazed every time something works, and making this beautiful chocolately layer cake was no exception. Watching the ganache go from liquid to an actual frosting made me nothing short of giddy.  And between frosting the cake, listening to Noah Levine on my itunes, and bringing a big slice of the finished cake to Omar at my corner store, I was feeling pretty good by night's end. Oh, and it tasted pretty delicious too!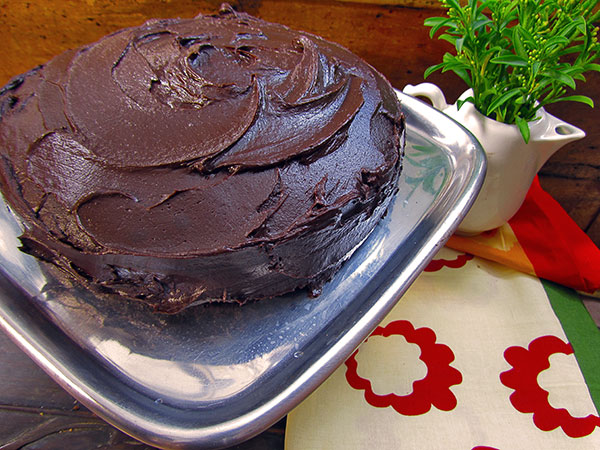 INGREDIENTS FOR THE CAKE
9 tablespoons unsweetened cocoa powder
1½ cups minus 2 tablespoons unbleached pastry flour
2 tablespoons cornstarch
2 tablespoons cinnamon
1 tablespoon cayenne pepper (optional, you might choose to use less if you don't like hot food)
½ teaspoon salt
1 teaspoon baking soda
¼ teaspoon baking powder
4 ounces (1 stick) unsalted butter, at room temperature
1½ cups granulated sugar
2 large eggs, at room temperature
½ cup water
¾ cup whole milk
INGREDIENTS FOR THE GANACHE
10 ounces 67-72% chocolate, coarsely chopped
½ cup water
¾ cup (1½ sticks) unsalted butter
INSTRUCTIONS
Place rack in center of oven & preheat oven to 350º
Grease two 9″ springform pans and line the bottoms with circles of parchment paper.
Sift flour, corn starch, cocoa powder, salt, baking soda, baking powder cinnamon, and chili powder in a bowl.
In the bowl your standing mixer, (or by hand), cream butter and sugar until smooth- about five minutes then add your eggs one at a time.
Mix together the water and milk. Add half of the flour mixture to the butter, egg, sugar mixture and incorporate well, the add the water and milk. Next add the last of the flour mixture and stir until it looks like cake batter.
Pour the batter into the two pans and bake for 17-23 minutes, or until a toothpick inserted into the center comes out clean. Cool completely before frosting.
To make the ganache,melt the chocolate and water in a heat proof bowl set over a pot of simmering water. Stirring gently until completely melted. Remove from heat.
Whisk small pieces of butter into the chocolate until it becomes totally smooth. Allow the ganache to cool and thicken up before frosting the cake. This will take a while. I was impatient and sped things up by sticking the bowl in the fridge for about an hour.
To frost the cake, remove layers from pans and place a nice thick layer of frosting on top of the bottom layer then place the top layer atop that one. Then frost the top of the cake first and finish with sides. I used my cake stand to frost the cake as I don't have a fancy cake spinner thing.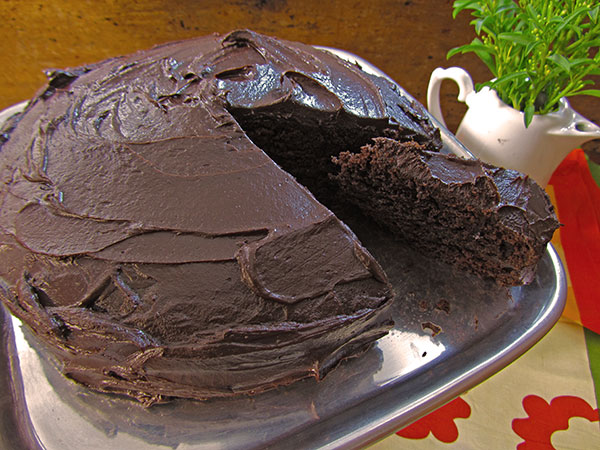 What helps you beat the winter blues? I'd love to know. Leave a comment and help a blogger out!