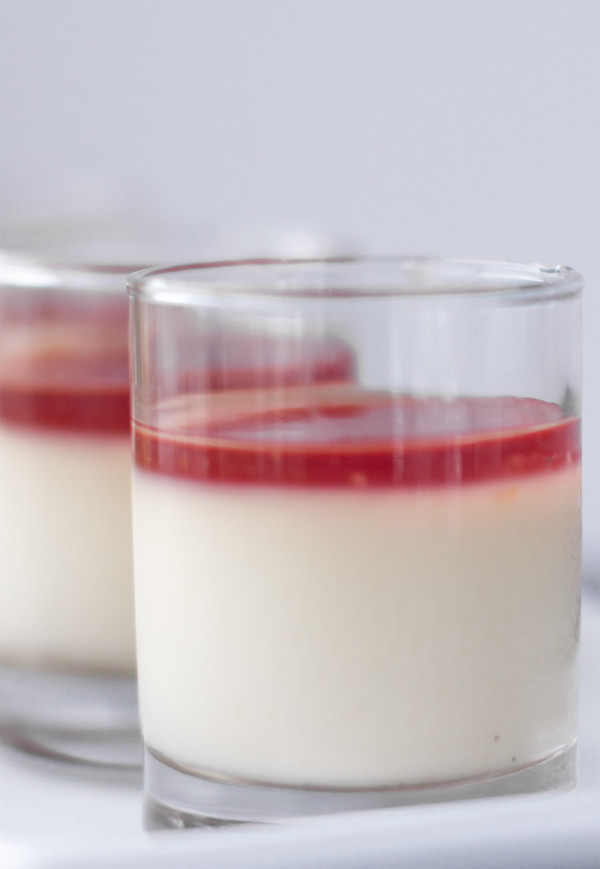 Vanilla Bean Panna Cotta with Blood Orange Gelée
For 13 months, I've been participating in the Burwell General Store Vintage Recipe Swap, yet this month is simply bursting with firsts.
I'll start with the obvious: it's my first time posting a vintage recipe remake on a Wednesday. For those of you who are familiar with the swap, you might be used to them coming on Sundays. Well, our group of 30 or so, has split into two groups of 15 with half of us posting on the first Sunday and half of us posting on the third Wednesday.
The second first (that sounds funny) is this. Of all the vintage recipes Christianna has given us, this is the first that has ever actually repulsed me. From hot slaw to jelly cake, grandma's chicken pie and drop biscuits to company time lemon cake, I have always found something to love in the recipe we've started with.  This Orange Snowflake Salad may be my bête noir, the thought of it is completely horrifying. he recipe contains two packets of orange jello, pineapple juice, pineapple, cottage cheese, onion, cottage cheese, and celery- oh and just to be elegant, one should serve it on a lettuce leaf- with mayonnaise.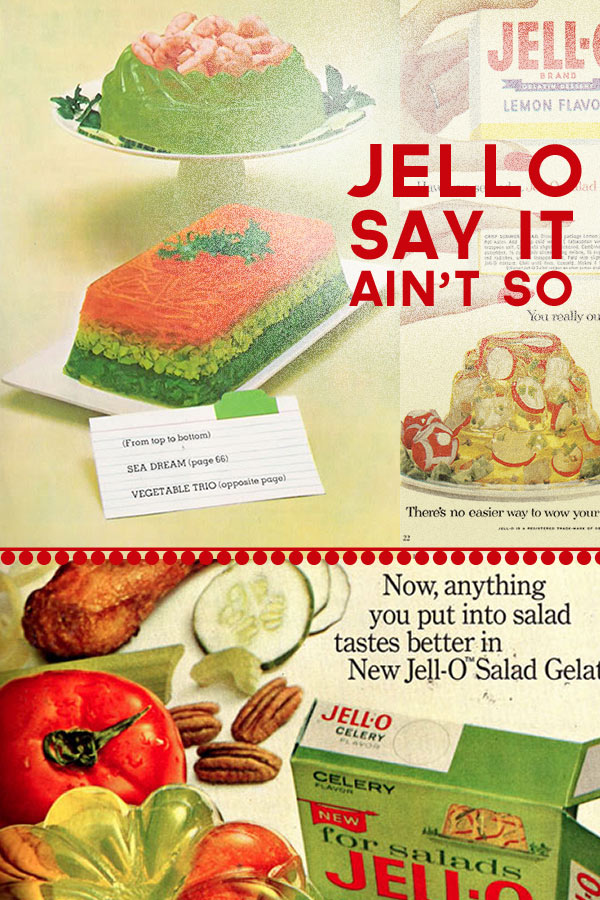 With morbid fascination, I some researched Orange Snowflake Salad. While I was unable to find it's exact match, I found an abundance of Jello-salad related delights. My favorite little chestnut gleaned from said research? By the 1950's Jello salads were so wildly popular that Jello launched a whole line of flavors just for that purpose including, mixed vegetable, celery, and seasoned tomato. Just imagine, a seasoned tomato Jello tart!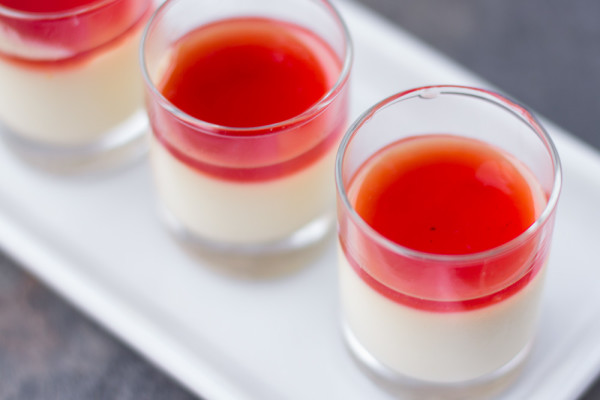 Since the Internet wasn't going to give me the information I needed, I started asking around. Joshua's grandmother was pretty WASPy so I asked him if he'd eaten this salad- he said he'd had something similar, but the onion and cottage cheese were throwing him off.  I asked my favorite Southern Belle, Miss Katie Jackson. She'd had Jello Salads served on lettuce leaves before, although again, the cottage cheese and onions were a bit of a mystery.
I was beginning to feel this was a hoax of a salad, then I remembered the Mormons! Jello has traditionally been a big part of Mormon culture, particularly in Utah, so I turned to my friend Sue Anne, not only is she a kick ass social media guru, Sue Anne crochets awesome stuff, knows a thing or two about genealogy, and has schooled me on Mormon foods like funeral potatoes and frog eye salad. I thought she might know about Orange Snowflake Salad.  Though she wasn't sure if she'd had the exact recipe, she was sure, she'd had something pretty darned similar. Good enough for me.
So now… what to make?
I thought of making something savory. I actually like aspic. When I was a kid, I loved trying the different aspics my French family made. They were so beautiful to look at, and I loved the cold wiggly texture. My grandmother made one once in a fish mold with smoked salmon, she fashioned scales from thinly sliced cucumbers and it was the most beautiful thing I ever saw. I don't think I'm that deft.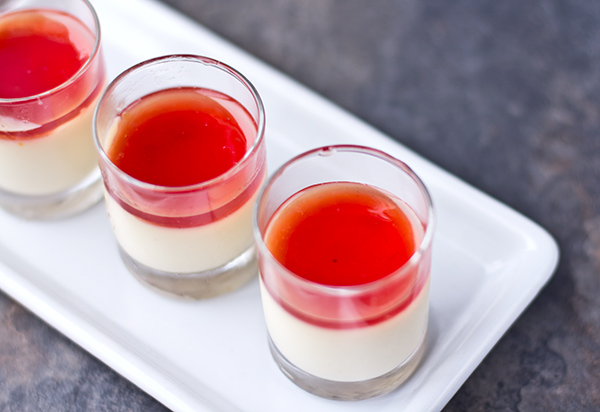 The thing that kept coming to mind is that I've still never made panna cotta.  I love it as much as any girl possibly can, and it's simple as can me, and yet… no panna cotta.
So, I give you, Mandarin Orange and Vanilla Bean Panna Cotta with Blood Orange Gelee, no onions, no lettuce leaves, no celery, but I think it tastes pretty good without them. For the record, while the blood orange gelee looks stunning, tastes bright and juicy, and gives and an extra super fancy touch, I really love the  panna cotta without it, it's gently aromatic vanilla and mandarin orange flavors are simply delightful. I might try a nod to the original recipe and serve with some orange blossom-scented mascarpone, next time (get it, cheese?).
INGREDIENTS MANDARIN AND VANILLA BEAN PANNA COTTA
1 ½ cups whole milk
1 ½ cups cream
½ cup sugar
1 tablespoon mandarin zest
1 vanilla bean
3 teaspoons plain unflavored gelatin
¼ cup mandarin juice
INSTRUCTIONS MANDARIN AND VANILLA BEAN PANNA COTTA
In a bowl, sprinkle gelatin over mandarin juice and 4 oz of cream, do not stir. Allow gelatin to soften for about 3-5 minutes.
Warm milk, cream, sugar, mandarin zest, scraped vanilla bean, and vanilla pod in a saucepan over medium low heat. Stirring constantly until sugar is completely dissolved. Do not allow to boil. Once sugar is dissolved, remove from heat.
Add gelatin mixture to the saucepan, and stir to combine. Pour into clear glasses or well-greased ramekins. Note, if using ramekins you will want to invert them onto a plate if you're using the blood orange gelee.
Allow to set for at least three hours and up to overnight.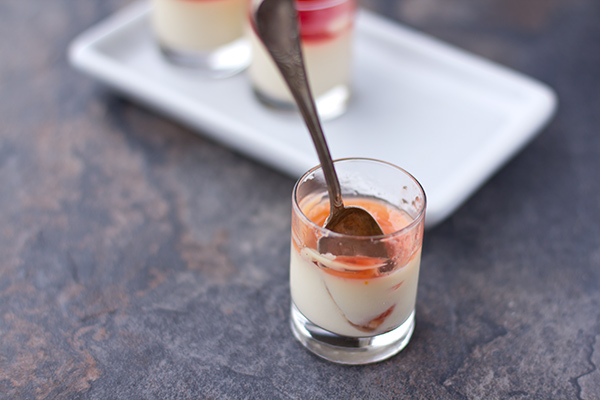 INGREDIENTS BLOOD ORANGE GELEE
3 tablespoons lemon juice
1 tablespoon cold water
½ teaspoon plain unflavored gelatin
½ cup blood orange juice
¼ teaspoon vanilla extract
3 tablespoons sugar
INSTRUCTIONS BLOOD ORANGE GELEE
Once panna cottas are set, make blood orange gelee.
In a bowl, sprinkle gelatin over lemon juice and water, do not stir
Warm blood orange juice, vanilla, and sugar in a saucepan over medium low heat until completely combined, do not boil. Remove from heat, add gelatin mixture, allow to cool for at least 5 minutes before gently spooning over your panna cotta-
Allow to set for at least two hours and up to overnight.