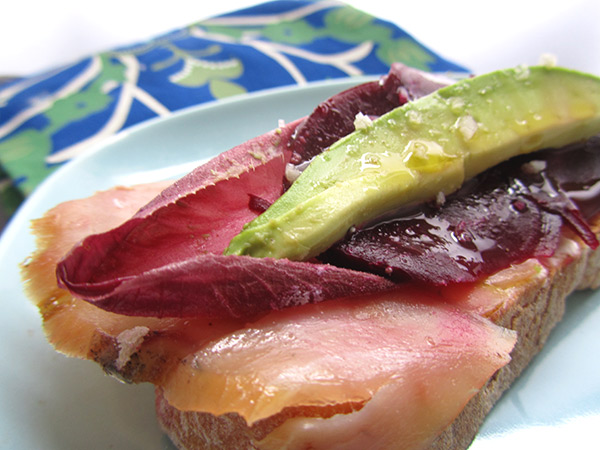 Smoked Tuna Tartine with Avocado and Lavender Sea Salt
I am about to begin a vegan cleanse.  I've been stepping down- adding more vegan meals to our weekly routine. Recently, I've even been hard at work practicing some tofu cooking techniques that make tofu truly loveable rather than just reliable.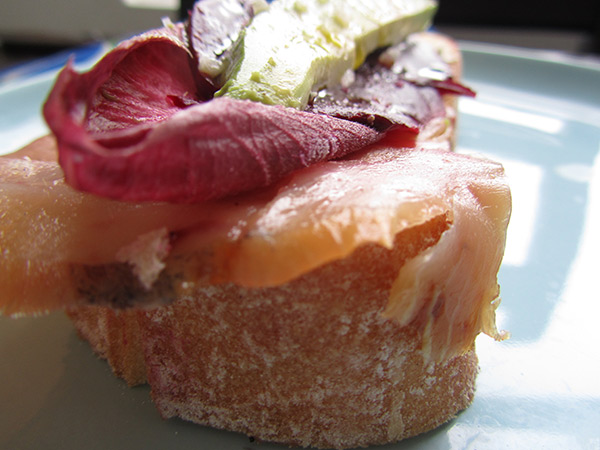 But still, I had a lovely little pescatarian tartine (open faced sandwich) for lunch yesterday. It was inspired by Captain Mike's Holy Smoke at the Ferry Plaza Farmer's Market which is appropriate, because it featured their naturally sweet and earthy smoked albacore* along with fresh red beets, avocado, and some special touches to make a lunch for one seem really sweet and special even though it takes all of five minutes to make. I had a cup of green tea and a little salad with this and sat in the window watching the rain pour down. The blush of the albacore, with the deep jewel tone of the beets and the creamy green of the avocado provided a welcome punch of color on a dreary day.
INGREDIENTS
1 slice slightly toasted ciabatta
2 teaspoons cream cheese
2 thin slices red beet
1 leaf Belgian endive
4 slices smoked fish
1 slice avocado
drizzle of olive oil
few grains fleur du sel (optional)
sprinkle of lavender sugar (optional)
Top toasted ciabatta with ingredients in the order listed and enjoy.
What is your favorite lunch for one? Is there something special you make just for you? A rainy-day trick you have to make the world seem a little bit brighter? Please share in the comments below.
*If you don't have smoked tuna on hand, smoked trout would work just fine and smoked salmon would also be nice. If you use salmon, be sure to buy wild and sustainably caught! Alaskan salmon is your best sustainable choice, look for bright orange flesh almost red, and these species names, Coho and Sockeye are my faves but Pink, King, and Red are also pretty delicious.  Atlantic salmon is always farmed because we completed overfished the species- an example of why it's important to buy sustainable now. Farmed salmon from tanked systems (Coho & Silver Salmon are currently being farmed this way) is actually an okay choice sustainably, but whether you like the taste, is up to you.