… With Lemon Verbena Syrup
Amongst the jars of golden honey at the farmers market last Saturday, I spotted a couple of mason jars full of fresh herbs. I picked up the jar, breathed deeply, and I was overwhelmed with the most gorgeous whiff of fresh lemon verbena. If you haven't had an encounter with this herb in it's fresh state, you're missing out. It's like bright fresh lemons with a hint of lemon leaves and a kiss of mint. Right then and there, a recipe came to me- muffins with a good sevilla olive oil and rich local honey. It would even give me a chance to break out my new (vintage) kitchen aid mixer, Blanche.
When I got home, the recipe took better shape in my head and I decided to use a bit of whole wheat flour for texture and to add a lemon verbena syrup atop the muffins just for pure delicious decadence. We couldn't help ourselves and we ate these warm from the oven with the syrup dripping down our wrists. Oh, and they are soooo delicious! Mmm.  Simple and perfect.
INGREDIENTS
1 ½ c all purpose flour
1 c whole wheat flour
2 tsp baking powder
1 tsp baking soda
¼ tsp salt
1/3 c herbaceous honey (I chose sage)
½ c sugar
½ c extra virgin olive oil
½  c whole milk yogurt
¼ c whole milk
2 large eggs
¼ c fresh lemon verbena (finely minced)
INSTRUCTIONS
Preheat oven to 350 degrees.  Oil a jumbo 6 cup muffin tin with olive oil
Combine honey, sugar, olive oil, milk, yogurt, eggs, & lemon verbena in the bowl of your stand mixer fitted with the whisk attachment and give a few whirls until nicely mixed
Add  flour, baking powder, baking soda, and salt until well combined- resist the urge overmix.
Divide batter between muffin cups using an ice cream scoop or a spoon
Bake for 15-20  minutes or until a toothpick inserted into the middle of a muffin comes out clean.
Do check the muffins early because when baking with honey, things brown quickly.
As soon as the muffins are cool enough to pull out of your muffin tin ( a couple of minutes) spoon that syrup over the top.
While muffins are cooling make the syrup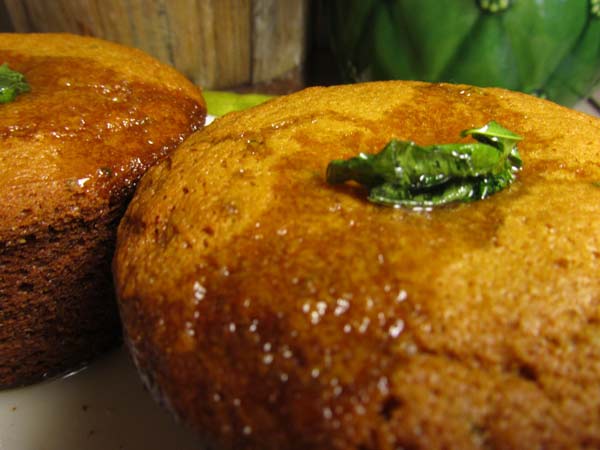 INGREDIENTS
1 cup powdered sugar
3 tablepoons water
½ cup lemon verbena leaves
INSTRUCTIONS
add all ingredients to a small sauce pan and bring to a slow boil over a medium low flame remove from flame when everything comes together and thickens into a syrup.