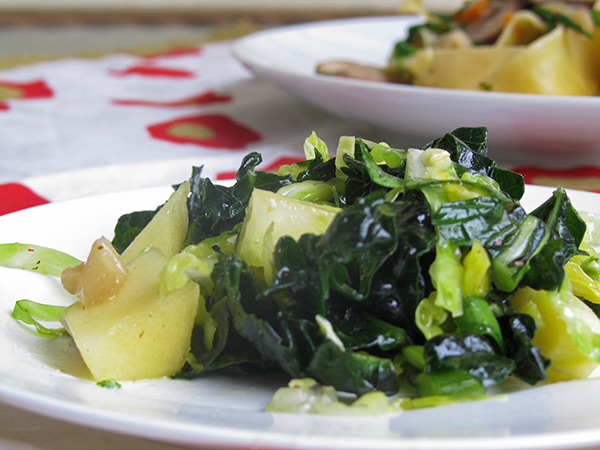 Many people think I'm crazy when I say that raw vegan kale salad is delicious- add Brussels sprouts to the mix and they might think of unbookmarking this blog.  But, my husband who doesn't really love kale or Brussels sprouts actually doesn't mind them raw. This salad is yummy, fresh, and super easy. I had it with parpadelle with mushrooms and it made the most delightful winter veggie lunch.
On top of being delicious, this salad will provide tons of vitamin K, A, & C from the kale and Brussels sprouts as well as lots of fiber. Apples are thought to help regulate your blood sugar and keep you full longer. So if you're one of the millions who wants to be a little healthier this year, this combination of foods is a win win. Oh, and did I mention that it's totally delicious?
INGREDIENTS
1 bunch of kale
4 Brussels sprouts
2 sliced green onions (white and light green parts only)
1 clove of garlic minced
1 crisp organic apple peeled
1 meyer lemon- juiced (a regular lemon sweetened with a pinch of agave will do)
¼ cup olive oil
sea salt & fresh black pepper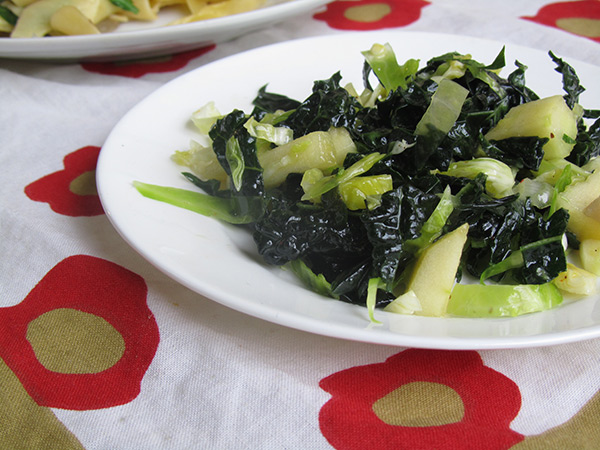 INSTRUCTIONS
Remove spines from kale then slice into half inch pieces
Quarter Brussels sprouts and remove the core. Slice into the thinnest shreds possible.
Massage greens with ½ of olive oil and a heavy pinch of sea salt for about 2 minutes adding more olive oil only if you have to.
Peel apple and slice very thinly then chop into ¼ inch pieces and add to the mix along with the green onion and garlic.
Dress with lemon juice, sea salt, and pepper, Then toss. Salad is best if you chill it first for at least one hour.