Hot hot hot. It's October, and it is smokin' hot outside. There is nothing better to beat the heat than a little homemade soda pop. Since I'm crazy about chilies, I like my soda with a little edge to it. I came up with this jalapeño lime cooler, and Joshua, my love, added a splash (or three) of  Hornitos to his and Miss Jackson's coolers. I, being too hot to drink, just had mine plain.
Oh, and when I was done making the syrup, I ate those sweet candied jalapeños. I think I'd like to pour that syrup over ice cream, over shaved ice, maybe over some key lime muffins. Mmm, I think it's got lots of possibilies. But for now, it's just too darned hot to cook, let's just drink.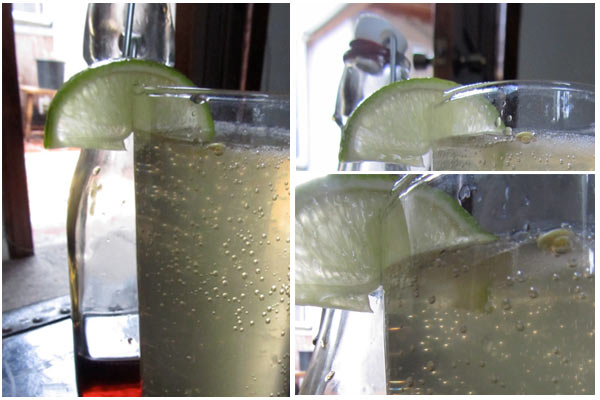 INGREDIENTS—serves 4
1 cup water
1 cup organic raw sugar
2 jalepenos
6 limes
24 oz soda water
ice
tequila (optional)
INSTRUCTIONS
Bring water, sugar, zest of two limes, and quartered jalapeños to a boil over medium heat
Cook until syrup thickens and begins to turn to a light caramel color
Remove from heat and remove jalapeños with tongs and set aside
Allow syrup to cool then add one tablespoon of syrup, and a slice syrupy jalapeño, and juice from ½ of a  lime to a glass then fill with ice and soda water garnish with lime and serve. (or add tequila too)!