Sometimes, I go through periods where I just don't eat meat. The longest I ever went was ten years. I know that's a long time to have started again, but I do enjoy eating well-raised non-factory farmed meat. My last stint as a non-meat eater was this spring when I went veg for about two months.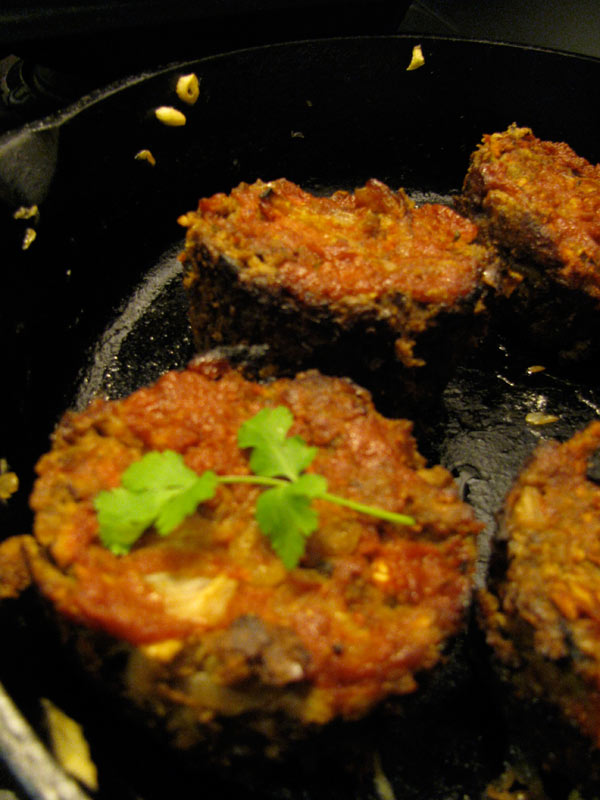 While on tour with my band, Sick Wolf, in the Pacific North West I stayed vegetarian by eating avocado cucumber sandwiches and the occasional egg. When I came home, though, I wanted something comforting and hearty– I really wanted was meat loaf, without the meat. The thing is, I really hate overly salty foods, so I generally try to avoid most meat substitutes. I knew if I wanted a yummy vegetarian meatloaf, I'd have to make my own.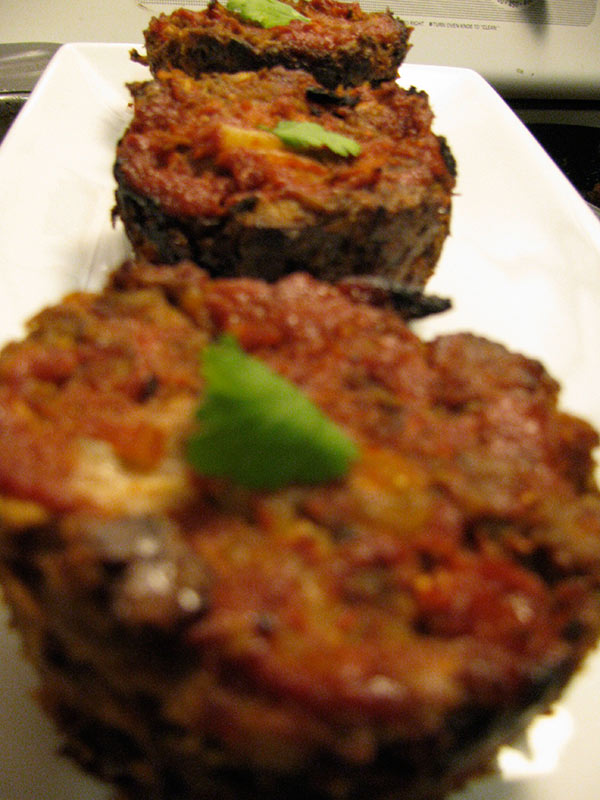 This recipe may be a little time consuming but so worth it. It's packed with healthy goodness, caramelized onion flavor, it's filling, and comforting, it's everything I want in a veggie meatloaf. It freezes well and if you like, you could double it and freeze some.
INGREDIENTS
16 oz lowfat organic cottage cheese (I used nancy's cultured)
4 pasture raised eggs
½ of a walnut baguette toasted
¼ c vital wheat gluten
(optional this adds 23 extra grams of protein)
2 Tbsp golden flax meal
(optional this adds 6 grams of protein and 5000 mg of omegas)
1 c raw organic walnuts divided in two
2 Tbsp brown rice miso
½ c organic tomato sauce
1 c chopped Portobello mushrooms
2 yellow onions
2 cloves garlic
1 large carrot
¼ c extra virgin olive oil
1 tsp dried thyme (or more to taste)
hot chili to taste (dried or fresh)
1 tsp agave nectar
sea salt and pepper to taste
grapeseed oil*
butter (again, I like cultured butter)
INSTRUCTIONS
dice onion coarsely and caramelize in a small amount of butter mixed with grapeseed oil
dice Portobello into one inch pieces and sauté with small amount of butter mixed with grapeseed oil and minced garlic
finely dice the carrot
finely chop ½ cup of walnuts
rough chop ¼ of the toasted baguette into ¼ inch cubes make sure they are unevenly chopped
chop the rest of the baguette into bigger 1-2 inch cubes and working in batches. Pulse in a food processor or blender until they are coarse breadcrumbs.
when you're almost through with the last batch of bread crumbs, add dried thyme, vital wheat gluten, flax meal, and the remaining walnuts and pulse until blended thoroughly.
Combine cottage cheese, miso, carrots, olive oil, caramelized onions, and portobellos. Make sure they are very well mixed—especially make sure there are no chunks of miso left.
In another (larger) bowl mix your breadcrumbs, bread chunks, and walnuts.
Add the wet ingredients to the dry ingredients and mix very well. Now you can start adding your spices (pepper, chilis, and salt last). The miso is salty, so you will not need much salt.
Then beat the four eggs and add them to the mixture.
Mix tomato sauce with agave nectar
Scoop mixture into well greased muffin tins (I use an ice cream scoop) and top with a thin layer of the tomato sauce mixture.
Put into a 350 degree oven. Start checking at 20 minutes. The muffins should be firm, nice and brown at the edges, the sauce should be set on top, and a toothpick should come out dry.
*note, for sautéing, I like to use a mix of butter and grapeseed oil. Butter provides great flavor but lots of saturated fat and is not great for high heat cooking. Grapeseed oil has a high smokepoint and little flavor.