How about adding a little kick to your homemade popsicles? These honey-sweetened strawberry popsicles are spiked with red chilies. The honey tames the heat, but the sensation of hot and cold and sweet and smoky is pretty awesome. Jump Straight to The Popsicle Recipe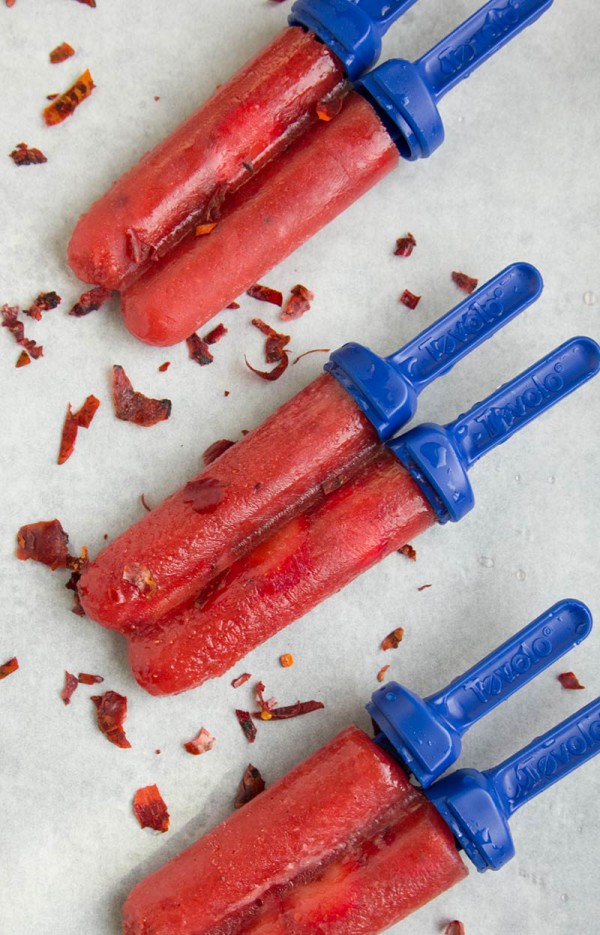 Spicy Strawberry Homemade Popsicles
It's hard to believe that it's already popsicle season. It seems like we barely had a spring this year, and we're already running headlong into another hot, dry, summer. The other day, my car thermometer read 88º in the shade. 88º in April! Ay Dios Mio, it's going to be a hot one.
Last summer, when I was packing to move, my popsicle molds were one of the things that didn't make the cut. I'm not sure what I was thinking considering how blasted hot it is here in Sacramento. So, not wanting to buy another thing to stuff into my tiny kitchen, I refused to buy new popsicle molds. So, for the couple months of 100º weather, I made do with organic lime popsicles from a local market. The trouble is even those nice organic pops are full of white sugar and are a bit too sweet for me.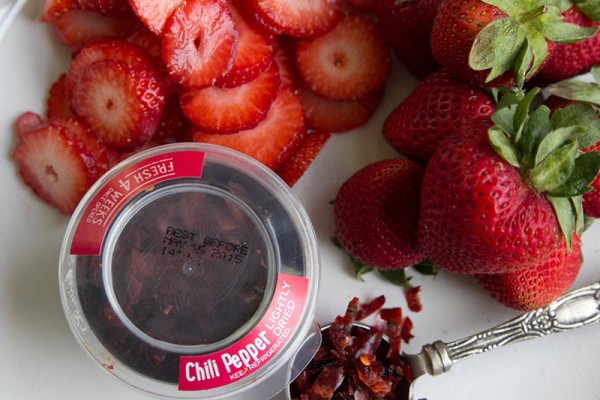 Truth is, there's no need to go without homemade popsicles. Your favorite popsicle recipe (ahem, this one) can be made without the molds. I'll show you my popsicle trick. Here's a hint.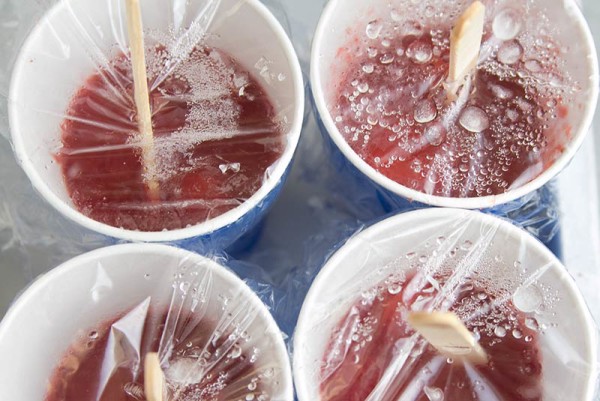 Finally, Homemade Popsicles
On our first 80º weekend this year, I decided it was time for popsicles. I got an amazing deal on local organic strawberries, and so I made a double batch of these sweet and spicy strawberry popsicles. These are great to make for a party in larger batches. No need to splurge on extra popsicle molds either! These homemade popsicles are also fabulous for a party because they are gluten free and paleo and can easily be made vegan!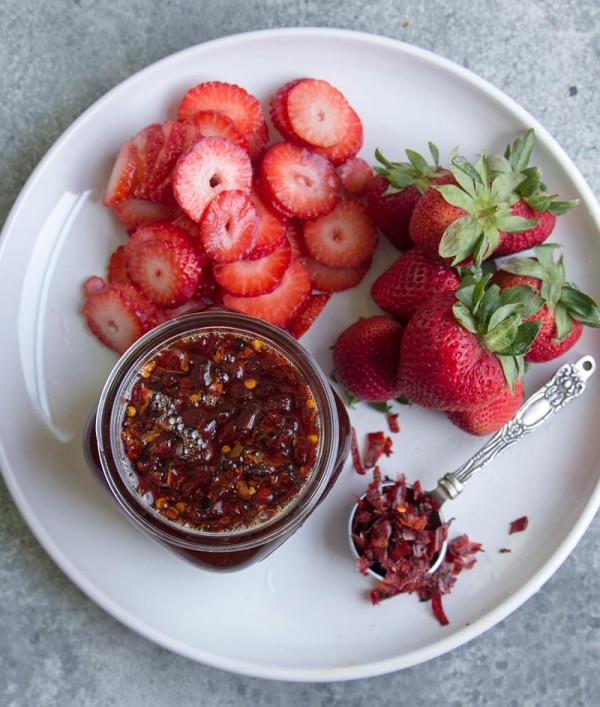 Though strawberries are all over our farmers market right now, we still have a few months until chiles crop up, but of course, I have a freezer full of Gourmet Garden Lightly Dried Herbs. For a moment, I vacillated and almost went with the lightly dried ginger, but in the end, chile won out. I'm not ruling out a gingery popsicle in the near future! As a matter of fact, I'm not ruling it out at all.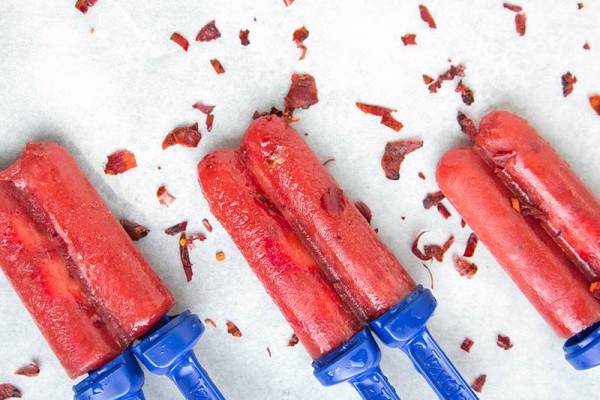 Homemade Popsicle Recipe: Strawberries with Chile-Infused Honey
These popsicles have an intense strawberry flavor. The sweetness comes from the berries themselves and from wildflower honey. The wow factor in this recipe is the slightly smokey, sweet heat that comes from the chiles. Adjust the amount of chile to your taste. A half tablespoon will give just a hint of chile flavor and heat one and a quarter will still have a fairly mild chile flavor with a more noticeable heat, and one and a half tablespoons (my favorite) gives a great pepper flavor with a nice heat at the finish.
Makes 8-12 popsicles depending on the size of your mold.
Ingredients for Homemade Popsicles
¾ cups of honey (for vegans, use agave syrup and reduce the water by half)
¼ cup water
½ to 1½ tablespoons Gourmet Garden Lightly Dried Chilies
Pinch of Salt
1.5 lbs strawberries (divided)
½ lime, juice only
In a small saucepan over medium heat, bring honey, water, chilies, and salt to a boil, stirring occasionally. Turn heat to low and simmer for 5 minutes. Then remove from heat.
Instructions for Homemade Popsicles
Slice the tops off of the strawberries. Thinly slice 6 medium strawberries, and set them aside. Put he rest of the berries to the bowl of a food processor then add the chile honey syrup and the lime juice. Process until the mixture is nice and smooth.
Pour the juice into a wide shallow bowl or dish then add the sliced strawberries. Cover and refrigerate for at least one hour.
When the strawberry mixture is nice and cool, pour into popsicle molds and freeze for at least 6 hours.
HOW TO MAKE POPSICLES WITHOUT MOLDS aka Dixie Cup Popscicles
No popsicle molds? No problem. Simply fill paper cups with about ½ cup of the strawberry chili mixture. Cover tightly with plastic wrap and make a small slit in the plastic with a sharp knife. Slip a popsicle stick into the slit and freeze.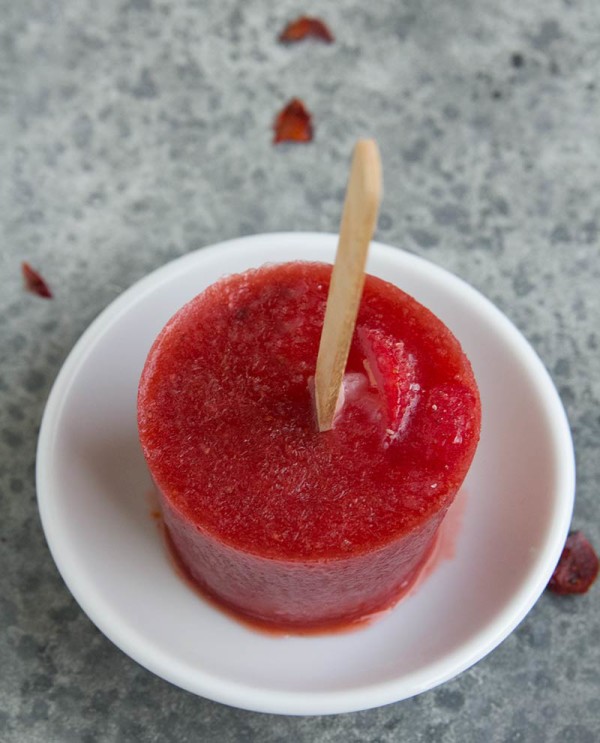 Need More Strawberry Inspiration? Check out these unique ways to use my favorite fruit.