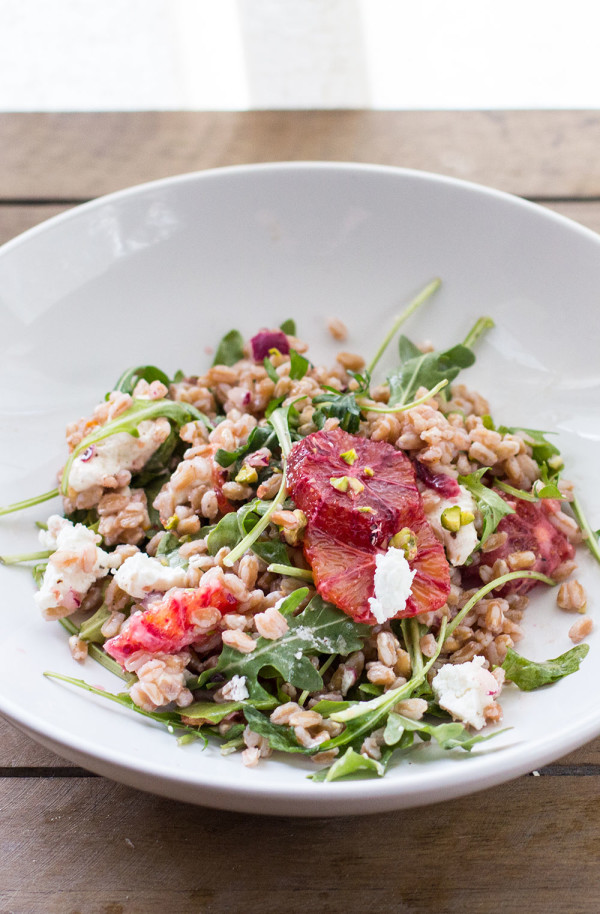 This healthy whole grain salad is gluten free and vegetarian. Made from gluten free oat groats and a mix of beautiful citrus, like blood orange, mandarin, and kumquat, it is finished with a really special vanilla bean vinaigrette, pistachios, and goat cheese. This is a hearty salad with tons of flavor. Perfect for a lovely lunch or dinner.
Healthy Whole Grain Salad with Citrus
Almost exactly one year ago, my back was so bad that I took three months off work. I considered back surgery, and really struggled with what it meant to be unable to do the work I'd done my entire adult life. While I was off work, I also had a cooking accident, which almost cost me a fingertip. It was a rough patch to say the least.
A few weeks ago, while getting ready to have my friends Lani and Tom for dinner, something snapped in my back. I acted fast this time, going on steroids, getting an epidural shot right away and doing pilates at home as well as my physical therapy exercises that I've become all-too familiar with.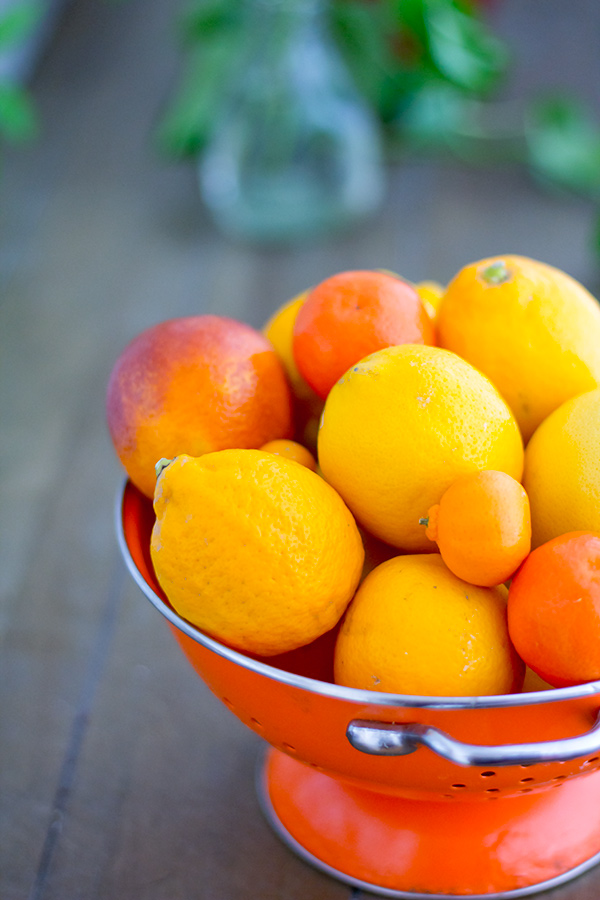 Then came another cooking accident- this time a burn from hot butter and spices, stretching from my neck to my solar plexus. It looks like a map of Hawaii, and it hurts like mad.
Worse than the pain, is the fear. I've been here before, and I am not the kind of person who likes to be in stasis. Recently, I've let this fear completely paralyze me. There have been no posts here, no meals photographed, no recipes written.  I've been stuck, and unable to push myself from the ledge.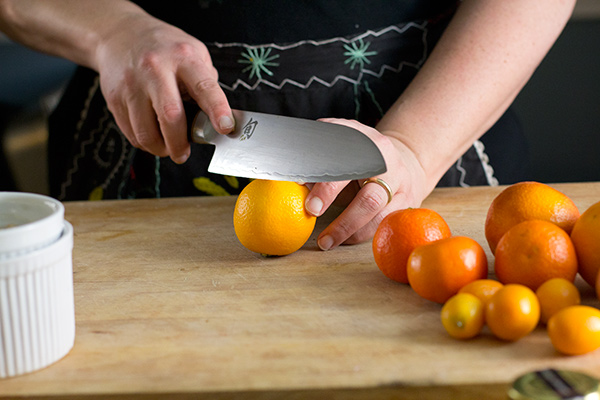 I keep thinking of my friend Michael Procopio. We dined together a few months ago when he was suffering from a bout of writers block coupled with a case of serious perfectionism.  I went back to reread the piece he was working on at the time of our dinner. One line jumped out at me:
 "All the bad things are the product of my own, fertile imagination."
 Leave it to Mr. Procopio to drop some pearls of wisdom.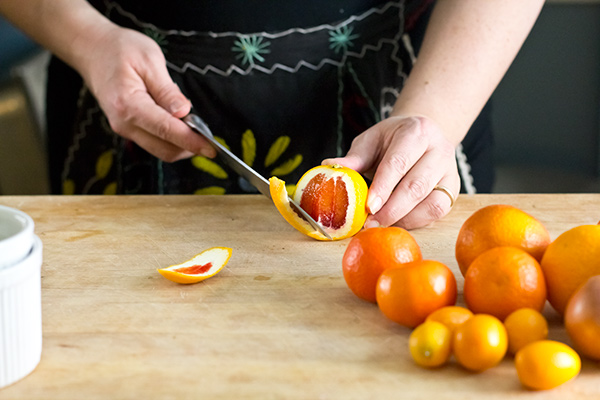 It turns out, another of my friends and fellow bloggers has been struggling. Like me, he's been cooking (or rather baking) and doing some upgrades to his site, but hasn't been posting. The longer he waited the harder it became to post. Kamran of The Sophisticated Gourmet, is a fantastic writer and photographer, the pressure became overwhelming.  He finally posted late last week with some delectable (and simple) cupcakes and some very big news. Congratulations on the fantastic post Kamran, and on the book! I'm so glad you're back.
The thing is. I know better than to get wrapped up in my own head about things I can't control like my back, and  burning myself, and the idea of being perfect, but sometimes it's nice to have a reminder to just get unstuck. The tremendous thing about blogs/Twitter/social media is that we support one another sometimes without even realizing we're doing it.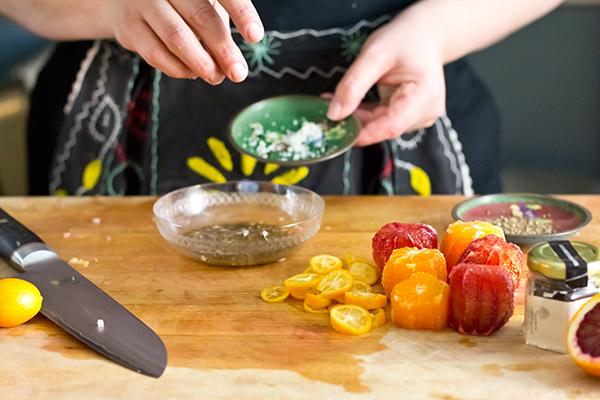 So I'd like to thank my friends Michael and Kamran- one just a few miles away, one all the way across the country, you both helped me, immensly.
I can't let fear and judgement get in the way of what I really love like cooking, and writing, and photography. Like seeing friends and family and experiencing joy fully every day. Yeah, I'm going to put those in the important pile. Those and whole grain salads.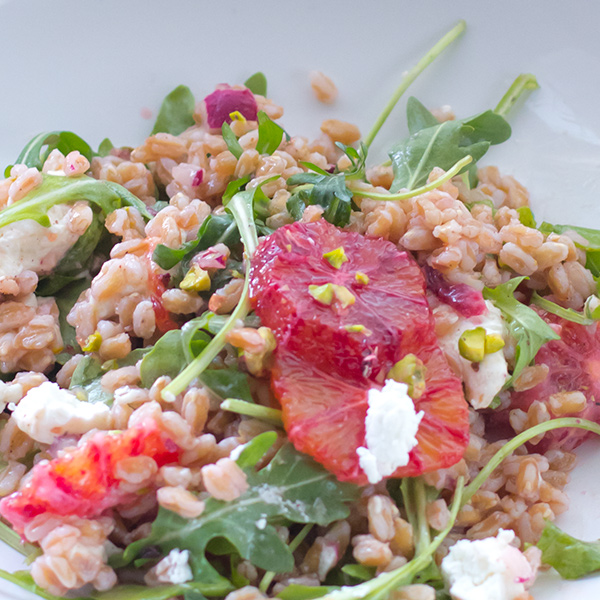 INGREDIENTS HEALTHY WHOLE GRAIN SALAD WITH CITRUS
2 cups gluten free oat groats
4 blood oranges
2 mandarin oranges
4 kumquats
a couple of handfuls of spicy greens like wild arugula, mizune, or peppercress
4 oz chevre
½ cup roasted unsalted pistachios, chopped
sea salt and pepper to taste
*pistachio oil (optional)
INSTRUCTIONS HEALTHY WHOLE GRAIN SALAD WITH CITRUS
Cook oats in 5 cups of cold salted water, bring to a boil and cook until tender, about 50-60 minutes, drain if any water remains
Peel mandarins and blood oranges using a knife removing as much a white pith as possible (as shown) slice, and remove pithy center.
Slice kumquats
INGREDIENTS VANILLA BEAN VINAIGRETTE
1/4 cup champagne vinegar
½ cup grape seed oil
1 vanilla bean, scraped for seeds or teaspoon whole vanilla powder
2 tablespoons of finely chopped shallots
sea salt and pepper to taste
INSTRUCTIONS FOR HEALTHY WHOLE GRAIN SALAD WITH CITRUS AND VANILLA BEAN VINAIGRETTE
Make dressing, whisk champagne vinegar, grapeseed oil, and vanilla bean until combined. Add shallot and salt and pepper.
Toss with warm oat groats and allow to cool.
Once cooled, add blood oranges, mandarins, kumquats, ¾ of the chopped pistachios and greens, season with salt and pepper, and finally top with crumbled chèvre and toss very lightly. Top each serving with a bit of pistachio and a drizzle of pistachio oil