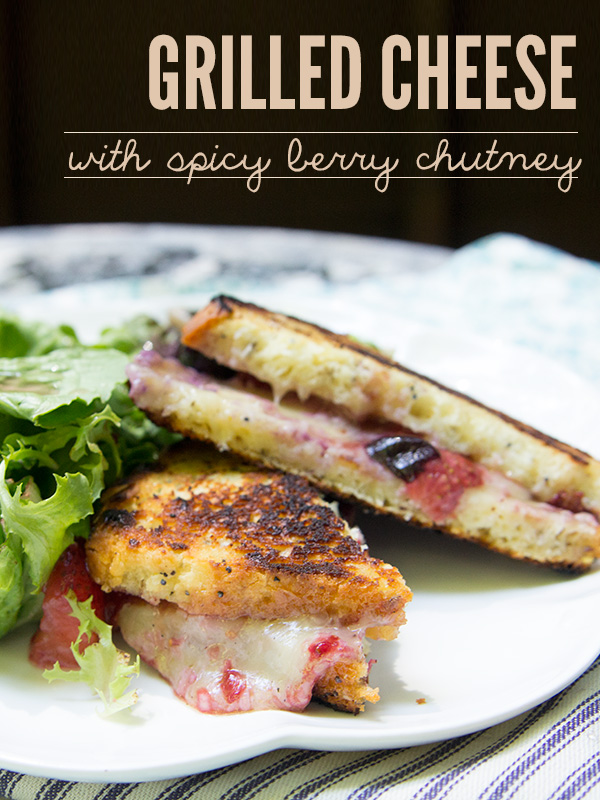 The sun shines through our bedroom windows; it is the only alarm clock I need.  I pause to kiss Joshua lightly, and leave him to sleep a bit longer. Little Lucy follows behind me as I head up our spiral staircase to begin my day. Water boiling for tea, pot bellied stove taking the chill out of the early morning air, this is how each day begins.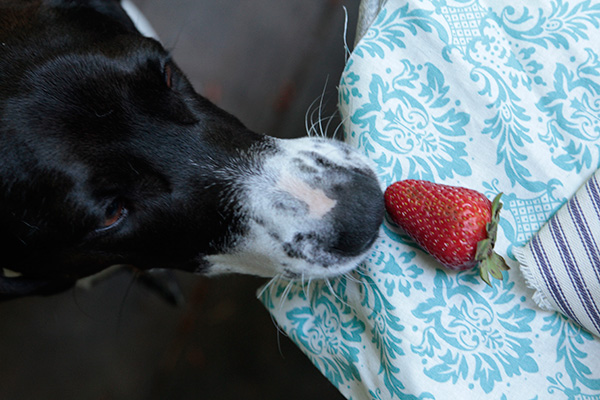 Tea in hand, Lucy and I walk out onto the back deck, and that's when I look up.  Not a day goes by that I don't marvel at the beauty and serenity of where we live. Rough patches aside, I feel as though we've hit the karmic lottery.
For the last five years, Joshua and I have had very different work schedules, and our meals together were few and far between. Now, on most days, we are eating two to three meals a day together.  Of all of the amazing things about our move, this might be my very favorite.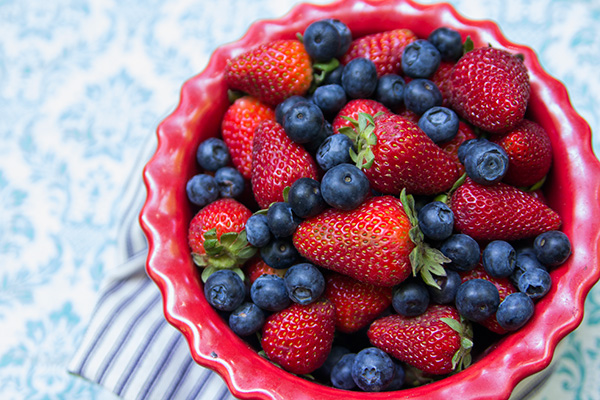 On Monday, I opened up the fridge, knowing I needed to head to the store before dinner, but hoping I might be able to scrounge something up for a quick lunch.  I poked around and found a nice piece of Kerrygold Dubliner Cheese, a basket of local strawberries, some gluten free sandwich bread, and a small bowl of lovely blueberries.  Suddenly, the idea for a spicy sweet berry chutney came to mind and a grilled cheese sandwich was born.
The summer berry chutney can be made with frozen berries, if strawberries or blueberries are not in season.  Also, my perfect method for grilled cheese involves lower heat and longer cooking times. I think it yields the best sandwich. Also, you'll have chutney leftover. Try it with brie or if you're feeling adventurous, chocolate. Believe it or not, the savory strawberry chutney is amazing with dark dark chocolate.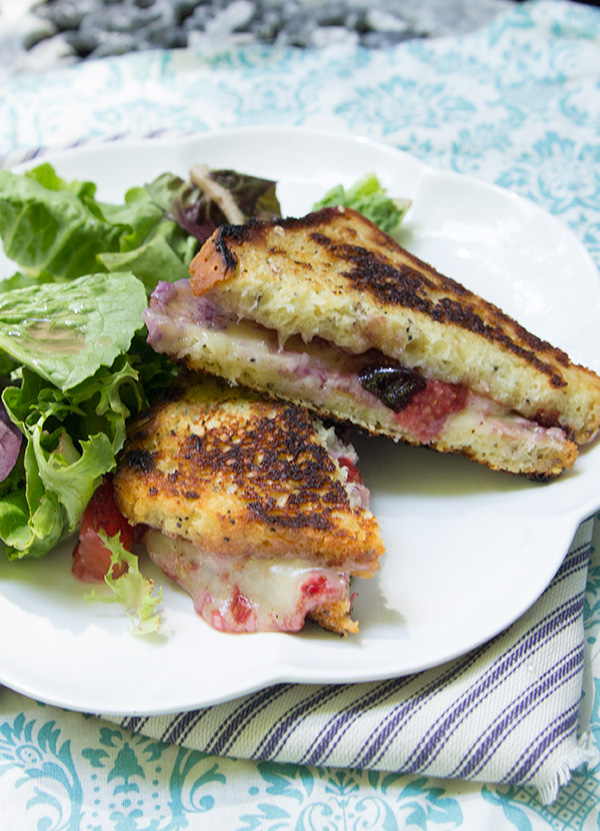 Ingredients

1 tablespoons butter
1 pint size basket of strawberries cleaned and quartered
1 6-8 oz package of blueberries
¼ of a red onion, very finely minced
1 spicy chili, very finely minced. (I used a Thai bird chili, jalapeños or serranos would be great here)
3 tablespoons good red wine vinegar
1/8 teaspoon sea salt
¼ teaspoon black pepper
Four slices of gluten free sandwich bread (whole grain, preferably)
4 oz sharp cheddar cheese (finely grated)
Instructions

Melt 1/2 tablespoon of butter in a skillet over medium heat.
Lower heat to medium-low and add strawberries, chilies, onions, and blueberries- sautéing until the onions are softened(about five minutes). Add vinegar, salt, and pepper and cook for another five – ten minutes depending on your desired thickness and the juiciness of your berries.
Meanwhile, spread each slice of sandwich bread with a bit of butter on both sides (I used Kerrygold salted butter).
Heat a skillet (cast iron is great here) on medium low heat, and add sandwich bread (buttered side down). Cook for about three minutes, then flip.  That's right, we're grilling both sides of the bread!
Top each slice of bread with ¼ of the grated cheese.  Cover, and cook for 2 minutes, open faced.  Add a tablespoon of the chutney to two slices of bread, then assemble the sandwich, and cool to your desired browness.
Then, eat it up with your love, your friend, or all by yourself, I won't tell.
here are some more <awesome> grilled cheese sandwiches
A little note about Kerrygold:
I am thrilled to be a part of the Kerrygold Blogger Network. I think most people would feel lucky to get free stuff from such an awesome company.  Kerrygold is also sending me to summer camp, that's right! Three Days and two nights at Camp Blogaway, lucky me!! I love being aligned with a company who has such standards of quality. Please know that I only work with companies I believe in, and I Kerrygold really fits that bill. Also, though I've gotten free stuff from Kerrygold, before, I paid for this cheese and butter from my own pocket- as I have for years.  This is not a sponsored post and Kerrygold does not require or even suggest that I post a recipe in exchange for my ticket to Camp Blogaway.