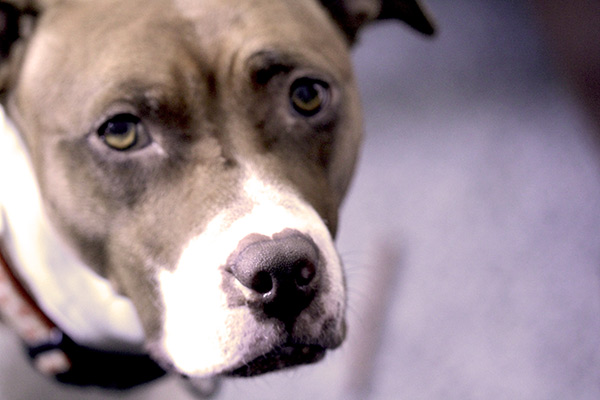 Joshua and I were cuddled up on the sofa- me working on my laptop, he probably watching cute kitten videos. Ruby dog was in her usual spot, nestled in between us when I noticed her sweet white muzzle was red and a little bumpy. At first, we thought she and her pal Mabel played tug of war a little too rough- bumping heads, but a couple of minutes later, her face was redder, and puffier, and her adorable little forehead wrinkles were not so little. By the time we decided to rush her off to the vet, little miss Ruby had gotten sick all over the bedroom carpet.
Upon our arrival at Mission Pet Hospital, Ruby was (reluctantly) taken to the back without us. Our vet came out  and confirmed what we suspected; Ruby was having an allergic reaction. They gave her benedryl and a shot of steroids, and apparently, she was doing a bit better already. They wanted to keep her for the rest of the day, so of course, I was mopey about not going home with my pup. I hate to think of her in a little kennel at the vet all day.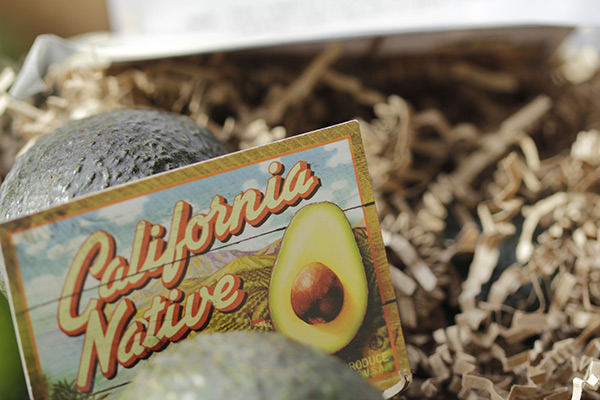 When we got home, there was a box on my front porch; I hadn't ordered anything so I smiled thinking, avocados! I had signed up to receive a box of California Avocados from Foodbuzz and the California Avocado Commission, but didn't know for sure if I was on the list to get them. I'll admit, this brightened my day just a bit.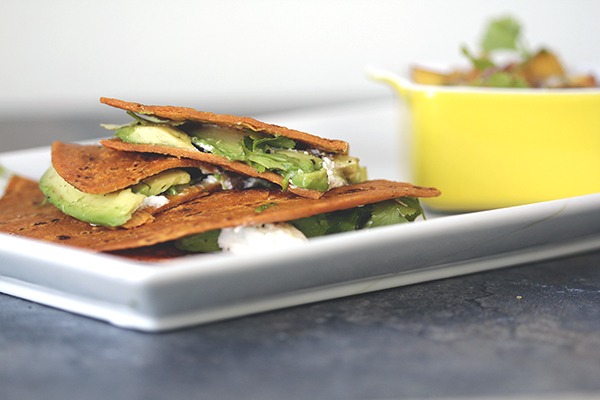 Avocados are my absolute favorite, and since we hadn't had lunch, I was hoping there was a ripe one in the box. There was, and my day was starting to look up just a bit more. A simple lunch of avocado and goat cheese quesadillas was just the thing. Comfort food at it's California best.  I also had some nectarines ripening on my counter and the most amazing Avocado honey. If you have a chance to try this, it tastes like a cross between honey and molasses and adds a deep rich flavor to anything it touches. It also tastes really great on a spoon (just don't eat the spoon). Grilled nectarine salsa with avocado honey? Yeah, sounded good to me too.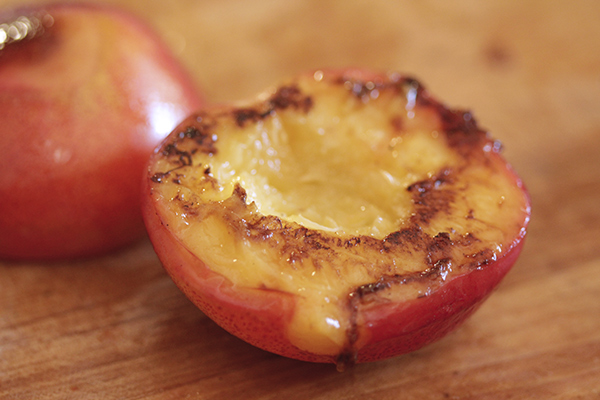 In the end, Ruby dog was just fine and so happy to see us. As always, she made friends with everyone at the office and melts hearts and pitbull stereotypes everywhere she goes. That's my girl.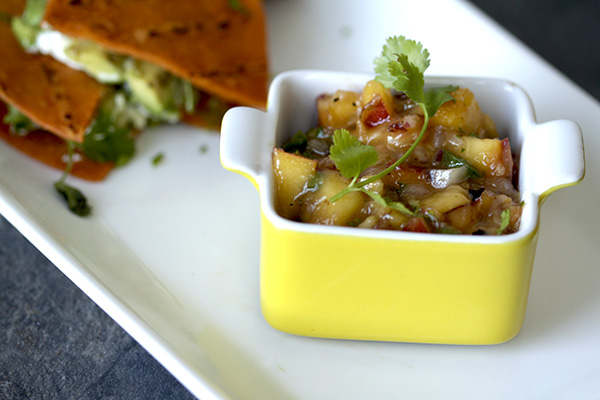 Ingredients For Quesadillas

4 tortillas (I used red chile tortillas made with a mixture of corn and flour)
4 oz soft fresh goat cheese (chevre)
1 ripe avocado
handful of cilantro
squeeze of lemon (I used Meyers, because I'm a California girl)
Ingredients For Caramelized Nectarine Salsa

2 ripe nectarines, halved and stones removed
¼ red onion very finely chopped
1 serrano chile very finely chopped (seeded if you want to get rid of the heat)
cilantro leaves very finely chopped- to taste
1 teaspoon red wine vinegar
1 tablespoon honey
1 tablespoon olive oil
grapeseed oil for brushing nectarines
salt and pepper to taste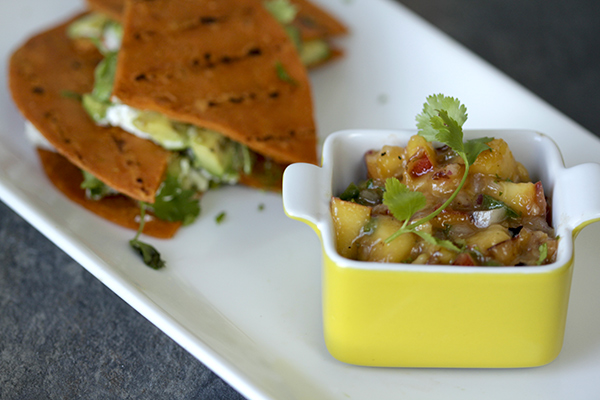 Instructions

Heat a cast iron  pan over a high flame and heat until very hot.
Brush nectarines with grapeseed oil, and place flesh-side down on about 3 minutes before checking for caramelization.
Once caramelized, flip to skin side and cook for another two minutes and remove from pan.
Chop nectarine into ¼ inch chunks, mix with red onion, chile, and cilantro.
Whisk honey, oil, and vinegar until fully combined then pour over nectarine mixture.  Add salt and pepper to taste.
Slice avocado and sprinkle with lemon juice to prevent browning. Sandwich slices of avocado and crumbles of chevre in between two tortillas and add some cilantro. Brush with oil and add to hot grill pan which has been set on a burner on high flame.
Grill for just a couple of minutes on each side of the tortilla, cut into quarters, and serve with nectarine salsa.