This one time, at blog camp…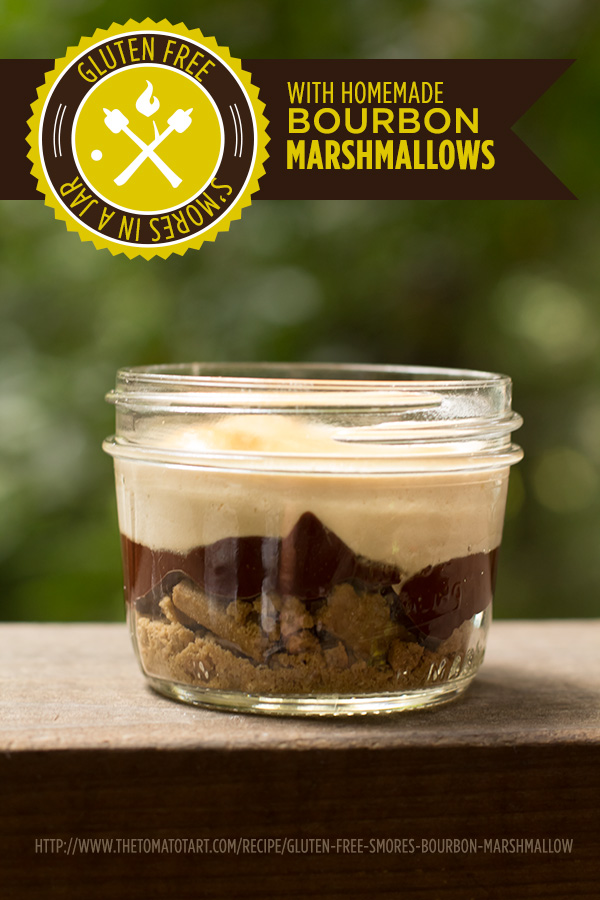 Gluten Free S'mores in a Jar
Something you may not know about me is that I dropped out of the Brownies the day I learned they slept outside. I informed my mother that they were stone mad, and I would not be going back– ever. I had been to precisely one meeting.
When I was 12, the great outdoors debate was reignited. My parents wanted to send me to summer camp (gasp!) They tried to negotiate and even offered theater camp, but I was having none of it. The closest I came to camping during in my childhood was pitching a Rainbow Brite tent on our roof deck or big sleep overs which involved sleeping bags in a living room.
Who knows what possessed me to volunteer as an outdoor ed counselor when I was 17? It probably had something to do with getting out of school for a week. Oh, and that there were boys cabins with boy counselors.
Since I was a vegetarian, I often got to eat with the staff at camp. Namely, Brad (or as I liked to call him B-Rad –because he was rad). He was a really cute naturalist who had just gotten back from a year in Alaska. Shaggy blonde hair, beefy muscles, and a full beard made Brad seem older and more mature than the boys in high school. Well, that and the fact that he was 26.
Up until this point in my life, I had never ever had a s'more. Sure I'd toasted marshmallows in our fireplace (I know, I know) but I'd never even heard of s'mores.  Now, s'mores, boys, and banana slugs were some of the main topics of camp, so I acted nonchalant. "Oh yeah, s'mores are great… yeah, B-Rad would be cuter if he shaved his beard… Ew no, I'm not licking a banana slug" You get the picture.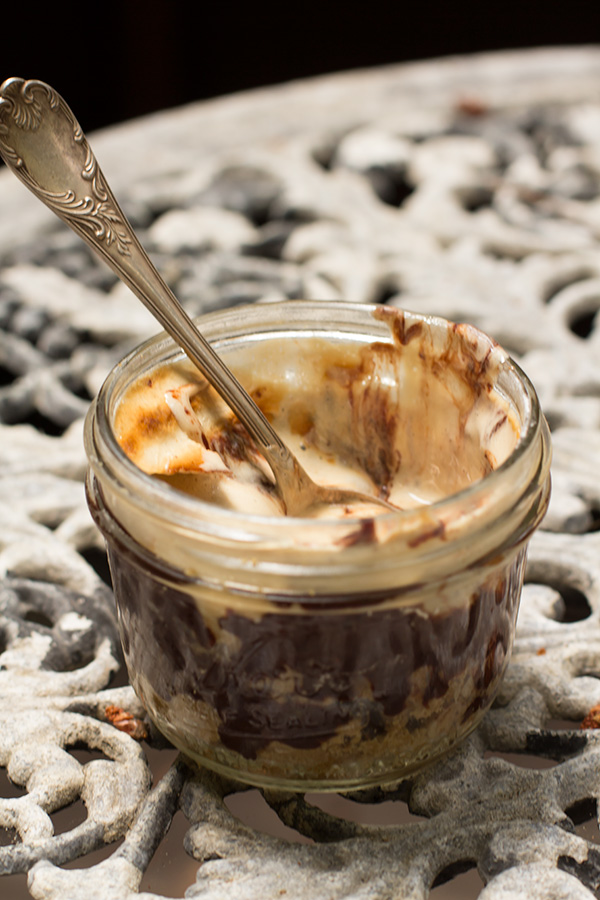 As we sat around the fire on the second night of camp, Brad showed up with a freshly shaved face and I was sure he'd heard my declaration and shaved just for me. Swoon.  The campers were in bed and we "grown ups" were sitting around the fire telling camp stories when the s'mores fixin's came out. I went to reach for a marshmallow and Brad put his hand on mine "You know…" thump thump thump went my heart. Was this the moment that I would kiss a man old enough to have a full beard? I gulped and turned to look at him, "Marshmallows have gelatin. They're not vegetarian." said Brad
Needless to say, I never kissed Brad. More shocking though is the fact that I never had a s'more until I was 31 years old. My brother and Joshua couldn't believe it when I told them I'd never had a s'more. We all went out to get s'mores stuff and had them that very night. They may not have been gluten free s'mores with bourbon marshmallows, but they were totally delicious.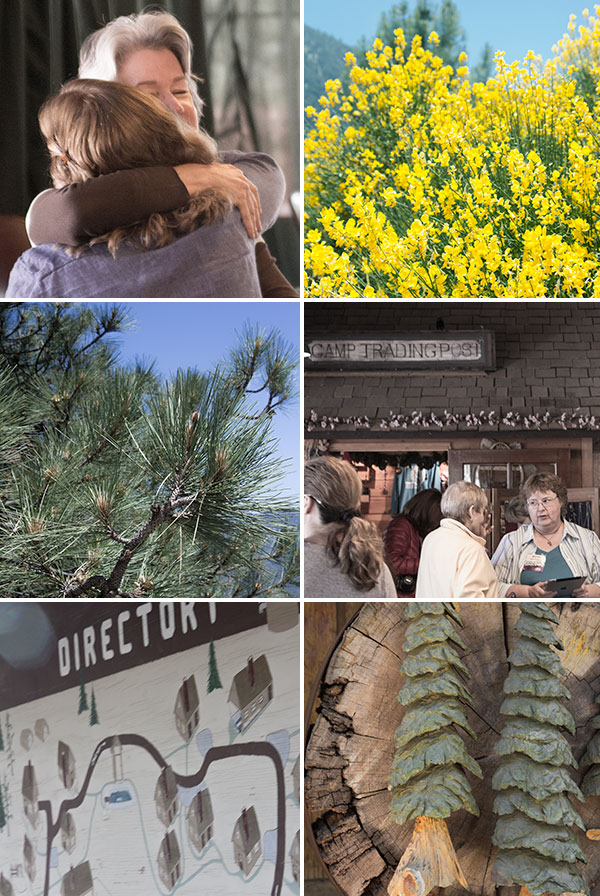 Eight years has passed since my first s'more. In that time, I've become a seasoned camper and even moved out of the city and to the redwoods.  Of course, when I heard there was a food blogging conference at a real live summer camp, I jumped at the chance to go.  I was lucky enough to go to Camp Blogaway thanks to the generosity of Kerrygold Butter and Cheese and Green Valley Organics.
Food blogger camp is a lot like what I imagine regular camp to be.  You arrive nervous and maybe a little shy. Most of all, you're hoping that the girls you're bunking with will be nice.  When it comes time for the activities, the nerves kick into high gear, but you know you'll regret it if you hang back and so you say yes to Zumba at 6:00 AM (okay maybe that doesn't happen at regular camp) . And when it's time to go home, you realized you've made new friends, tried new things, and you're really not ready to go home just yet.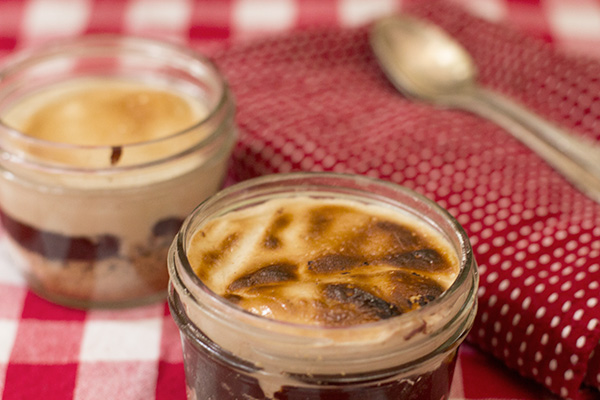 I'd like to thank my generous sponsors for sending me to camp. I feel fortunate to work with ethical, honest, humane and sustainable brands like Kerrygold Irish Butter and Cheese as well as the amazing people at Green Valley Organics.  I proudly feature products from Kerrygold, Green Valley Organics, Redwood Hill  (sister company to Green Valley Organics) on my blog and in my kitchen on a regular basis, not because they pay me, but because I truly love the foods they produce. Please consider supporting these fine companies the next time you head to your local grocer.
Ingredients for Gluten Free S'mores in a Jar.
My marshmallow recipe is adapted from the queeen of marshmallows, Shauna Sever. If you like making marshmallows, I highly recommend her book.Marshmallow Madness!: Dozens of Puffalicious Recipes
For this recipe, you will need four small mason jars or oven safe ramekins
For Bourbon Marshmallows
½ cup powdered sugar
½ cup organic corn starch
grapeseed oil
2 envelopes (two tablespoons) powdered gelatin
1/2 cup bourbon
1/3 cup water
1 cup sugar
1/3 cup organic light corn syrup
4 large egg whites at room temperature
pinch of fine grain sea salt
2 teaspoons vanilla extract or 1 vanilla bean- scraped
Mix equal parts powdered sugar and corn starch. Whisk to combine or run through a sifter or fine mesh sieve.
Brush grapeseed oil all over the surface of an 8×8 baking pan, then sprinkle liberally with sugar/starch mixture.
In a small bowl, whisk together bourbon and gelatin. Allow to stand for 10 minutes.
In a small saucepan, fitted with a candy thermometer, bring water, sugar, and corn syrup to a boil and remove from heat once it reaches 245º
While you're making the syrup, beat the egg whites on low until they are foamy. Then increase the speed on your mixer to high and beat until very thick and fluffy
Slowly pour the syrup into the egg whites while the mixer is running on medium speed.
In the same pot you used for the syrup, gently heat the gelatin and bourbon and whisk to smooth any lumps.
Pour the melted gelatin into the egg white and syrup mixture, while the mixer is running on medium and continue to whip for another 5 minutes, then turn the speed up to high and beat for two minutes.
Pour into the prepared 8×8 pan –smoothing with an offset spatula. Top with more of the sugar/starch mixture and leave on counter top to set for at least four hours before cutting.
For ganache
2 cups dark chocolate chips
½ cup of cream
1 tablespoon vanilla extract
2 tablespoons butter
pinch of sea salt
In a double boiler, melt chocolate chips
In a separate saucepan, heat cream and vanilla extract over medium low heat until small bubbles begin to form at the edges of the pot
Once chocolate is melted, add hot cream in two batches- stirring to combine after each. Remove from heat and then add the butter, one tablespoon at a time stirring to incorporate.
To assemble gluten free s'mores in a jar
Crush 8 squares of gluten free graham crackers into crumbs. You can either put them in the food processor or put them in a zip top bag and roll them with a rolling pin.
Divide the crumbs amongst your four mason jars (or ramekins). Top each with one quarter of the ganache and finish with a marshmallow.
Place under broiler for a couple of minutes until the marshmallows are toasted and melty then make sure to eat while nice and warm.
Recipes on my site featuring Kerrygold, Green Valley Organics, and Redwood Hill Farms
Grilled Cheese with Spicy Berry Chutney
Grain Free and Lactose Free Yogurt Parfaits
Smoked Goat Cheddar Quesadillas with Green Garlic Crema
More S'Mores Recipes
S'mores Macarons
Smores Fudge
Homemade S'mores Poptarts
Gluten Free Vegan S'mores with homemade grahams
Homemade Gluten Free Graham Crackers