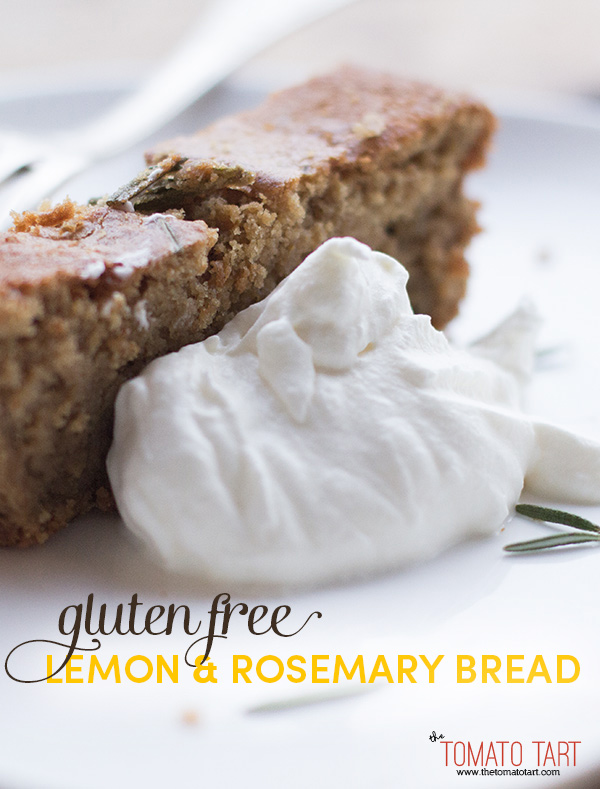 GLUTEN FREE LEMON BREAD WITH FRESH ROSEMARY
My friend Irvin, of Eat The Love, sent me a text saying "I made this and it's so you". I tapped on the attached photo and saw luscious rosemary lemon bread. He was right, it was so me.
My feelings about citrus are well-documented and I love putting rosemary in sweet baked goods. It's nice to have a friend who knows me so well.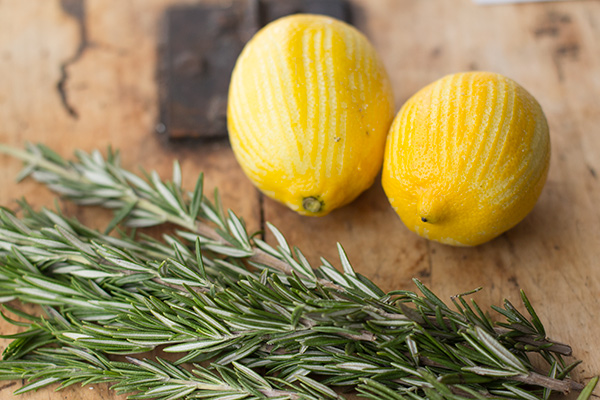 So Irvin and I got to talking, and he came up with this really cool idea… What it we each made our own version of a recipe? Like if I put my spin on his Lemon Rosemary Bread and then we each did a version of a recipe that I love. Then, what if we posted those recipes on the same day? You can't help but love this guy. He's adorable and super smart.
So I set to work thinking about what I'd like to do with my rosemary lemon bread. We based the recipe off of this fantastic looking lemon loaf from Simply Recipes. I knew mine would be gluten-free, extra lemony, and full of fresh chopped rosemary from my backyard. I'd go for an unprocessed sweetener and oh, I'd add some buttermilk for sure.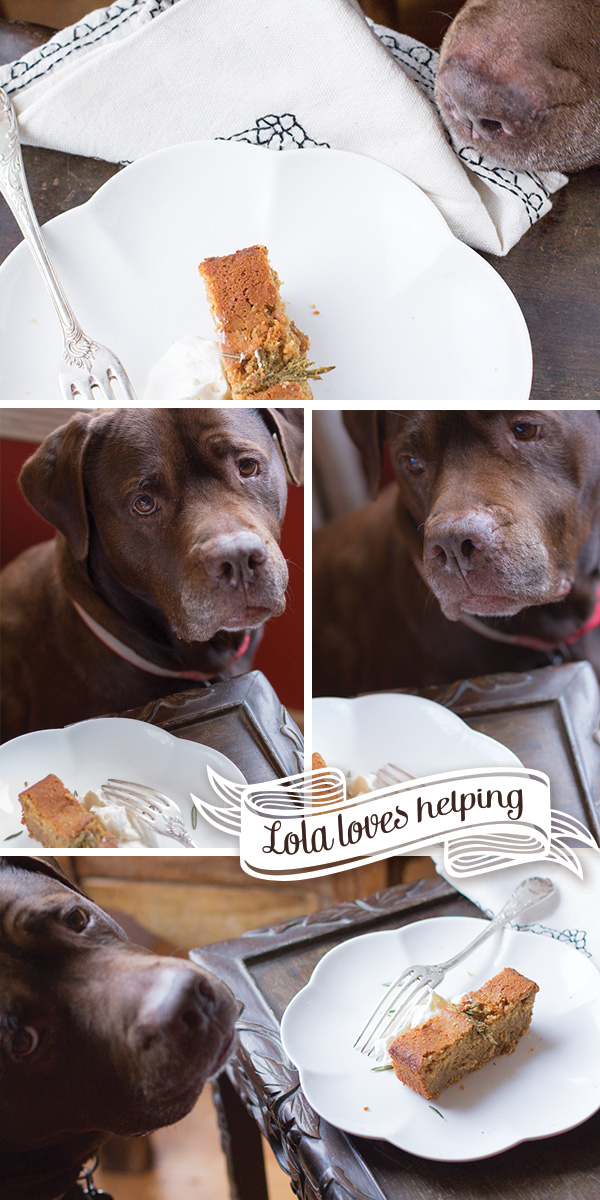 So what happened when this little loaf came out of the oven? A delicious little cake happened, that's what. It's got a tender crumb, but it's also hearty- more of a sweet quick bread than a cake.  The coconut palm sugar give a dark molasses taste and the happy scent of lemons and rosemary fills the air.
For the flour mix, I made a full 1000gm batch of all purpose gluten free flour blend. Even though the recipe only calls for 170 grams, I like having a flour blend all ready to use.  I based this blend on Shauna's from Gluten Free Girl.  There are no gums, no funny ingredients, and it tastes fantastic.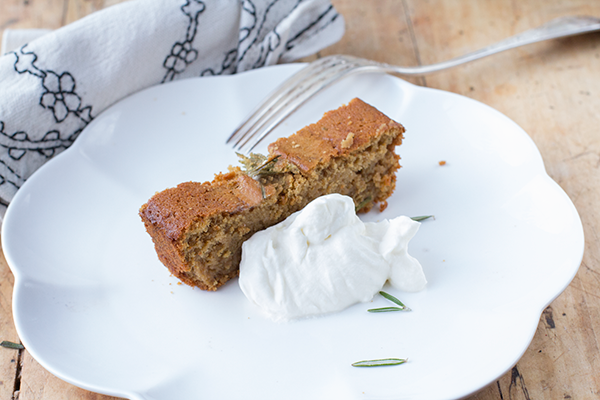 To make the flour blend, combine the following in a large jar and shake well until combined. Or you can throw the flours in your stand mixer (or hand mixer) with the whisk attachment before placing in a jar. This is my preferred method as I use glass jars and I'm a well-known Klutz.
Gluten Free Flour Blend (makes 1000g, so you have plenty left over for baking)

300g  superfine brown rice flour
100g millet flour
200g extra fine sweet white rice flour
100g tapioca flour
300g potato starch
Ingredients Gluten Free Lemon Bread with Rosemary

3 tablespoons ground golden flax seeds
¼ cup boiling water
1 stick of softened butter (4 oz) – not microwaved, just left at room temp until pliable
150 grams coconut palm sugar
3 tablespoons ground golden flax seeds
¼ boiling water
2 room temperature eggs
2/3 cup of buttermilk
zest of three lemons (about 1.5 tablespoons)
1 teaspoon finely chopped rosemary needles
170 grams of gluten free flour blend
1 teaspoon baking powder
For lemon whipped cream

1 cup of heavy whipping cream
1/8 teaspoon natural pure lemon oil
2 teaspoons powdered sugar
Instructions Gluten Free Lemon Bread With Rosemary
Preheat oven to 350º and grease a loaf pan.
Add boiling water to a small bowl filled with the flax seeds. Whisk to combine and set aside.
Cream butter on medium speed for about 5 minutes or until fluffy. Add coconut palm sugar, and beat until smooth and velvety- scraping sides of the bowl down. This may take a bit longer than with cane sugar (5 or so minutes)
Add the first egg, and mix until combined- again scraping down the sides to incorporate everything. Add the second egg and repeat. Add the flax seed mixture all at once, then drizzle in the buttermilk, and add the lemon and rosemary.
Sift the baking powder together with the flour and slowly add to the mixer.  Beat until well-combined.
Bake for 50-60 minutes or until a tester comes out clean.
Allow to cool fully before serving, then top with lemony whipped cream.
Instructions Lemon Whipped Cream

Place a bowl and whisk in the freezer for at least 10 minutes.
Whisk cream until it forms soft pillowy peaks. Add the lemon oil and powdered sugar and whisk just to combine.  If you prefer a stiffer whipped cream, you may beat it for a bit longer, just be careful not to make butter. 😉