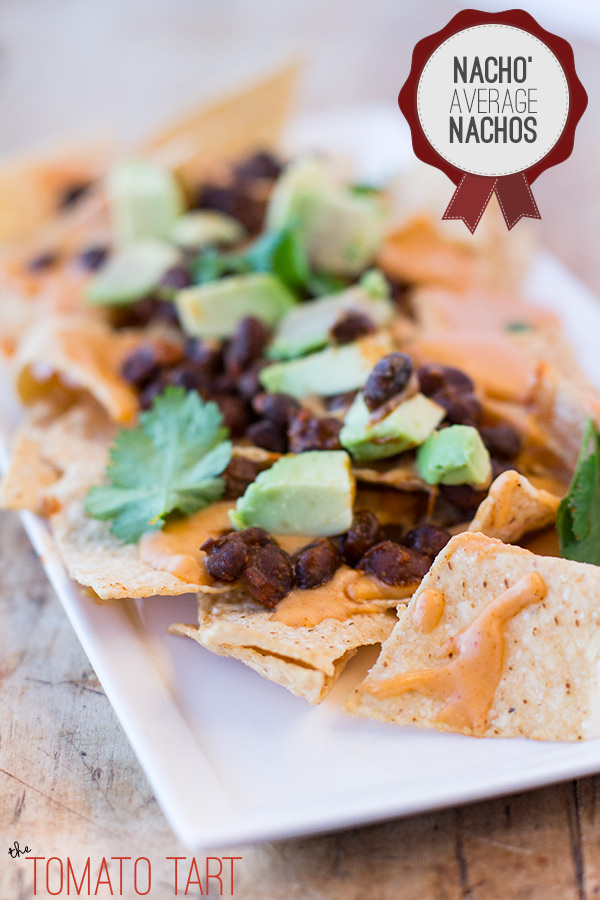 Gluten Free Nachos with Vegetarian Spicy Black Beans
I am not what you'd call a football type of girl. As a matter of fact, when I was growing up, I made a pact with myself that I would never marry a guy who watched sports on TV. I stuck to my guns, and I couldn't be happier.
I did grow up in a football, baseball, basketball loving house. I'll clarify- the male half of the house loved sports. My dad was a huge fan of the Yankees, the Giants, the Warriors, and the 49ers. I think the best thing that ever happened to him (aside from us, his family) was getting to go to the Superbowl to see Joe Montana lead the team to victory against the Cincinnati Bengals.
On the day of the game, we all huddled around the TV at my aunt's house in Menlo Park and watched intently– just in case we could see my dad. Well, I'm sure some people were actually watching the game, but as far as I was concerned my dad was a bigger hero- a bigger superstar than all of the 49ers put together.
In January of 1982, I'd only been home from France for about a month and I remember my uncle Gordie making barbequed pork butt (which at 9, was the funniest thing ever).  It tasted smoky and sweet and totally American.
Years later, we'd attend an annual superbowl party at my friend Julie Walker's house. I remember spinach quesadillas and popcorn and seven layer dip and oh yes, nachos. Now, in the 1980s, I don't know if anyone was making gluten free nachos, but today, heck yeah!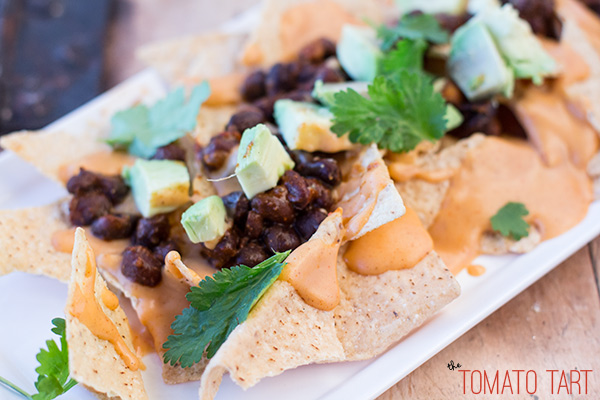 Though, I won't be watching the Superbowl™ this year, I have to say there's something about seeing all of the Superbowl™ food that makes me a little nostalgic. I can picture my dad, sitting on the edge of his sofa cushion- watching the game,  buffalo wings in hand- and jumping up when his team scored. I remember hearing him and my brother cry "no no no no no!" when the other guys were up.
I remember one Superbowl- my mom made snacks while my dad, my brother, and I sat in the family room watching the 9ers beat the Bengals again. I remember begging to have a beer because clearly 15 is old enough and I'm sure I would have just loved it.
So, all week as I've been seeing Superbowl Snacks lighting up the blogosphere, I've thought about my favorite football-friendly dishes with great fondness. Eventually, I broke down and made myself some super cheesy gluten-free nachos. Crispy tortilla chips, spicy gluten free nacho cheese sauce, and black beans topped with avocado. That's how I love my nachos and I can guarantee, my dad would have loved them too.