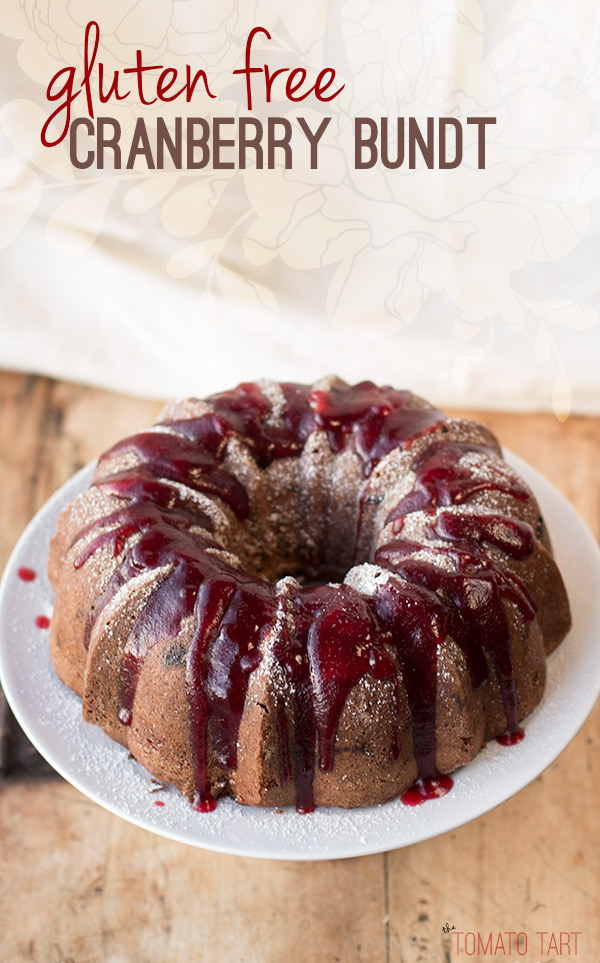 My grandmother was 44 years old when she gave birth to my mother. Her husband was 27. They met in Paris, on a train, after the war. She had been an artist's model, he'd been a soldier in the French underground.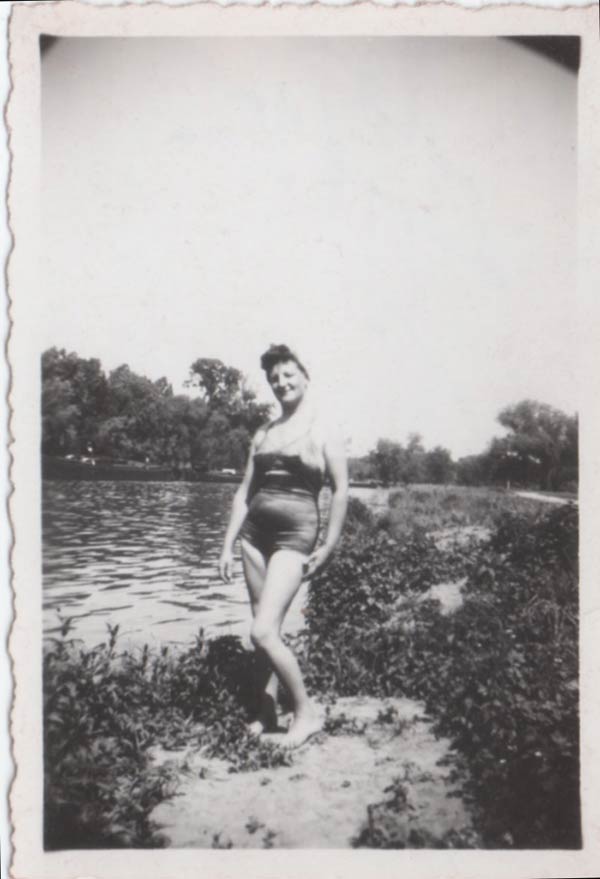 He spoke to his friend in English, saying "She's a looker, too bad about her legs" She chuckled, she was famous for her legs.  "You speak English." he said, a little surprised. "I am English." she replied- for the sake of simplicity.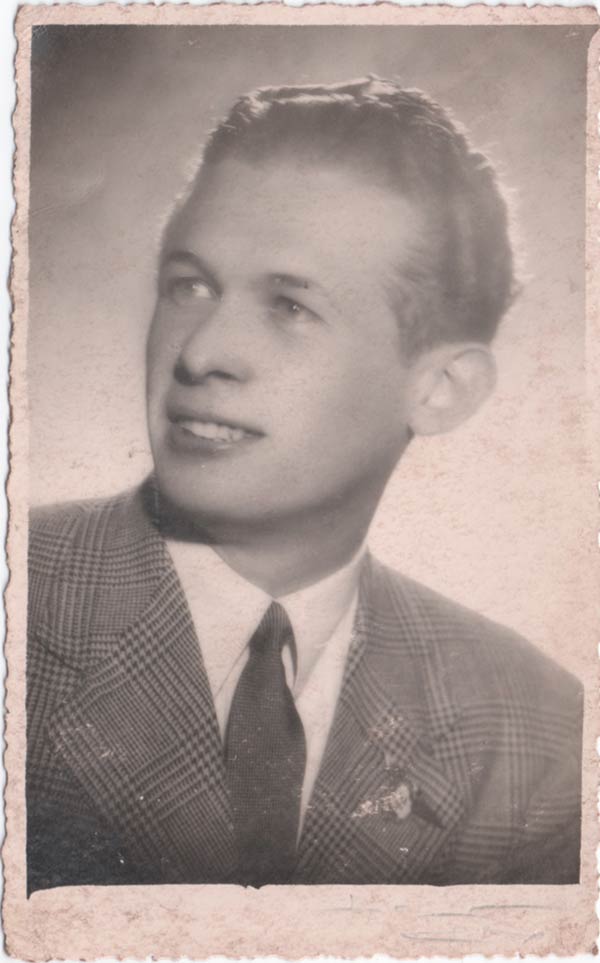 He introduced himself and began to tell her the story of how he'd been staying in Paris with another English girl and her husband. He mentioned the girl's name– Gilda. "Gilda," my grandmother informed him, "is my sister."
And so it began, a love story (of sorts) that began in Paris in 1946, came through New York ten years later with a child in tow, landed in San Francisco then scooted a few miles south to a sleepy suburb called San Bruno specifically a subdivision called Crestmoor.
Follow The Tomato Tart's board Gluten Free Recipes on Pinterest.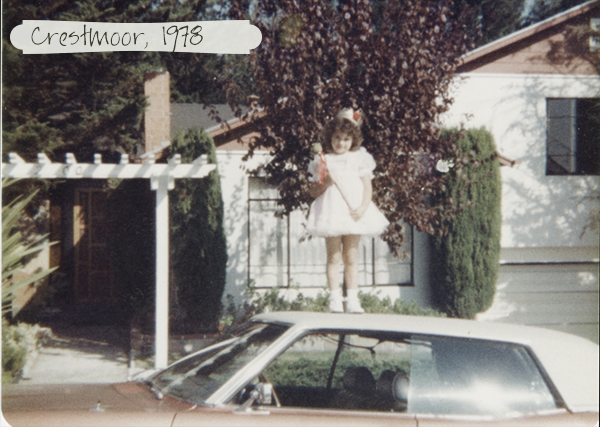 Crestmoor with the black and white tiled floors, and the gold flocked wallpaper, with the stone foyer, and my friend, the weepy willow. The little ranch house which was 5831.79 miles from Paris but must have seemed one million miles away to my immigrant family.  So much of my early life is tied to that place, the place where my grandmother lived, larger than life, full of warmth and life and laughter. Equal parts well-mannered Brit and fiery Italian/Frenchwoman. She was the heart of the home called Crestmoor.
When Christianna (Burwell General Store) said that we'd be doing a fruitcake for this month vintage recipe remake, I thought of trying to find my grandmother's recipe and making one. Filling it with that same jellied fruit, the one with the mysterious green bits- soaking the cake in booze for a month until it's ripe with the warm scent of burnt sugar and old wood. But, somehow fruitcake just doesn't seem the same when it's not consumed amid gold candelabra, puce velvet drapes, powdered faces, and yes… flocked wallpaper.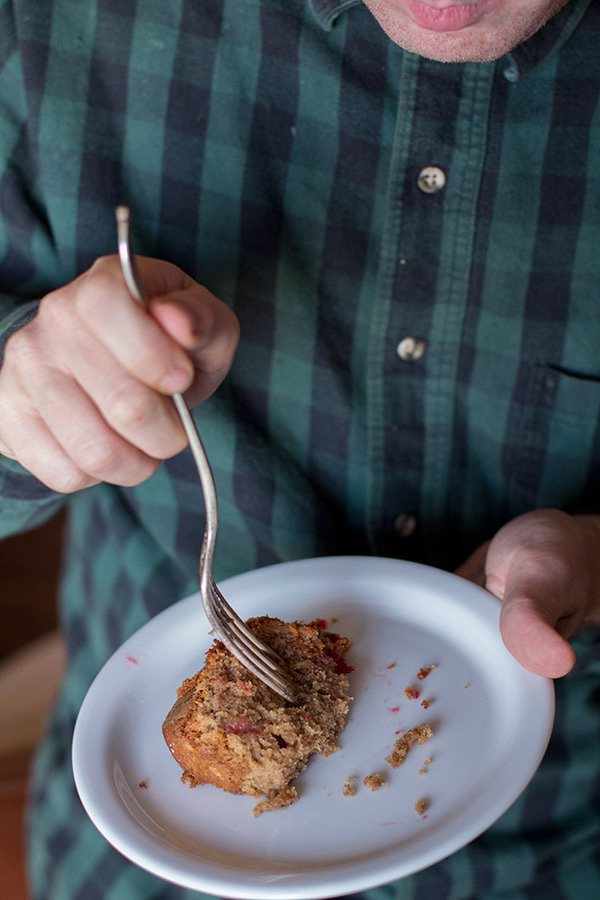 I baked this cake for my brother's visit. We watched movies and ate salad. We laughed and moved boxes around the garage. We did laundry and dishes. I looked on and my brother and my husband rode my bike trainer in the house and whacked one another with faux medieval weaponry. While our story may not have trains and wars and unbelievable coincidences, it has a fruit cake (of sorts) and it's a love story (of sorts) and it's still being written each and every day.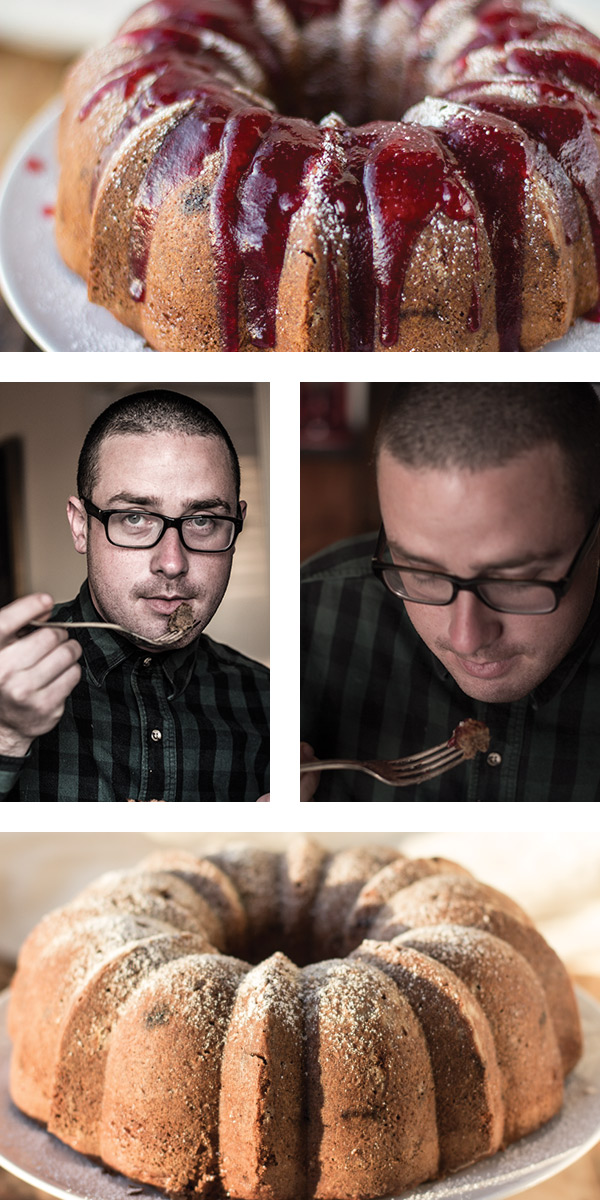 This gluten free cranberry bundt cake is a cake for a  celebration, but it's also an every day cake. It's full of fresh and dried cranberries, for a balance of sweet and tart and it's great with or without the cranberry glaze.  A cook's note: don't skimp on the time to cream the butter and sugar- this is what makes your cake's texture. It's worth the wait.
Ingredients gluten-free cranberry bundt cake

2 sticks plus two tablespoons unsalted butter (slightly softened)
200 g (1 cup) organic sugar
215 g (1 cup) muscovado sugar
6 eggs
2/3 cup sour crème (I used Green Valley Organics, Crème Fraiche Style)
1 tablespoon vanilla
450 g gluten free flour mix consisting of:
   —  200 g pecan meal*
   — 150 g superfine brown rice flour (I use Authentic Foods Brand)
   — 100 g tapioca starch
2 teaspoons baking powder
1 tablespoon cinnamon
½ teaspoon salt
1 cup fresh cranberries
½ cup dried cranberries
powdered sugar for dusting
* To make pecan meal, place pecans in the freezer for about 20 minutes. Then, add to the bowl of a food processor or high speed blender and pulse several times until the nuts are finely ground. If you go too far, you'll get pecan butter, which won't make a very good bundt cake.
Instructions for the cake
Preheat the oven to 350º and grease a bundt pan (really butter it) then sprinkle some gluten-free flour inside.
In the bowl of a stand mixer, cream butter and sugars on medium speeed until light and fluffy (about 10 minutes), stopping mixer from time to time to scrape the sides of the bowl.
In a separate bowl mix your GF flour mix with baking powder, salt, and cinnamon, then whisk to combine.
Add eggs to the stand mixer, one at a time, making sure each egg is fully incorporated before adding the next one. Don't forget to scrape down that bowl.  Add the vanilla and the sour cream, then turn the mixer down to medium low. Add 1/3 of the flour mixture. Once that is fully incorporated, scrape down the sides, and 1/3 more, mix to combine, then add the last.
Fold in the fresh and dried cranberries, gently, by hand. Then pour the cake batter into the prepared bundt pan. Bake for 50 minutes or until a skewer comes out clean.
Cool for at least 20 minutes on the pan, then invert onto a rack to cool the rest of the way.
Ingredients Cranberry Glaze
2 cups fresh cranberries
2 cups water
1 cup sugar
1 teaspoon cinnamon
1 tablespoon vanilla
In a heavy bottom saucepan bring cranberries and water to a boil. Cook over medium high heat for 10 minutes or until cranberries soften. Strain cranberries, saving the water
Place cranberries in the bowl of a blender or food processor and blend until smooth.
Return to the saucepan with one cup of the cranberry water, one cup of sugar, the cinnamon, and vanilla, and cook over medium until the volume has decreased by half and it's looking goopy, syrupy, and rather jammy (about 20 minutes)
Strain through a fine sieve to remove all of the solids, then drizzle amply over the bundt cake and sprinkle with powdered sugar.
You may also enjoy Pear and Bourbon Bundt with Bourbon Sabayon
Cranberry Rosemary Spritzers from Shutterbean
Apple Cranberry Cake with Brown Sugar Glaze from Eat the Love
Sparkling Sugar Cranberries from a Cup of Mascarpone
A Rye and Pear Juice Cocktail with Pretty Cranberry Ice Cubes