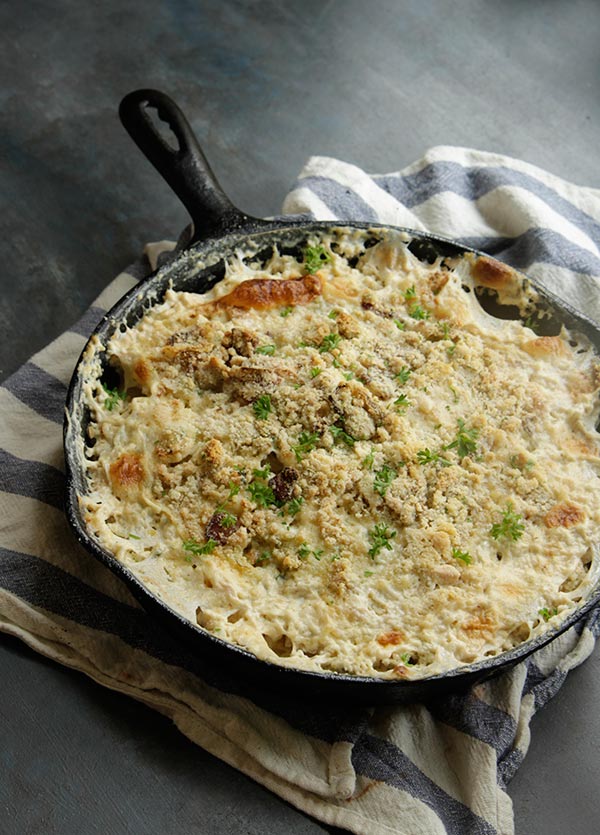 I was early, too early to knock on my friend, Joe's door. It was a blustery fall day and the thought of waiting on his stoop was really unappealing, so I walked towards Valencia. Surely there was something open for a little warmth and nourishment.
As I walked through the doors of The Last Supper Club, I was welcomed with the smells of garlic and butter and caramelized veggies. At 4:30pm, the place was empty. The waitress led me to a table and handed me a menu. By the time she returned with my water, I knew exactly what I wanted.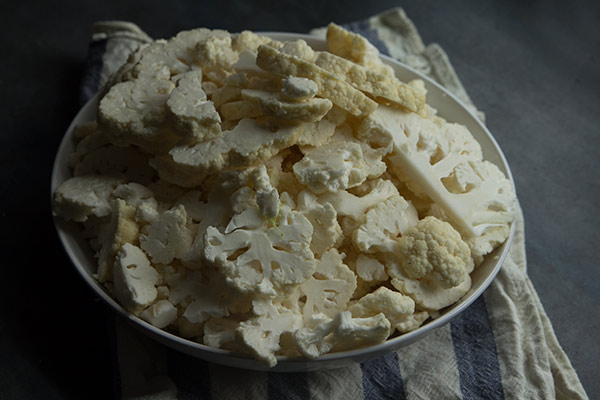 A steaming bowl of cauliflower soup with fennel and garlic breadcrumbs arrived a few minutes later. I savored every spoonful of that perfect dish, cherishing a quiet moment alone after a busy day and a hectic commute. By week's end, I had stopped in to The Last Supper Club twice more for a bowl of that soup.
It's been years, now, since that first bite of cauliflower and garlic and fennel. I've made countless dishes with the flavor profile- from soups, to mashes, to roasts, to my favorite, cauliflower gratin.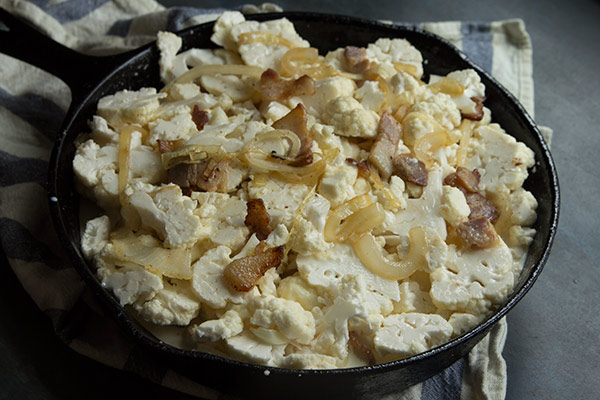 This simple low-carb, paleo-friendly, gluten free, and grain free cauliflower gratin first made an appearance on our table last fall. It has since been served at Thanksgiving, Christmas, and for a couple of dinner guests in between. This is the first time there has been bacon involved in my cauliflower gratin, and I have to say, the bacon is here to stay- unless one of our veggie friends is at the table.
I serve this right in the cast iron pan. I love the rustic look of cast iron, plus well-seasoned cast iron is SO MUCH easier to clean than pyrex or a ceramic gratin dish. That being said, you can make this in just about any kind of oven-safe vessel.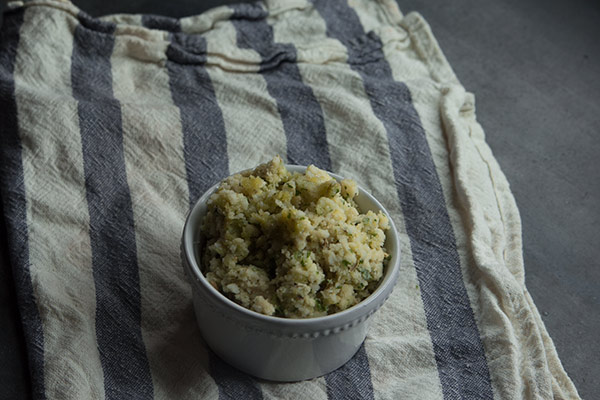 Also, you can get creative with the ingredients. If you are vegetarian, leave out the bacon. I've made this with leeks and with shallots and with baby spinach. Once you have the basic formula down, the options are wide open.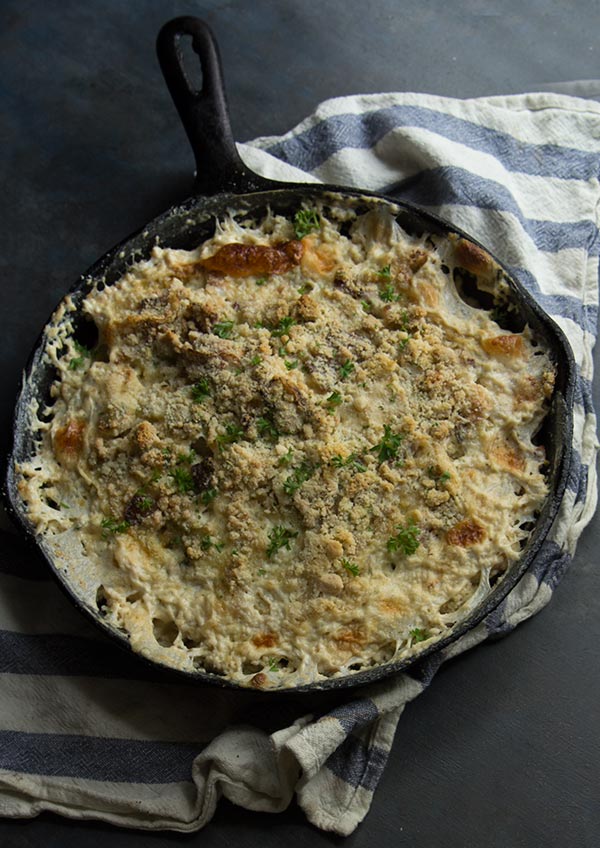 Prep Time: 15 minutes
Cook Time: 1 hour 15 minutes
4 slices bacon cut into bite sized pieces
¼ yellow onion, thinly sliced
2 heads of cauliflower (3.5-4lbs total), sliced into 1/4 inch slices
½ cup whole milk
1 cup heavy cream
¼ teaspoon salt
1 teaspoon fennel seeds
2 cloves of garlic, peeled
½ teaspoon fine grain sea salt
½ teaspoon coarse ground pepper
2 oz sharp cheese (I used Goat Cheddar from Redwood Hill Farm and Creamery)
¼ cup parsley
1 cup almond flour
Preheat oven to 350º F
In a 9 inch cast iron skillet, cook bacon on medium for 5 minutes (until one side starts to brown) Flip bacon, and add the sliced onions. Cook for another 5 minutes, until onions are softened and bacon is browned. Set onions and bacon aside and pour off all but one tablespoon of the bacon fat (reserve the rest of the fat for other uses).
In a food processor, mix fennel seeds, garlic, salt, pepper, cheese, and parsley. Pulse until the mixture is well combined. Add the almond flour and pulse just a few times until everything is combined.
In a heavy bottomed saucepan, heat milk, cream, and ¼ teaspoon sea salt to a low boil. Lower heat and simmer until a bit thickened.
Use a paper towel to grease the sides of the skillet with the bacon grease from the bottom of the pan. Add 1/3 of the cauliflower then top with 1/3 of the bacon and onion mix. Repeat with the remaining cauliflower and bacon then pour the milk and cream mixture over the top. Finally, add the almond flour topping.
Cover (very loosely) with foil and bake for 1 hour 15 minutes, removing the foil after 40 minutes.
Cool for 10 minutes before serving.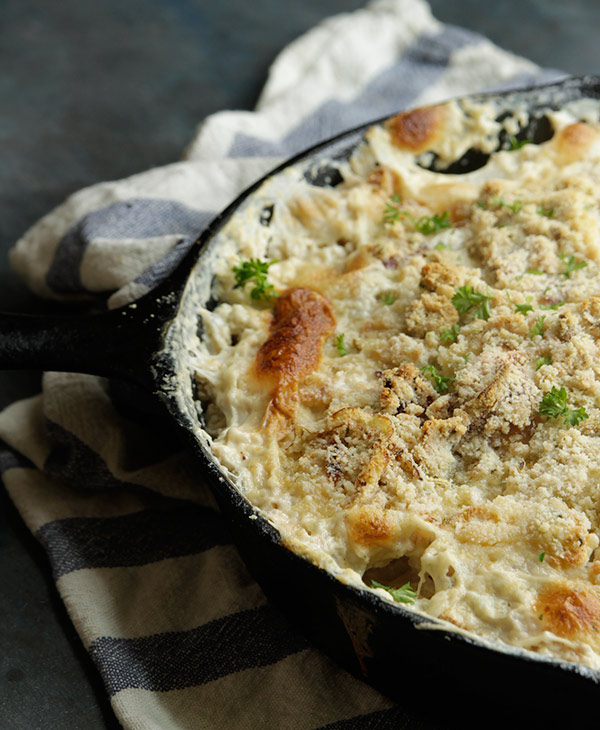 Some Great Grain Free & Low Carb Cauliflower Recipes from Around the Web
Jalapeño Popper Cauliflower Casserole
Cauliflower Crusted Pizza with Eggs
Paleo Cauliflower Salad with Lemon and Garlic Vinaigrette
Shepherd's Pie with Cauliflower Topping
Garlicky Cauliflower Mash