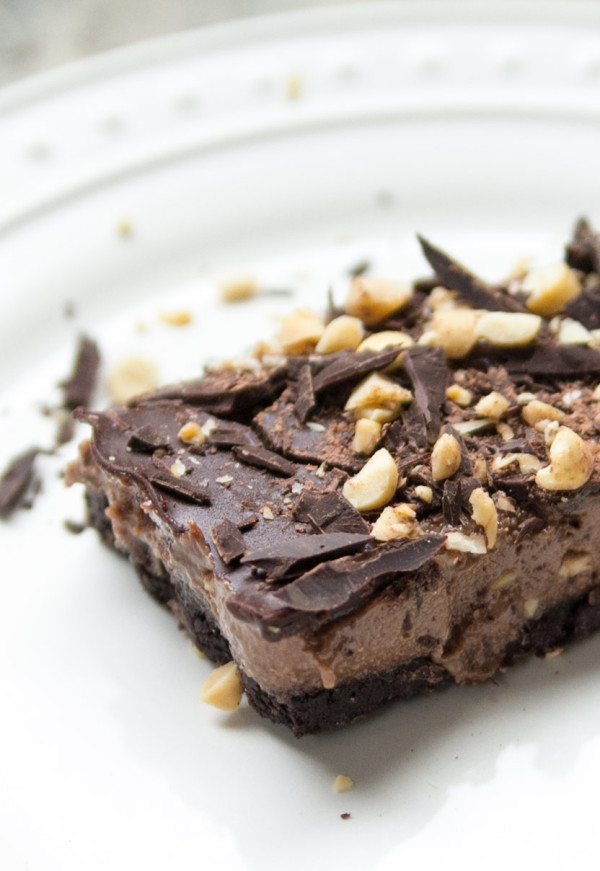 Gluten Free & Vegan Chocolate Peanut Butter Pie inspired by Girl Scout Cookies!
This gluten free vegan chocolate peanut butter pie is (no joke) amazing!! A chocolate cookie crust is filled with creamy chocolate peanut butter mousse which in turn is topped with a crisp layer of chocolate ganache. Peanuts and chocolate shavings make this easy pie look fancy and who doesn't like a fancy chocolate peanut butter pie? Jump Straight To The Recipe
I never made it to the Girl Scouts. As a matter of fact, I never even made it to a second Brownie meeting. At the time, sleeping outside seemed like something only a crazy person would do. As a result of my tent-phobic-tendencies, I never had the experience of hocking those tasty little discs known as Girl Scout Cookies.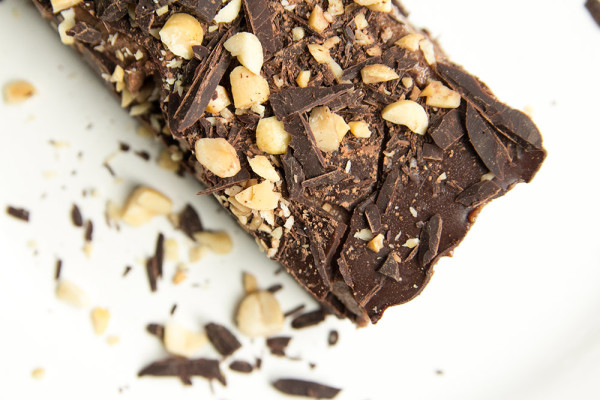 My parents liked to support the local kids no matter what they were selling, from magazines to raffle tickets to those "World's Finest Chocolate Bars" (with almonds, ALWAYS)! But Girl Scout Cookies were always the best door-to-door treat. Thin Mints were the household favorite with Tagalongs being a close second. What's not to love when you talk chocolate peanut butter cookies ?
Though it's been many years since I've had a Girl Scout Cookie, I love what the Girl Scouts stand for and I like to buy a box or two for friends when cookie season comes. I don't usually lament the fact that I can't eat Girl Scout Cookies, but this year, the craving hit as soon as I saw the Girl Scouts outside of our local farmers market. I bought a box for my neighbor thinking I'd forget about my silly chocolate peanut butter craving, but it stuck.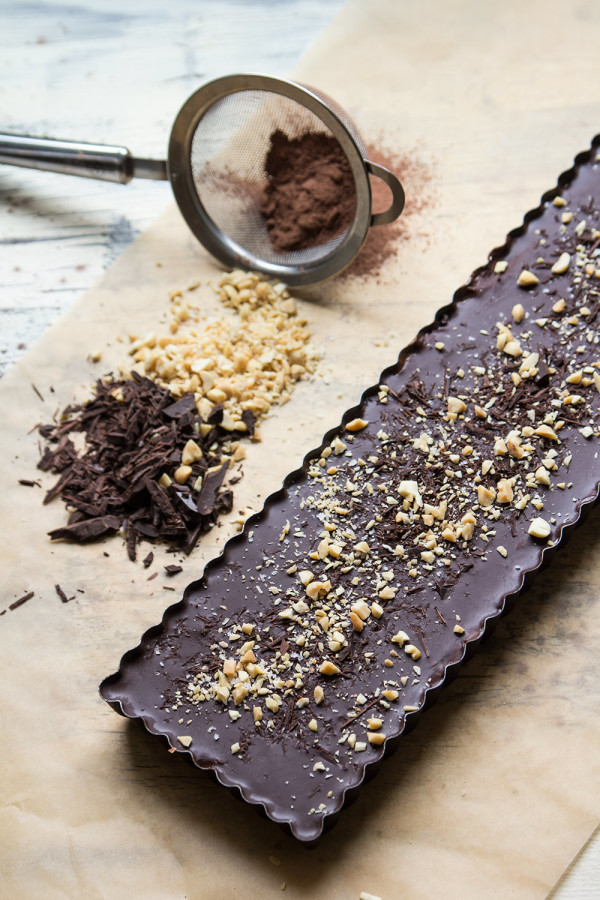 So, I did what any self-respecting food blogger would do, I made a Tagalong-inspired gluten free, vegan chocolate peanut butter pie. This decadent tart has a thick cookie crust, a silky and velvety chocolate peanut butter mousse (soy free!), and a crisp dark chocolate top. Basically, it's the best gluten free, vegan chocolate peanut butter pie ever! As a matter of fact I could just leave out the gluten free and vegan qualifiers and say it's the best chocolate peanut butter pie I've ever had!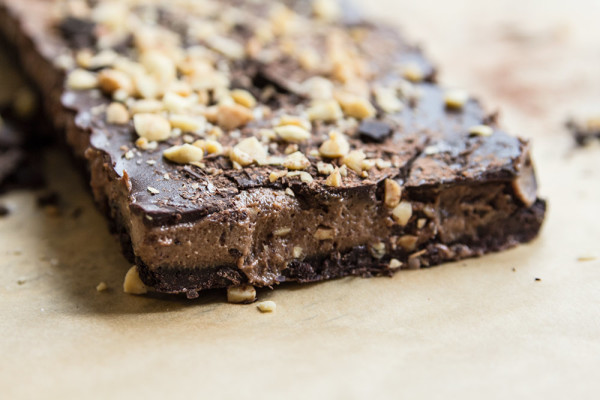 I shared it with friends, including a picky eater and a killer chef and they both agreed, it was amazing. Joshua went into a crazy chocolate peanut butter-induced frenzy. He ate a serious amount of this chocolate peanut butter pie. Luckily, we had an extra one in the fridge, so I was able to have a slice and still share some with friends.
Gluten Free Vegan Chocolate Peanut Butter Pie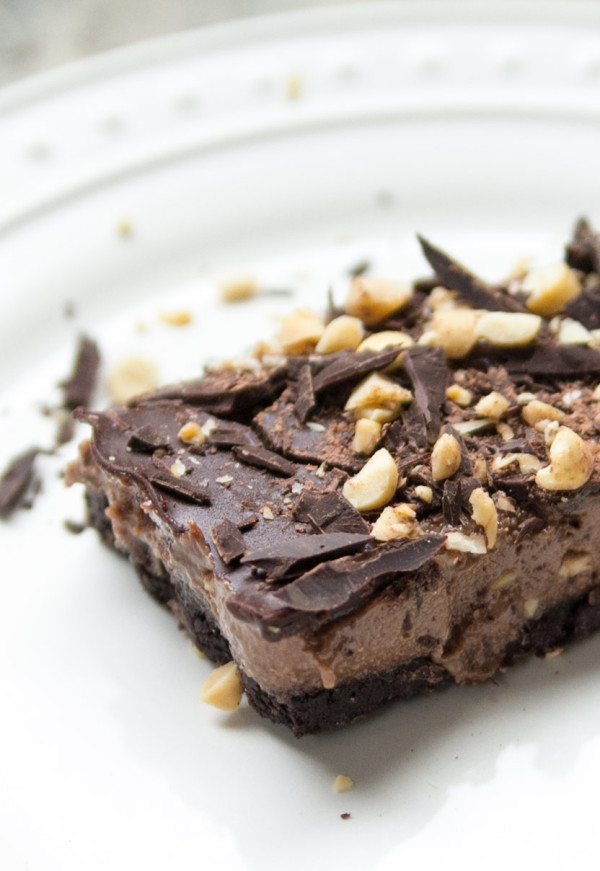 Now, this is not exactly health food, but it is a bit lighter than your typical dairy and egg filled mousse pie. The vegan chocolate peanut butter mousse is made from cashews and coconut milk and is free of refined sugars. Butter is out; coconut oil takes its place and the results are fantastic.
This recipe will make two 4 x 14 rectangular tarts or one 9-10 inch fluted tart. Need a tart pan? Try these: Rectangular Tart Pan
 or 9.5 Inch Round Tart Pan
Be sure to soak your cashews to get a nice smooth mousse. The chocolate ganache topping will be crisp like Magic Shell (remember that stuff?!!) and will shatter when you remove the tart from the pan. If you want a perfectly smooth top, you can allow the tart to set completely before adding the ganache layer and then gently remove it from the pan, add the ganache, and then cool in the refrigerator for another 20 minutes. Personally, I love the cracked top and the visual interest it provides.
Vegan Chocolate Cookie Pie Crust
2 cups gluten free and vegan chocolate cookie crumbs (from about 8-10 oz of cookies)
2 tablespoons coconut sugar
½ cup melted coconut oil
Instructions for Crust
Preheat oven to 350º
Thoroughly mix cookie crumbs with sugar and coconut oil. Press firmly into tart pan(s) that has been greased with coconut oil. Using a flat bottomed glass, even out the cookie crust and press it partly up the sides of the pan.
Bake for 12-15 minutes- until crust starts to smell toasty. Cool all the way before filling
Vegan Chocolate Peanut Butter Mousse
2 cups raw cashews, soaked in filtered 4-24 hours and drained
1 15 oz can full-fat canned coconut milk
½ cup natural cocoa powder (I used TCHO brand)
½ cup creamy peanut butter
2 droppers of liquid stevia (I use Sweet Leaf Vanilla Creme)
1 cup coconut sugar
Instructions Vegan Chocolate Peanut Butter Mousse
Combine cashews, coconut milk, cocoa powder, peanut butter, stevia, and sugar In the bowl of a food processor or high speed blender. Process until completely smooth.
Vegan Chocolate Ganache
2 tablespoons coconut oil
4 oz chopped dark chocolate (72% or higher)
Ganache Instructions
Melt coconut oil in a heavy bottom sauce pan and add chocolate. Stir frequently until completely melted.  Allow to cool for about 10 minutes before adding this layer to the pie.
To assemble
Spoon half of the mousse into the prepared and cooled tart shells. Use an offset spatula
or a butter knife to smooth the top.
Add the chocolate ganache and gently smooth with the offset spatula. Refrigerate for four hours or up to overnight.
When ready to serve and unmold the tart, rest on the counter for about 20 minutes before trying to remove from the pan. The chocolate will have stuck in the flutes of the tart tin. To loosen them, use a small sharp knife. Don't worry about cracking the topping when you remove this from the pan. The cracked top gives visual and textural interest!
Once unmolded and ready to slice, top with more chocolate shavings and some chopped peanuts or even some non dairy whipped cream.
Check out these awesome gluten free and vegan chocolate desserts:
Vegan chocolate cupcakes from Minimalist Baker
Chocolate Cake Balls from Oh She Glows
No Bake Peanut Butter Pie from Detoxonista