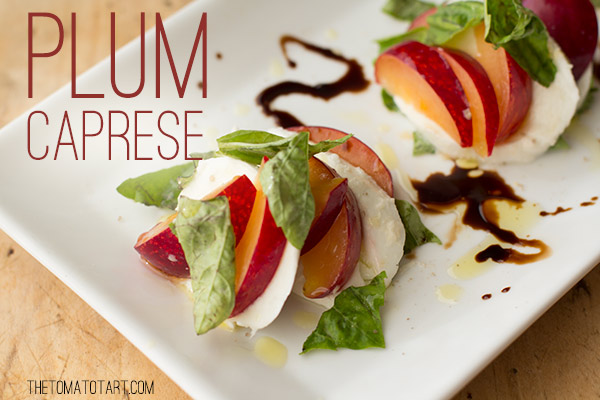 Plum Caprese Salad with Fresh Mozzarella
I have started this post exactly five times, and I have decided that I'm not erasing the first line again- come hell or high water. Phew, now that's done, I might finally be able to tell you how thrilled I am to write, today. I'll start by telling you that today is the two-year anniversary of The Tomato Tart and I'll be sharing a recipe for a simple and fresh plum caprese. It's perfect with autumn's juicy plums, those lovely dark stone fruits that stubbornly linger well into fall.
The other exciting thing is pretty big and pretty awesome. Since July, I have been working with three fantastic women to launch Bloggers without Borders as an organization which raises funds and awareness for food-related nonprofits. On Tuesday, we officially launched with our first nonprofit partner, WhyHunger. As many of you know, I work with nonprofits for my day job and have done so for more than seven years. The Online Bakesale for Japan was the first time I combined my blog with my passion for creating positive changes in the world. Bloggers without Borders is a way for me to do that every day. I invite you to learn more about our project, attend an event, or be a part of our tribe.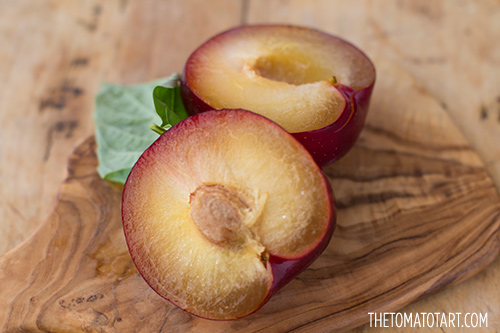 Now, back to the blogiverssary, while I considered baking a cake or a tart for the occasion, the truth is, I'd rather eat salad than almost anything. Besides, it's not just a salad, it's a caprese, and I love how the creamy buffalo mozzarella and tart juicy plums are stacked like pretty little gifts on the plate. The plums and the buttery California olive oil came from Full Circle who generously allowed me to try out their organic, local produce and grocery delivery service. I have enjoyed it so much, I've stayed on as a regular customer.
As I look back on the last two years, it's hard to imagine a life without The Tomato Tart. Food writing has lead me to some of my happiest moments, valued friendships, and (of course) delectable bites. I find fulfillment in challenging myself as a cook, exploring personal boundaries as a writer and a human being, and looking at life with stillness, through the lens of my camera. I am grateful to you, the reader, for coming to this blog, whether this is your first time or you were one of the first. Thank you for making The Tomato Tart possible. Here's to another year, another two, a lifetime of cooking, eating, and laughing with people
you love.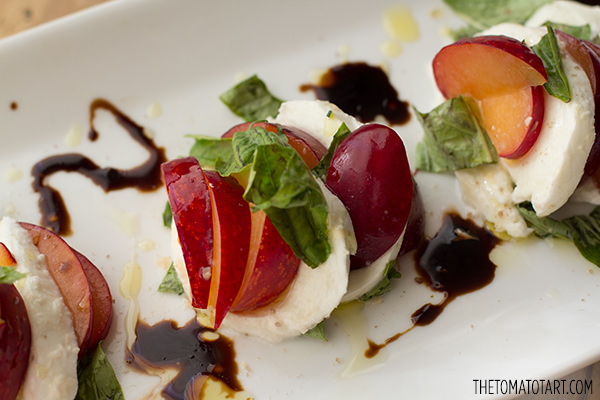 The key to this dish is high quality ingredients. I used beautiful organic plums from Full Circle, and mozzarella di buffala. If you cannot locate mozzarella made from the milk of buffalos, use a high quality fresh mozzarella. For the sea salt, I chose a smoked sea salt, and the olive oil is an organic California olive oil from the green grocery section of Full Circle. The balsamic vinegar here is important as well, it should be aged at least 18 years and thick like syrup. This sort of balsamic is expensive, and just few drops will do. Ingredients like this take a salad from good to mind-blowing. Note: if you don't have the balsamic, it is perfectly awesome without any vinegar at all as the plums provide a nice bit of acid.
INGREDIENTS
2 plums
1 ball of buffalo mozzarella
fresh basil
extra virgin olive oil
aged balsamic vinegar
sea salt for sprinkling
INSTRUCTIONS
Slice plums into 8 pieces, removing the pit
Slice mozzarella into 6 pieces
Tear basil into bite sized pieces
Stack plums, mozzarella, and basil into pretty piles. Drizzle generously with olive oil, ad a few drops of balsamic