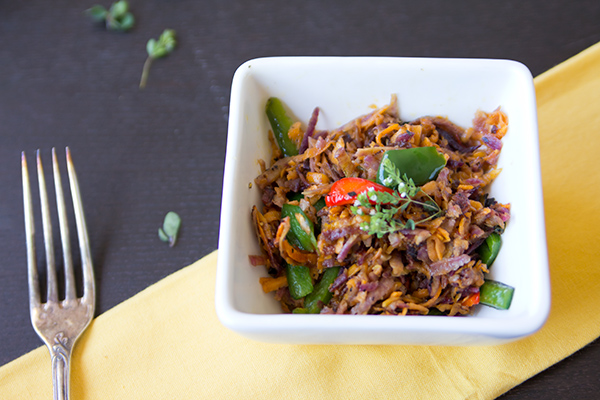 Spicy Vegan Sweet Potato Hashbrowns
Autumn comes in fits and starts in northern California, but at the first sign of winter squash and crisp mornings, something in me begins to take stock of the seeds I've sown over the year.  Suddenly steamy cups of tea in the morning and warm blankets on the sofa lead to contemplation.
This fall, my thoughts have often turned to this blog- asking myself what is The Tomato Tart really about? I have spoken with friends, about this, and it was Andrew Wilder (eatingrules.com) who looked at the Mason jars in my open pantry. Row upon row of flours, grains, beans, and nuts from the bulk bins of my local co-op prompted him to say, "This visual gives a pretty good idea of what you're about".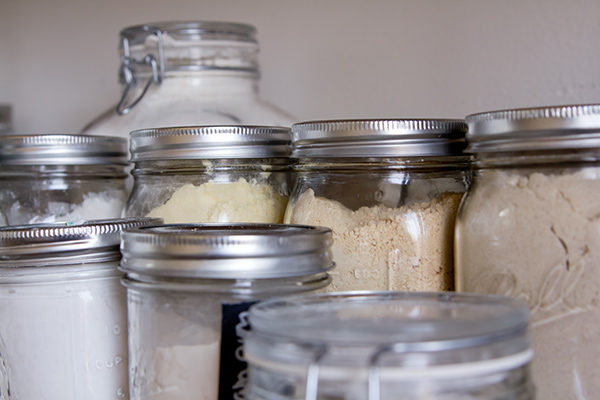 Get me talking in a room, and I will passionately speak about farmers markets, food politics, living small, and trying to shop as ethically as possible.  When talking with Andrew, I realized I've been sensitive to coming off as preachy when wanting to share more about how we eat, shop, and live—not just how we cook. It's something I'm  continuing to mull over as I grow with my blog which is now one year and one month old.
October 24th is Food Day, it's a day to celebrate and promote eating real, to promote eating from sustainable sources, and to limit subsidies to big agribusiness.  It's a day to talk about protecting the environment and animals by standing up against factory farms. It's about supporting farmers and encouraging fair working conditions for the people who grow and harvest our food. Most importantly, in my mind, it's about alleviating hunger and food deserts by expanding access to real food for all people. If you believe in these things,  you can find out more about Food Day and the many events going on around the country on their website, foodday.org.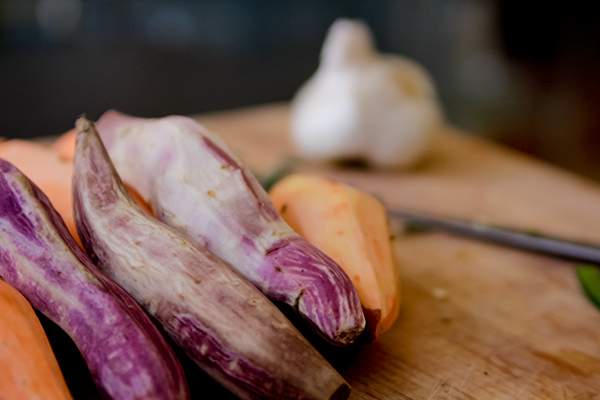 In keeping with the spirit of this season and with Food Day, this beautiful breakfast dish is simple, healthful, and the ingredients purchased entirely from my local farmers market.  It is hearty enough to be enjoyed as is for a vegan breakfast, or you can top with poached farm eggs as we did.
Ingredients Sweet Potato Hashbrowns

3 orange sweet potatoes, shredded
3 purple sweet potatoes, shredded
1 anaheim chile sliced thinly
1 jalepeno sliced thinly
2 cloves of garlic grated
2 tablespoons olive oil
finely ground sea salt and pepper to taste
2 teaspoons fresh oregano, chopped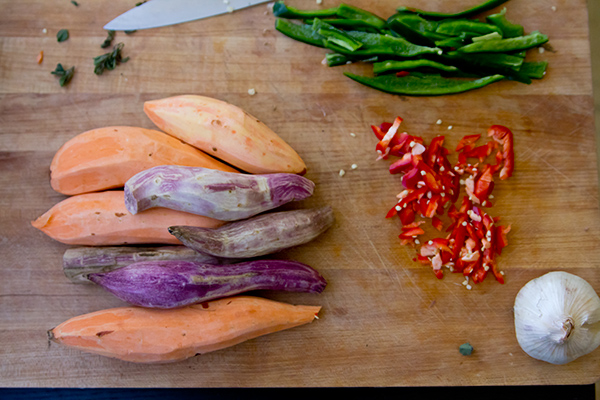 Instructions Sweet Potato Hashbrowns

Heat olive oil in a cast iron skillet over medium high heat
Add sweet potatoes and chiles and fry until soft stirring infrequently (work in batches if your cast iron skillet is not large enough to prevent crowding)
Turn up heat a bit, until a bit crisp, watching carefully
Remove from heat, stir in garlic and oregano and toss to coat
Add salt and pepper to taste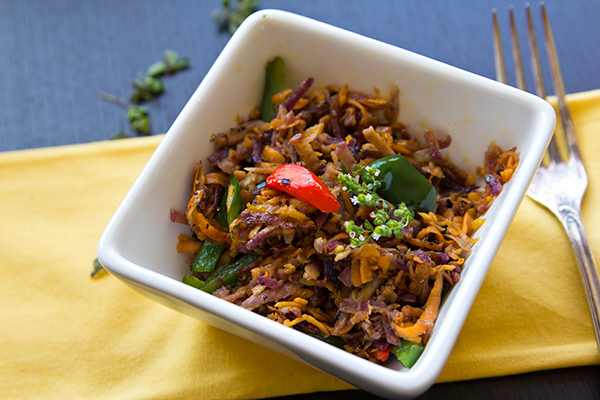 What do you think about sharing your views on food policy and food politics? How about things as sensitive as voting with your dollars? Do you have a blog and broach these topics? Are you a reader, if so would you want to read about how I shop, my relationships with farmers, butchers, and even my cutlery guy? Weigh in the
comments
section below.