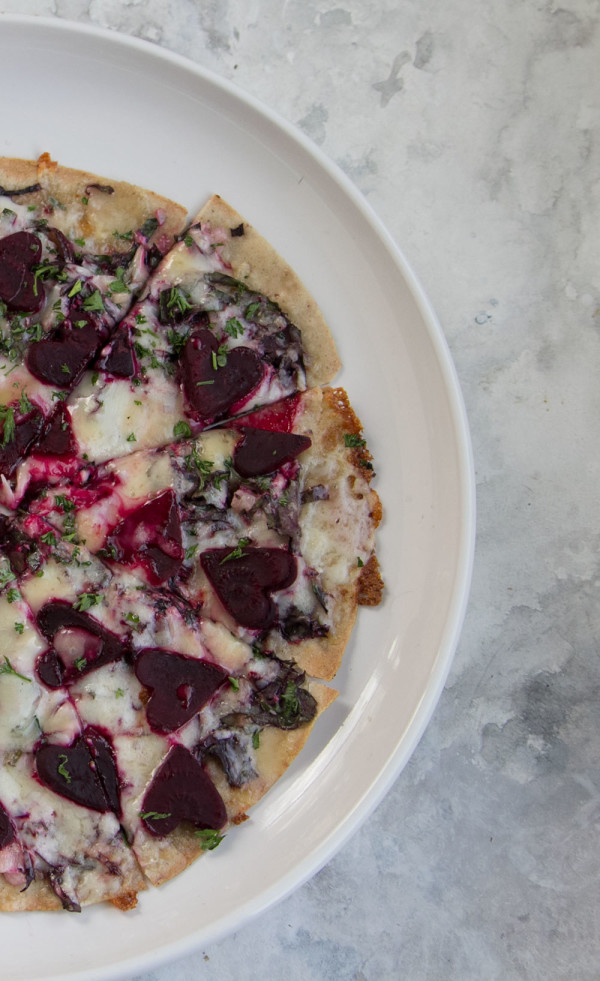 What is your idea of romance? Some girls go for candles, roses, fancy restaurants, and jewels. Me, I'm more of a fireplace, daisies, and homemade pizzas kind gal. Well, fireplace, daisies, homemade pizzas, and jewels—I'm no dummy.
Last year for Valentine's Day, we had a build your own gluten free pizza dinner and I even made a heart-shaped pizza. Our homemade gluten free pizza was great, but I did have to think ahead and start the dough a couple of days before to ensure a flavorful and well-risen dough.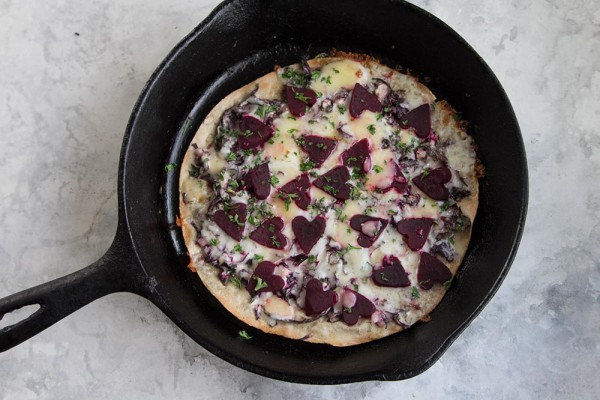 This year, we're keeping to the pizza theme for V-Day, but I have to admit, I've run into a game changer on the gluten free pizza front. This killer trick for homemade gluten free pizza means that you can have piping hot, ooey, gooey, crisp thin crust pizza on the table in 10-15 minutes.   Do the math… spending less time on dinner, means more time for smooching. Now, that's a romantic pizza!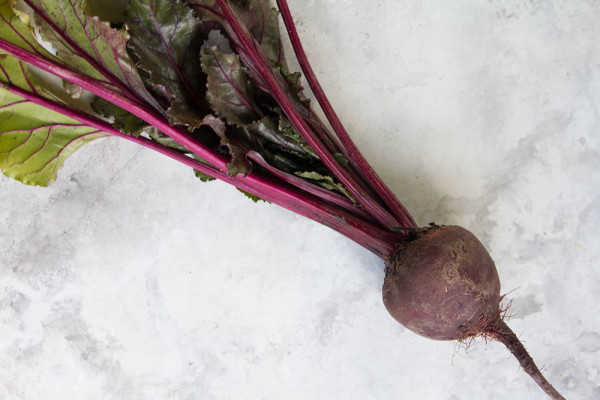 I learned this ingenious method for thin crust gluten free pizza from my friends at Smith Bites. Debra and Rod appreciate great food, and I'll venture a guess that they enjoy the extra time for smooching too.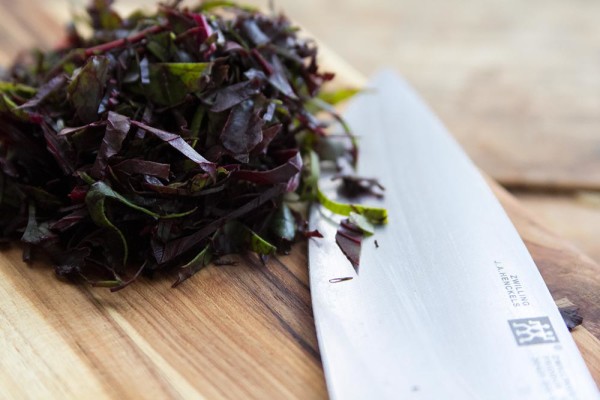 My version of this fabulously crispy thin-crust gluten free pizza is topped with a creamy beet green pesto, heart shaped beets, mozzarella, and smoked blue cheese. If you can't locate smoked blue cheese, try smoked mozzarella and regular blue cheese. The combination of creamy, tangy, smoky, and earthy sweetness from the beets is over-the-top-delicious. And let me talk about this crust for just a moment- the crust is as crispy and delicious as any high-end flat bread at a wine bar or gastropub. The great thing is that it stays crispy even after it cools down. I've eaten this pizza hot from the oven, cold, and at room temperature. The crust is always perfect.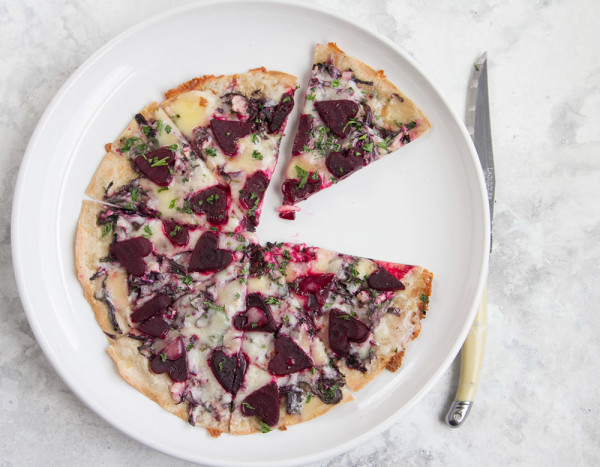 I've cut the beet greens into a chiffonade rather than pulverizing them in the food processor because having greens in your teeth is so not sexy. Before you question my use of garlic in a Valentine's Day pizza, remember that you can't smell garlic on someone's breath if you've both been eating it. Also, garlic is high in a compound called allicin which is great for increasing blood flow- giving garlic some well-known aphrodisiac qualities. So I'll just leave you with that.
I hope you enjoy your pizza and your Valentine's Day! Here's to extra time and extra kisses.
Gluten Free Pizza with Beets and Blue Cheese
This quick and easy gluten free pizza is endlessly adaptable. The only true requirements are a very hot cast iron skillet, and a good gluten free flour tortilla. I used the rice and almond flour tortillas from Engine 9 because that's what I had on hand. I love the flavor of the smoked blue cheese with the beets, but any good blue cheese will taste fantastic here.
Adapted from Serious Eats and Smith Bites
Makes One Pizza
Ingredients: Gluten Free Pizza with Beets and Blue Cheese
1 medium beet cooked, peeled, and sliced into ¼ thick rounds.
1 cup beet greens
1 clove of garlic, finely minced
1 teaspoon of finely chopped shallots
1.5 tablespoons crème fraiche or sour cream
1 teaspoon high heat cooking oil
1 gluten free tortilla
2oz shredded mozzarella (roughly 1/2 cup )
2 tablespoons crumbled blue cheese (smoked if you can find it)
salt and pepper
parsley for sprinkling
Instruction: Gluten Free Pizza with Beets and Blue Cheese
Use a heart shaped cookie cutter to cut the beets, or cut into small rectangles.
 Mix together, the beet greens, garlic, shallot, and crème fraiche and season with a pinch of salt and pepper.
 Turn oven broiler on to low.
Heat a well-seasoned cast iron skillet on a burner set to high. Once the pan starts to smoke a bit, add the oil. When the oil shimmers, turn the heat to low and wipe the skillet with a paper towel to remove some of the oil.
Place the tortilla (small bubble side down) in the pan and turn heat to low. Top the tortilla with the crème fraiche and beet green mixture. Sprinkle with mozzarella, add the beets, then finish with the blue cheese.
 Put the skillet under the broiler for 1-3 minutes- watch closely to avoid burning.
Use an offset spatula to loosen any crispy cheese bits and slide onto a cutting board. Sprinkle with parsley and serve.