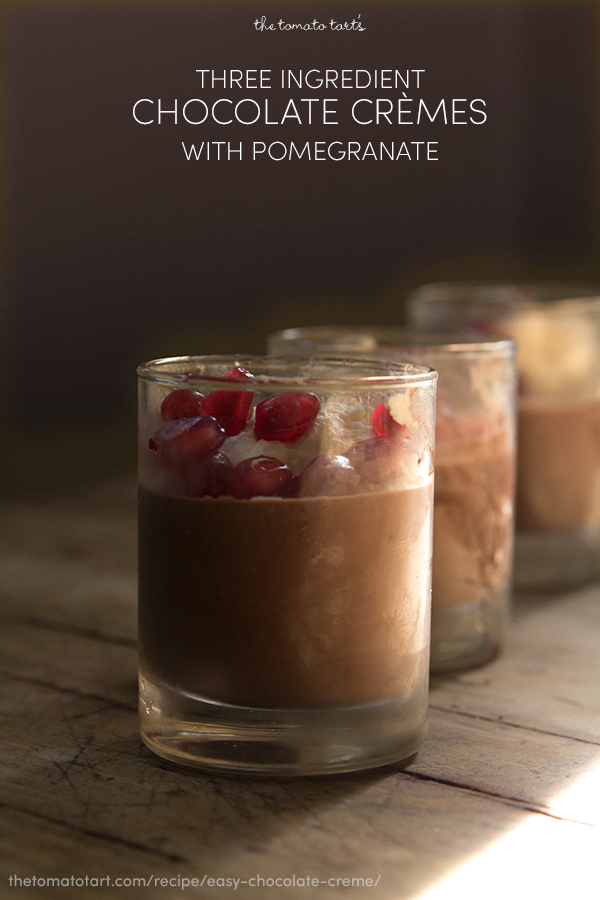 Easy Chocolate Dessert with Just Three Ingredients!
I was 29 when I hosted my first Thanksgiving. I planned the meal of a lifetime. Lobster and scallop canapés with vanilla chive sauce, salmon mousse, smoked salmon canapés, turkey, stuffing, two kinds of cranberry sauce, a veritable feast of vegetables, and chocolate mousse with candied orange peel.
The only problem was my confidence that I could do all this, by myself, in one day. That's right, I started cooking at 6am and figured everything would be ready at 3pm. When we finally sat down to eat, it was almost 7 o'clock. I was tired, frazzled, and covered in a thin film of grease, sweat, and terror.
One might assume I'd learned my lesson that day. That I'd simplify my menu, accept help when offered, and make everything I could ahead of time. Unfortunately, it would be another eight years before I'd really get it.
Thanksgiving is 10 days away. We're having 12 people over for a fantastic meal, but I have learned my lessons. I'm doing a casual buffet rather than trying to do a served sit-down meal. Bread baking is happening this week, and the bread will go in the freezer, same with the cranberries, the soup, and a couple of other sides. I also took all of next week off, so I can be ready without feeling crazed. While I love being in the kitchen and making amazing food, I really want to spend time with my guests.
As far as my menu, it is also simplified. One of my tricks for easy entertaining comes in the form of these easy no bake chocolate cremes. A cross between chocolate pudding and chocolate mousse, this is the simplest dessert you can ever hope to make. There are four ingredients (and one is optional). I have made some variation of this dessert at least a half a dozen times since I picked up Williams-Sonoma Entertaining with the Seasons: A Year of Recipes
.
This easy no-bake dessert is not only simple; it is a complete show stopper. These chocolate crèmes are rich, creamy, chocolaty, and decadent. The pomegranates make for a nice bright finish, but I've also done crushed candy canes with peppermint whipped cream, Mexican hot chocolate flavor served in coffee mugs topped with cinnamon whipped cream, and one with orange flower water that was amazing.
I love doing these in small portions as part of a dessert buffet, but they also work perfectly in larger glasses or bowls for a small dinner party. One of the best things about this is that it's gluten free, egg free, nut free, primal, and vegetarian friendly. It's a dessert that almost anyone can eat- and depending on the chocolate you use, it can be diabetic friendly and low carb. I love serving foods that all of my guests can enjoy. After all, holiday entertaining is really about sharing a meal and making memories with the ones you love.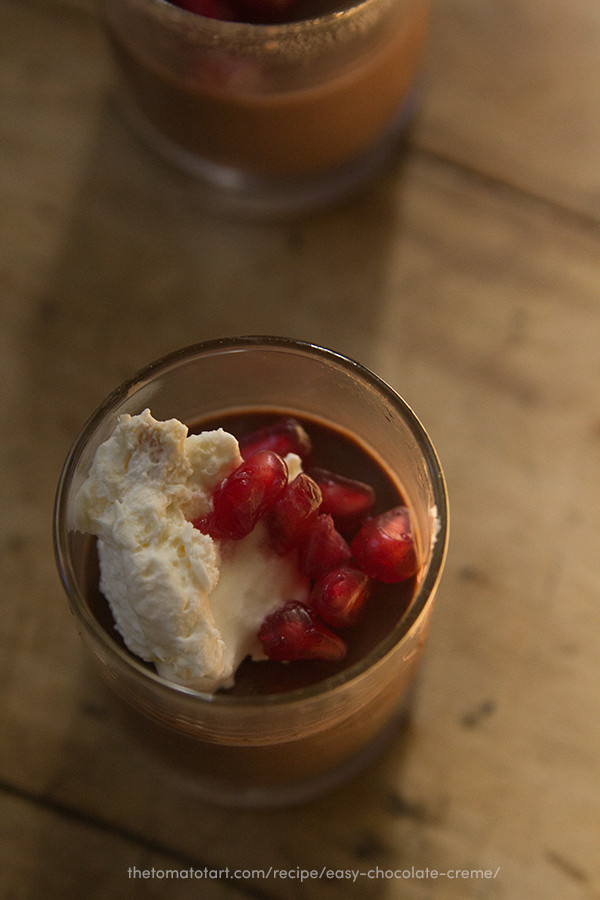 Chocolate Crème Ingredients
2 cups of heavy cream
8 oz dark chocolate, finely chopped (I used a combination of 72% and 99%)
¼ cup pomegranate arils
1 teaspoon vanilla (optional)
Chocolate Crème Instructions
In a small saucepan over medium heat, bring 1.5 cups of cream up to an almost boil. As soon as bubbles appear at the surface, turn heat off.
Add the chocolate, stirring until melted and completely mixed with the cream.
Pour the mixture into 6 small cups, bowls, glasses, or ramekins. Cover loosely with plastic wrap and chill for at least 6 hours. I have made these as many as 36 hours in advance and they were still perfect.
Whip the remaining half cup of cream with the vanilla- either by hand or with a mixer.
Top each chocolate crème with whipped cream and pomegranate arils and enjoy.
Daily Gratitude:
Giggle Fits
The Garden Grill
Perspective
The Ability to Laugh at Myself