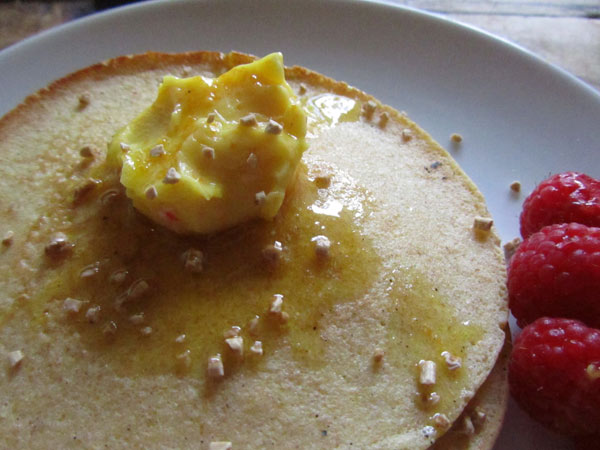 Cornmeal Pancakes with Maple Orange Butter
Saturday and Sunday mornings are everyone's favorites, of course. Sleeping in, Saturday morning cartoons, and big yummy breakfasts… I can recall pancake breakfasts from my childhood with so much fondness, and I always loved pancakes for dinner. I always feel so luxuriant when I make a special breakfast, especially during the week, so when I recently started working from home on Wednesdays I knew I had to do a pancake breakfast for Joshua and I.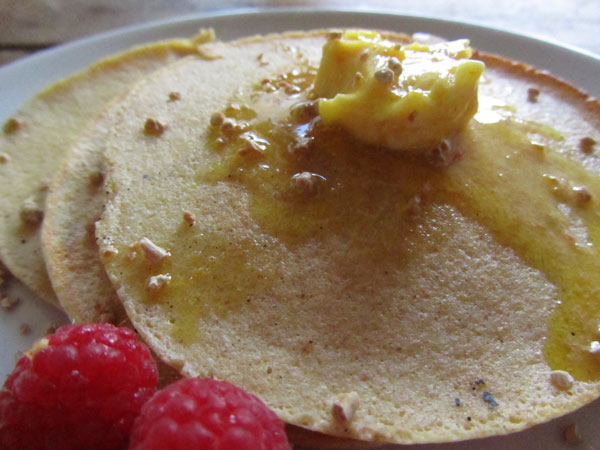 When I started thinking about what sort of pancakes I wanted to make, my imagination started running wild, but when I looked in the refrigerator, I realized I had no milk and no buttermilk. It was also pouring rain. Running out into the downpour would have put a cramp on my "stay-in-my-pj's-all-day" style.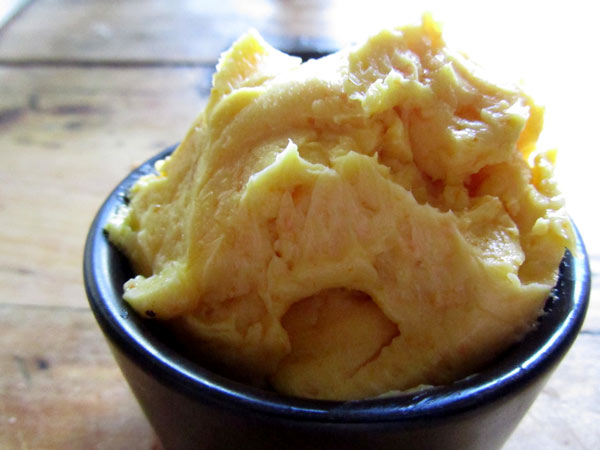 What I did have in my fridge was Greek Yogurt which I knew would make a rich, dense, and super creamy yet slightly tart and highly textured corn meal pancake. These hot cakes are the perfect canvas for a maple orange zest butter (which incidentally tasted just like creamsicles). This is a great rainy-day breakfast to eat while hanging with your sweetie while still in your PJs.
Ingredients Gluten Free Cornmeal Pancakes

2 cups whole milk Greek yogurt
1/2 cup whole grain gluten free flour
1 cup medium ground organic cornmeal
1 tsp maple syrup
1 heavy pinch sea salt
3 eggs
1 teaspoon baking soda
Instructions: Gluten Free Cornmeal Pancakes

Preheat oven to 200º & place a baking sheet lined with parchment paper inside.
Blend all ingredients in a blender or food processor until well-combined. Refrigerate batter for at least 15 minutes.
Heat a well-seasoned cast iron skillet (or two) or griddle over medium high heat and melt a little butter for your pancakes. Cook pancakes until golden brown and set at the edges before flipping. Once you flip to the second side, they'll cook quickly. Move the cooked pancakes into the oven to stay warm.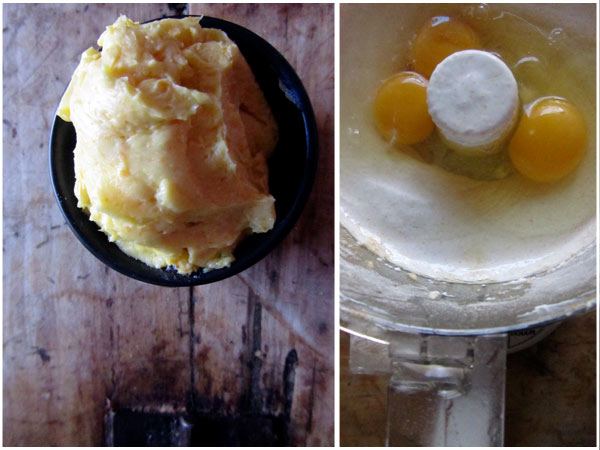 INGREDIENTS MAPLE ORANGE BUTTER
1 stick of organic butter
3 tbsp maple syrup
zest of 1 large orange
INSTRUCTIONS
Add butter, maple syrup, and orange zest to food processor and mix up well until whipped and beautifully sherbet-colored.