All girls get excited when they get flowers, myself included, but only some girls get excited when they get flours. While wandering the baking aisle at Whole Foods last week, I found something I'd never seen before, coconut flour! Be still my beating heart. I looked away, coyly, then another furtive glance. It was true! All yellowish and powdery next to the almond meal, and hazelnut flour, I didn't even know I'd been looking for it- plainly wrapped in a Bob's Red Mill package, but I had been. Why, perhaps I'd been searching for it my whole life.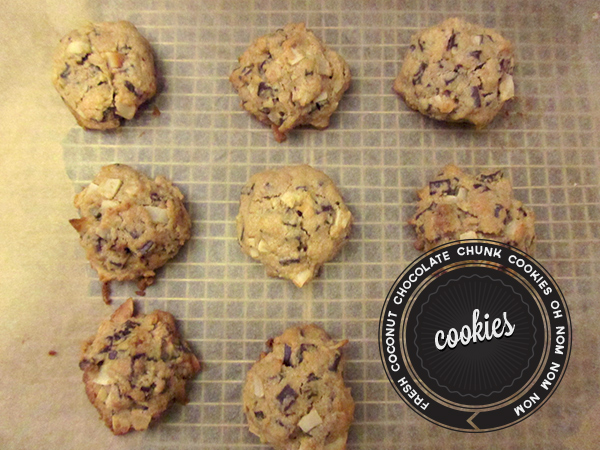 Of course, I couldn't just stand there, I had to do something, I had to pick up the bag, and… smell it. Good LORD, I could actually smell it's sweet coconutty deliciousness through the bag. In that moment, I could care less who saw me, I took another whiff. I knew the coconut flour was coming home with me. We'd make sweet beautiful cookies, cakes, and pies together- I knew love was in the air.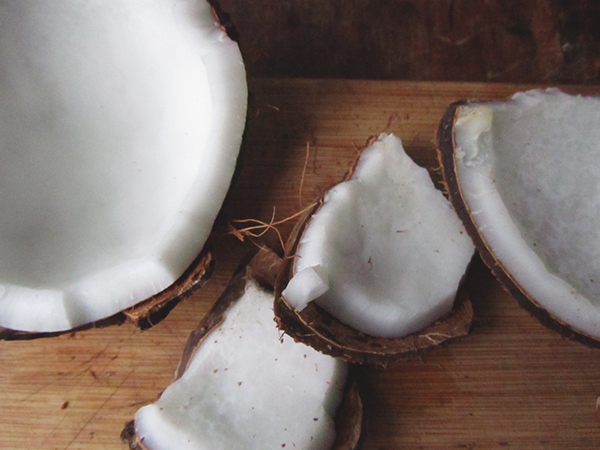 I set about finding a fresh coconut at my local mercado and cracking that sucker open with the back of a kitchen knife to drain the coconut water (YUM). Then, I roasted in the oven at 350º for about 25 minutes so I could crack it open all the way and then scoop the flesh out with a flexible knife. Then I shaved the delicious flesh with a veggie peeler. This is my instruction on how to get fresh unsweetened coconut. So far as I can tell, there is no easier way. If you want to use regular unsweetened coconut, from the store, that will be okay too- just make sure it's NOT SWEETENED, because that will be icky and ruin these fantabulous perfect coconut chocolate chip cookies.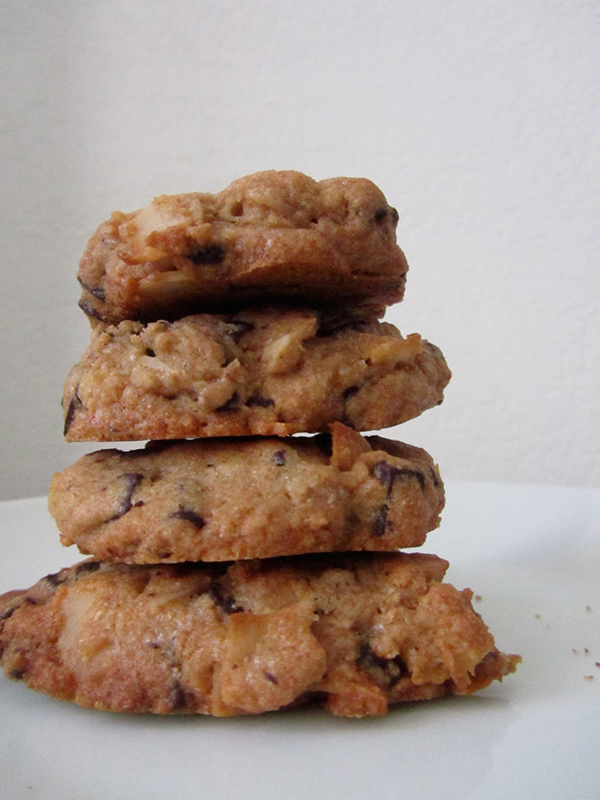 By the way, I mixed these up in the bowl of my stand mixer. Just one bowl = fewer dishes. Hooray!
INGREDIENTS
1/2 cup granulated sugar
1/2 cup firmly packed light brown sugar
8 tablespoons cold unsalted butter- cut into ½ inch pieces
1 large egg
½ cup all purpose flour
½ cup whole wheat flour
¼ cup coconut flour
1 tablespoon vanilla extract
1/2 teaspoon baking soda
1/4 teaspoon salt
1 1/4 cups semisweet chocolate chips
1 cup fresh shaved coconut (shave it with a veggie peeler) or unsweetened flaked coconut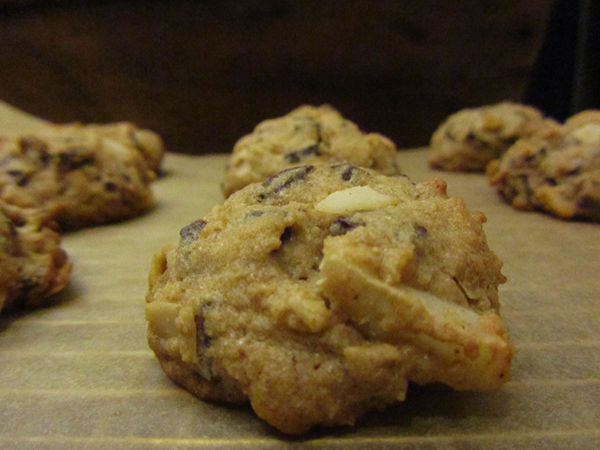 INSTRUCTIONS
Adjust the oven rack to the top 1/3 of the oven and preheat to 300º .
Line three baking sheets with parchment paper.
Beat the sugars and butter together until smooth. Mix in the egg, vanilla, and baking soda.
Stir together the flours and salt, then mix them into the batter.
Add chocolate chips and coconut.
Scoop the cookie dough into 2-tablespoon balls and place 9 balls on each of the baking sheets.
Bake for 15-17 minutes (while licking the bowl clean), or until light golden brown.
Remove from the oven and let cool on a wire rack.
Enjoy with ice cold milk!