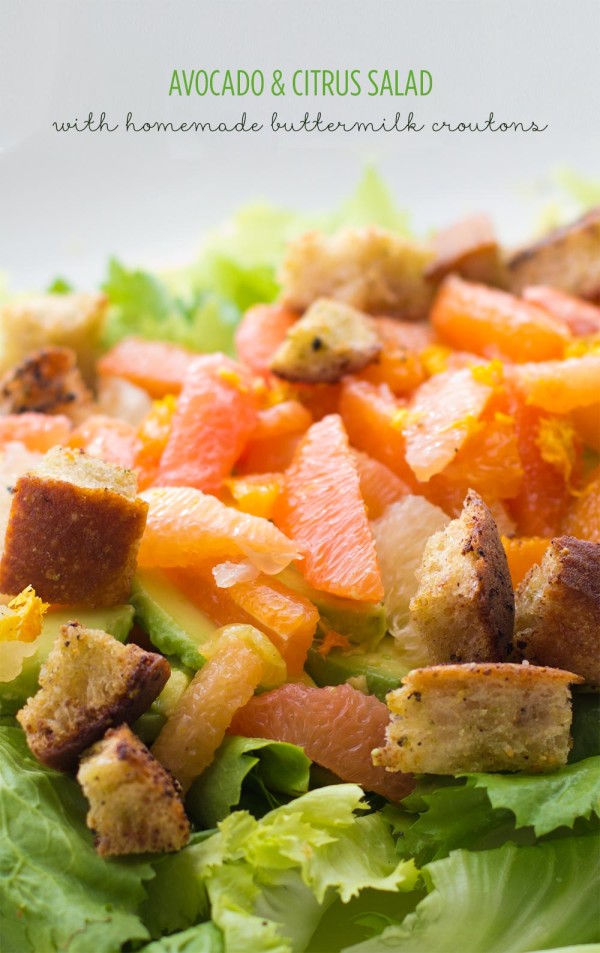 Avocado Citrus Salad with Homemade Gluten Free Croutons
I wouldn't be a good ER doctor if I didn't ask, "Are you safe at home?" I chuckled & winced a little. Of course, physical abuse is far from funny, but this is not the first time I've been asked.
Long before I knew my husband, a doctor asked me if I was safe from my parents. I guess the story that my baby brother had broken my foot with a hammer seemed a little improbable. My chart may have had some red flags, especially considering that the year before I'd sprained my ankle and broken my pinkie in the span of one week.  My story? I was tackled while playing flag football (the pinkie) and I fell off a curb while walking home from school (the ankle).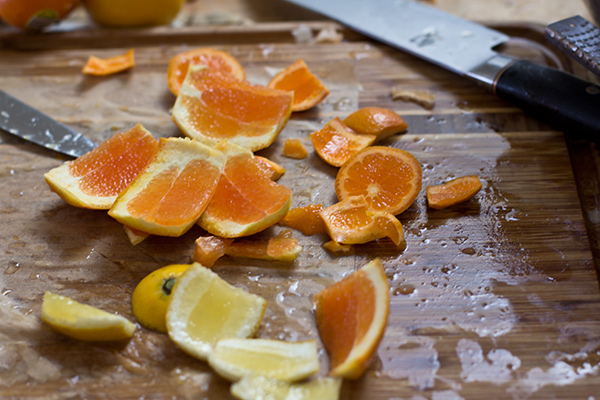 As I had all those years ago, I assured the doctor that I was, indeed, safe. I told the handsome young doc that Joshua actually rushed home from work when I called in hysterics to tell him I'd broken my foot. I reassured him that the marks on my chest were actually burn scars from hot butter, not bruises. He smiled, gave a little wink, and said, "I figured, he seems really great.".
Handsome young doc, had no idea how great. There, in the ER, it was well-past midnight, and not the kind of place I'd like to ring in my 40th birthday, but Joshua never complained. He smiled and joked and took good care of me.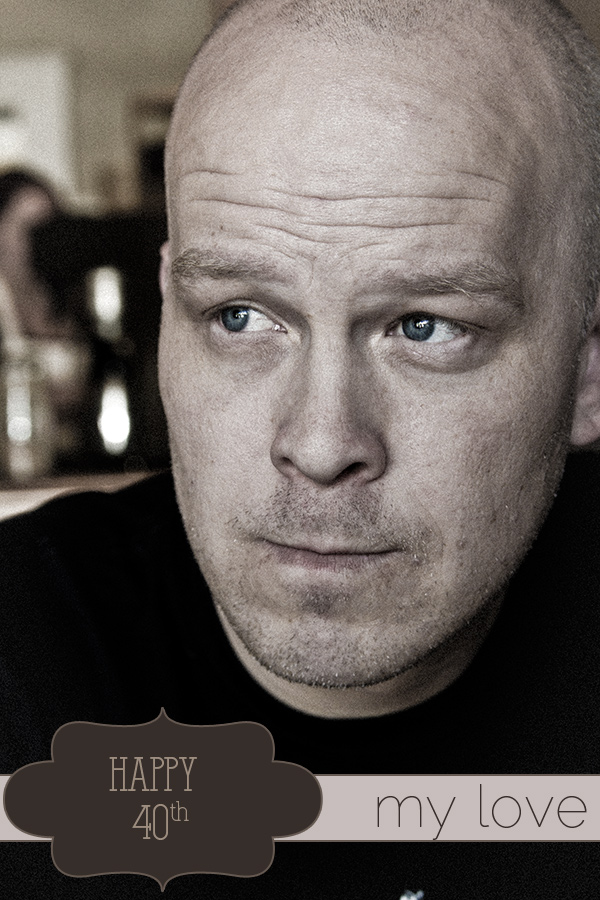 I promised that I would not get sick on his birthday this year. I have had some bad luck in the past. In 2003, I had strep throat with a fever so high that I hallucinated that someone trying to break into our house.  It turned out, my assailant was the reflection of the pampas grass outside and a dinner plate in our dish drainer. One yar, I had horrible stomach flu, which I passed on to him as a lovely present. Last year, I nearly cut off my finger 10 days before his birthday and the Bake Sale for Japan had major technical difficulties, which forced me to extend it an extra day—to the day past his birthday.
But not this year, it was the big 40! I promised NOTHING would go wrong. We decided against a party; he wanted a little dinner, drinking, and dancing like when we were kids.  But birthday plans took a second seat when we heard the heart shattering news that our friend Eric Trifilo had been killed in a car wreck. His memorial was set for Saturday March 31st, Joshua's birthday. We decided to drive to Healdsburg (in the Wine Country) for the mid-morning service and make our way back slowly. We'd do our drinking and dancing later in the evening making a big toast for Eric. It would all be okay. We could handle this.  We had a plan.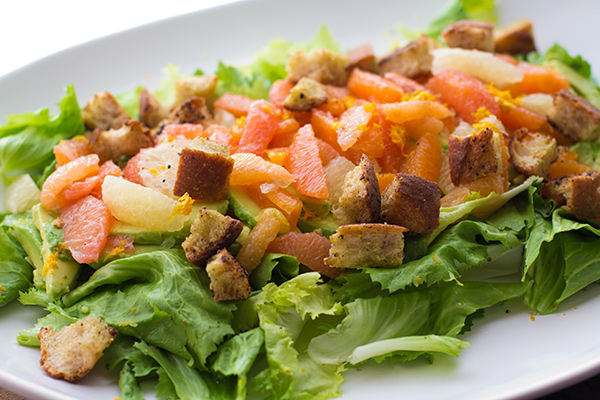 Friday night, I was sprucing up the house in anticipation of my honey's birthday. So I was cleaning, and our foster Chihuahua, Bruno, marked in the house, AGAIN. So I washed the floors, AGAIN. I returned to cleaning; picked up the basket of laundry I'd been about to carry down the stairs and very carefully went down, but as soon as I stepped on the wet tile, I fell.  Hard. With a wet bum and a face full of tears, I dragged myself upstairs and I called Joshua.
"I think I broke my foot"
6 hours in the ER, and they didn't know if it was broken. We missed Eric's memorial. No drinks or dancing. I wasn't even able to walk until I got this awesome boot a week later.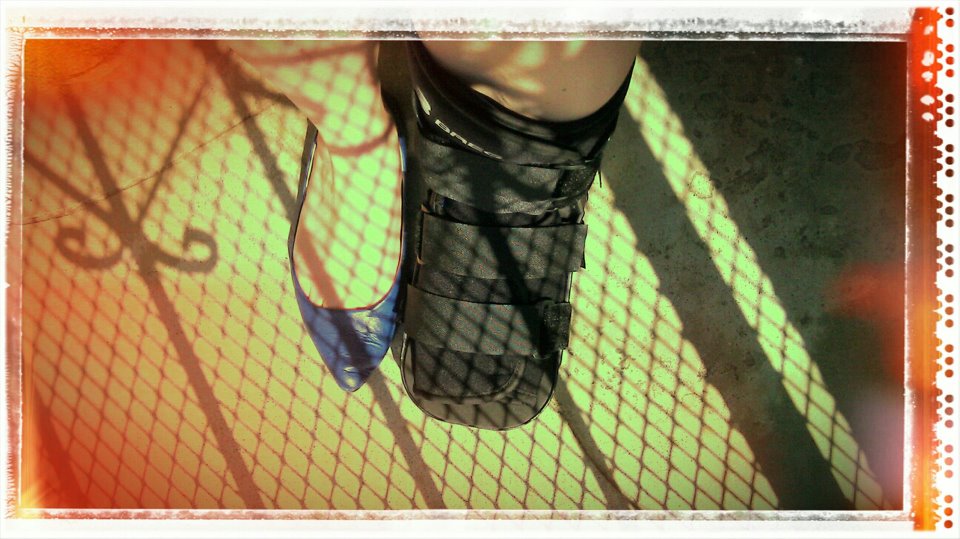 When I finally was able to walk, that meant I was able to cook, and the very next night, we attended a pot luck. My contribution was one of my favorite salads, a citrus & avocado salad homemade croutons. I included suprémes of grapefruit, tangerine, meyer lemon, and cara cara orange. The dressing is a citrus and tarragon vinaigrette with just a bit of avocado honey. If a salad could be "Sooo me" this salad would be soooo me.
All said and done, I had I segmented three grapefruits, four oranges, six tangerines, and two lemons. I worked on that salad. Our friends came to get us and my husband got me into their car. As soon as we got half way to the Golden Gate Bridge, I asked Joshua where the salad was. He'd forgotten it. Guess what we had for breakfast.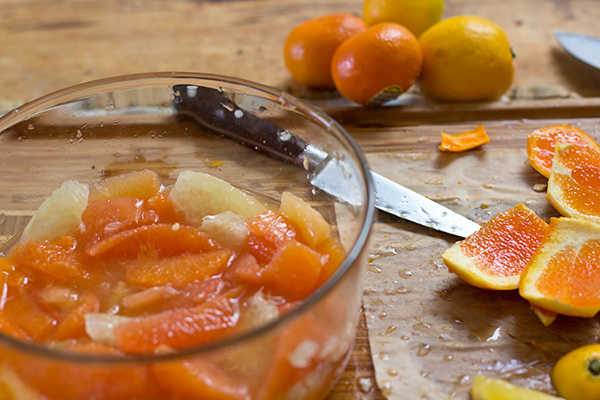 As for Bruno, well, I actually gave up trying to "make fetch happen". Most people would have given up after he peed on them in bed. I did not. Not even after the second time. Bruno went back to the no kill shelter. It wasn't easy to give up on dog- especially considering how hard we worked with Ruby. Aside from the marking, we just couldn't bond with poor little Bruno. I know he'll find the right family, a place where he won't pee like a little miniature stallion. Or maybe, he'll just meet someone less accident-prone.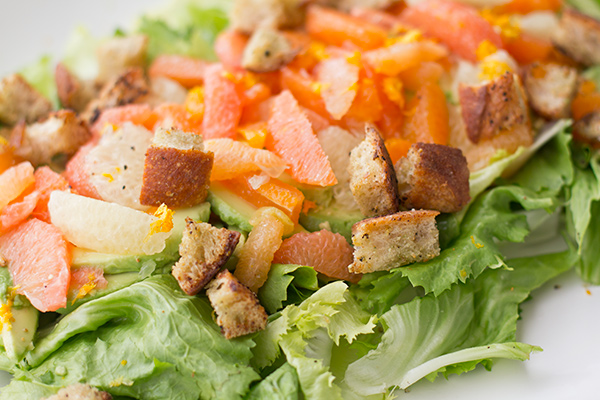 Citrus and Avocado Salad Ingredients

Zest of ½ of 1 grapefruit, 1 orange, 1 tangerine, and 1 Meyer lemon
Two Red Grapefruits (I used Texas Stars)
Two White Grapefruits (I used Oro Blancos)
Four Oranges (I used gorgeous, pink Cara Caras)
Six Tangerines (here, I chose pixies)
3 Meyer Lemons
1 regular lemon
4 Haas avocados
1 head of escarole
Salad Instructions

Make the suprémes of citrus over a large bowl- to ensure that you'll capture all of the juice. If you've never made suprémes of citrus before watch my video, above.
Wash and dry your escarole and tear it into bite-sized pieces.
 Just before ready to serve, slice avocados very thinly and place in a bowl of lemon juice.
To serve, layer escarole, then top with avocado, top the avocado slices with citrus. This is extremely important as it will keep your avocado from browning. Top with croutons and citrus zest. Dress at the tableside.
Gluten Free Croutons Ingredients

1/2 loaf bakery quality gluten free bread. I use this one
3 tablespoons buttermilk powder
small handful of fresh chervil
small handful of fresh tarragon
1 clove of garlic
¼ teaspoon sea salt
½ teaspoon fresh cracked black pepper
¼ cup of olive oil
Gluten Free Croutons Instructions

Line a baking sheet with parchment paper and heat oven to 325º
Add buttermilk powder, chervil, tarragon, salt, and pepper to the bowl of a mini food proceesor and process until well combined. Add garlic and olive oil and process until garlic is in small pieces.
Toss gluten free bread chunks with buttermilk, herb, and olive oil mixture until well coated. Lay on baking sheet in a single layer and bake for 7-10 minutes until crisp. Turn once during cooking.
Citrus Dressing Ingredients

All of the juice from the citrus supremes
2 tablepoons sauvingnon blanc vinegar
1 sprig fresh tarragon (leaves only), finely chopped
1 tablespoon avocado honey
¼ teaspoon sea salt
1 small fresh shallot, very finely chopped
¼ cup olive oil
Dressing Instructions

Make the dressing, whisk citrus juice, vinegar, tarragon, honey, shallot and salt until well-combined. Add olive oil and whisk again. Adjust seasonings to taste.