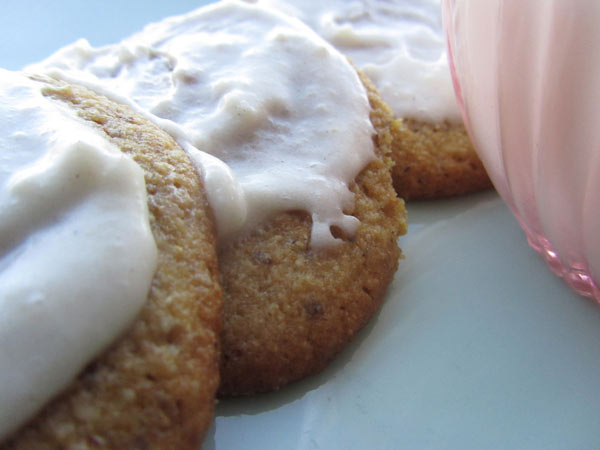 Winter squashes are in their full glory right now and it seems I can't turn my head without seeing a beautiful variety of pumpkin, a lovely acorn squash, or my favorite, the butternut.
Also in full swing is the offering of pumpkin-flavored treats just about everywhere. It seems pumpkin ice cream, coffee, cookies, cakes, pies, even pumpkin salsa fills every shop, coffee house, and restaurant during this season. I enjoy these pumpkiny treats as much as the next girl, but I can't help but wonder when the other winter squashes might get their due. And while we're at it, why not spice things up a bit.
I decided that the can of organic butternut squash in my pie chest was about to become an iced cookie. I knew I wanted to go beyond the traditional pumpkin pie spice and since cardamom is one of my favorites I dreamt up a chai-spiced cookie with hazelnut meal for body and texture and of course it had to be iced. Standard vanilla icing seemed like a missed opportunity, so I opted for more spicy goodness by adding cardamom and cinnamon to the icing.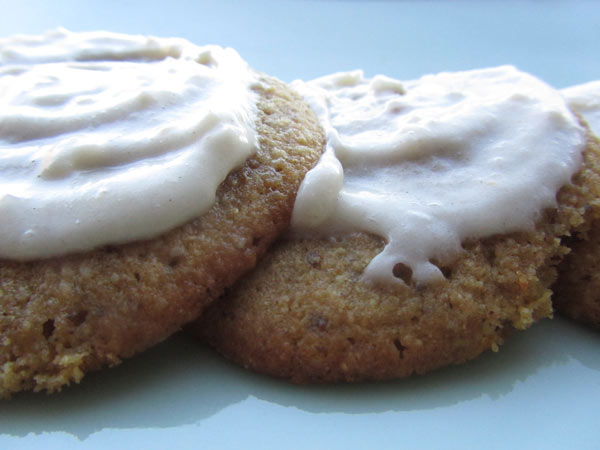 These cookies are so yummy and they satisfy on every level- there is something homey and familiar yet they offer a hint of the exotic. The smell as they are baking is heady and divine- remember, hands off until they're cool!
INGREDIENTS FOR COOKIES
1 cup butter
1/3 cup dark brown sugar
2/3 cup sugar
1 cup butternut squash puree (canned or fresh)
1 ½ cups whole wheat pastry flour
½ cup hazelnut meal
1 teaspoon baking powder
1/2 teaspoon baking soda
1 egg
1/4 tsp ground ginger
1/8 tsp ground cinnamon
1/8 tsp ground cardamom
1/8 tsp ground nutmeg
1/8 tsp ground cloves
1/2 tsp salt
INSTRUCTIONS FOR COOKIES
Preheat oven to 350º & line a cookie sheet with parchment paper
Cream butter and sugars until nice and fluffy in the bowl on your stand mixer using a whisk attachment or using your hand mixer.
Add remaining cookie ingredients and mix well.
Drop onto parchment paper lined cookie sheet in teaspoon sized balls about 2" apart. Bake for 14-16 minutes or until edges of cookies are golden then cool immediately on a rack.
Ice the cookies as they begin to cool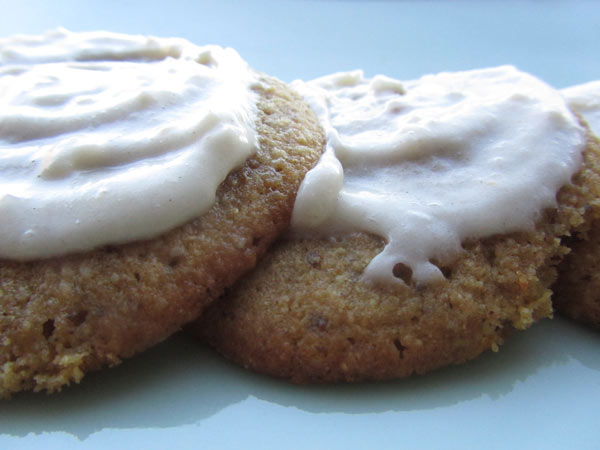 INGREDIENTS FOR CARDAMOM CRÈME ICING
¼ cup of butter (softened)
2 cups confectioners sugar (sifted)
½ tsp cardamom,
¼ tsp cinnamon
3 tablespoons heavy cream
INSTRUCTIONS FOR ICING
Cream butter and sugar
Add cardamom and cream. If icing is too thick add more cream; if it's too thin add more sugar