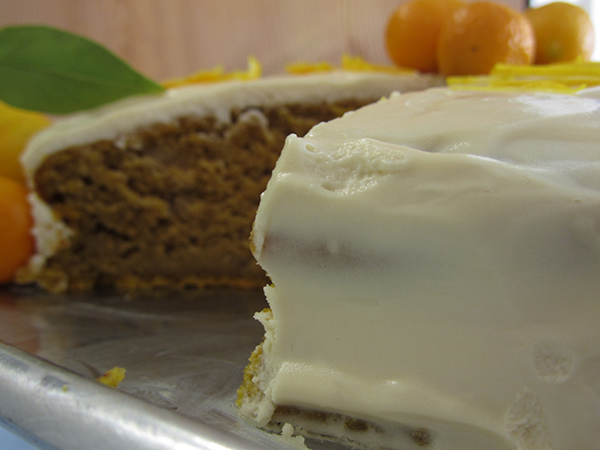 A couple of years ago, one of the editors at Care (the website where I work) asked if I ever made non-traditional Thanksgiving desserts. Funny thing was, I had never made a pumpkin pie. Truth, be told, I still haven't made one, even though I love it. Anyway, I had just made an Autumn cake for a dinner party, which was really delicious and again, out of character since it was rare for me to bake and even more rare for me to make something up and have a success.
I think this was based on some buttery, sour creamy, pumpkin pound cake I found in one of my mother's old cookbooks, but I have never been able to find the original recipe. It was probably filled with canned pumpkin and white sugar and premixed pumpkin pie spice or even sweetened pumpkin filling! Anyway, I went to town on it, replacing all of the butter with grape seed oil and all of the sugar with maple syrup. There is low fat Greek yoghurt and fresh pureed butternut squash and a whole lot of delicious spice in the cake.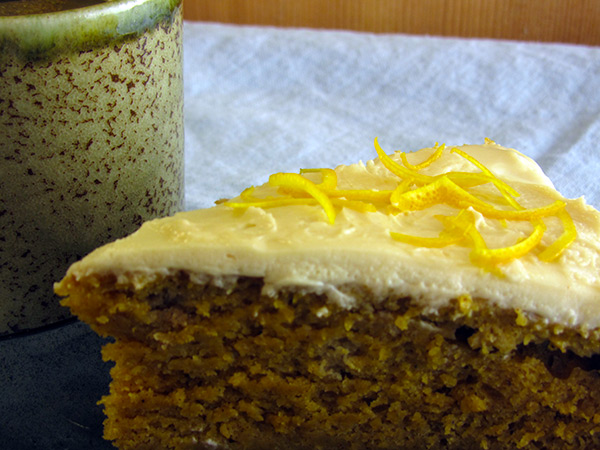 Here's what happened next. Care2 published my little cake on the website and I was pretty excited to see one of my recipes on the web; it was my very first! Then, a little while later, a woman named Laura C. Martin contacted me asking if she could use my recipe in a book to be published by Sterling Press called Green Market Baking Book. I almost threw the email away, I thought it had to be a hoax. She was throwing names like Alice Waters and around and saying they too had agreed to contribute to the book. How could I, who had only even posted one recipe on the web,  be in a book with one of my greatest food idols?
As you might guess, I didn't throw the email away! Last month, the book came out in hardcover. Laura has been incredibly kind and has done the most beautiful job with this book. The recipes are really amazing and the illustrations are just beautiful! I could not be more proud. When it was time to go to press, I did not have a food blog yet, even though people had been encouraging me to start one for years. It was Laura's note last fall that the book finally had a drop date that finally made me get off my duff and start this site, so thanks, Laura. There is nothing like a missed opportunity to light a fire under my bum.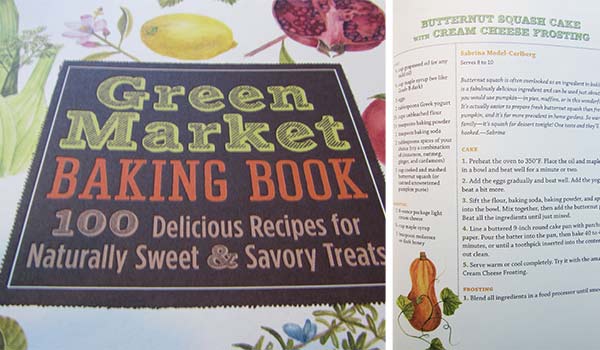 Giveaway Ended!
In celebration of this gorgeous book, I am doing a book giveaway. Laura and Sterling Publishing are generously donating a copy of this book to one lucky reader of The Tomato Tart. Here's how it works. You can leave one comment for each of the following activities.
So, you can leave a total of FOUR comments. Make sure you let me know what you've done in each comment. I'll use a random number generator to pick the commenter and voila, we'll have a winner.
The giveaway will close on  at 11:59pm on February 18th.
Giveaway closed, and the winner is…
Whitney with comment #4
Congratulations, Whitney!
INGREDIENTS FOR CAKE
2/3 cup grape seed oil
¾ cup grade b dark maple syrup
3 eggs
2 tablespoons Greek yoghurt
1 ¾ cups unbleached pastry flour
1 ½ tsp baking soda
1 vanilla bean scraped
2 tsp ginger
1 tsp cardamom
1 tsp cinnamon
1 tsp black pepper
1 pinch salt
1 cup steamed and pureed butternut squash (canned pumpkin or squash is a fine substitute)
INGREDIENTS FOR FROSTING
8 oz cream cheese- preferably without gums or fillers. I used Sierra Nevada Brand, Gina Marie and Dianna Supreme are two other fantastic options.
¼ cup maple syrup
1 teaspoon dark local honey
INSTRUCTIONS FOR CAKE
Preheat oven to 350º and line a buttered 9 inch cake pane with parchment paper.
Combine oil and maple syrup in the bowl of your stand mixer and beat on high with whisk attachment until well combined. A hand mixer or good old fashioned elbow grease will work well too.
Add eggs one by one, and beat well.
Add yoghurt until just combined.
Sift together all of the dry ingredients and then gently fold into we ingredients.
Gently fold in the butternut squash puree and then pour into the prepared cake pan
Bake in the center rack of your oven for 40-45 minutes or until a toothpick comes out clean.
Allow to cool on a wire rack before turning onto a plate and frosting. Top with orange or kumquat zest for a pretty and yummy touch!
INSTRUCTIONS FOR FROSTING
Beat all ingredients on medium-high until light and fluffy