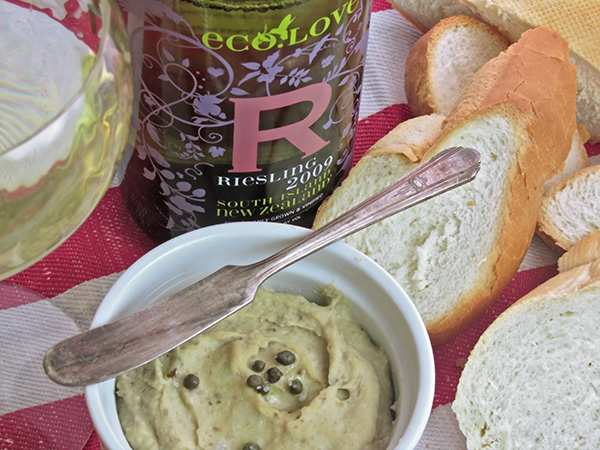 Butterbean and White Truffle Vegan Pâté
There are occasions that call for luxury—times when sumptuous textures and rich flavors are the only option. I created this butterbean and white truffle vegan pâté for just such occasions. With its velvety texture and deep flavors coming from caramelized onions, a Riesling reduction, and a good dose of white truffle oil, this dish would be at home on the finest table, but it's also just as comfy at a simple picnic in the park.
No one will ever guess it's healthy (ahem vegan and gluten free) easy to make. I make a double batch and eat it for lunch by the spoonful- because, hey, I'm a girl who loves luxury.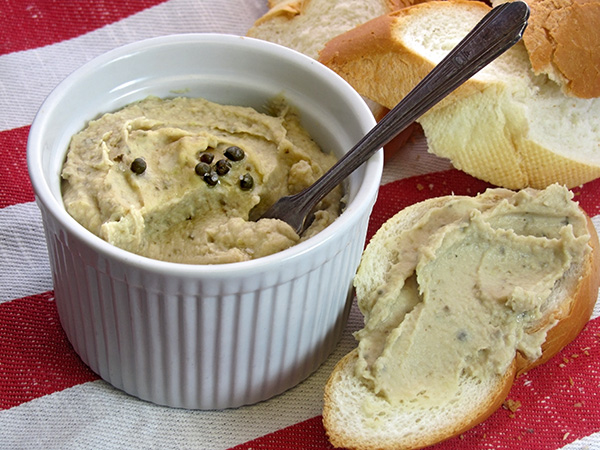 Now, speaking of the luxuries in life, we need to talk truffle oil. *Most truffle oil uses truffle essence, not actual truffles. This means, when you see that big bottle of white truffle oil for $8, don't buy it. It's not worth wasting your dough on. Look to spend at least $25 on a couple of ounces of truffle oil and look at the label to make sure it contains actual truffles. Also, buy it from a reputable source, and ask your shopkeeper. If they don't seem sure, and your label is iffy, wait. It is so worth it to have the real thing. The good news is that with the real stuff, a little goes a long long way. Store it away from the light in a cool place. I tend to put truffle oil on lots of things. Sure, it is a luxury, but guess what… I love it, and it's something I can do to treat myself to something special on regular day.
What are your little luxuries? How do you treat yourself to something special? Tell me all about it in the comments section below.
INGREDIENTS BUTTERBEAN AND TRUFFLE VEGAN PÂTÉ
1 (15 oz) can of organic butterbeans rinsed and drained
1 cup thinly sliced shallots
3 tablespoons grapeseed oil
½ cup eco.love Riesling
1 tablespoon good quality cognac
1 tablespoon agave nectar
1 teaspoon white truffle oil* + a bit more for drizzle on top of finished product (see * above)
1 ½ tablespoons capers packed in sea salt, lightly rinsed
pinch of sea salt
INSTRUCTIONS BUTTERBEAN AND TRUFFLE VEGAN PÂTÉ
Heat 1 tablespoon of the grapeseed oil in a heavy bottom skillet over medium-low flame, add shallots and cook for about 25-35 minutes. Turn them every 7-10 minutes or so. They should be a deep caramel color, but not crispy. If they start to get crispy, then turn down the heat. Also resist the urge to turn them too often. This step is all about getting the shallots brown and sexy so, hang a "do not disturb sign" on that pan.
Add the Riesling, cognac, and agave nectar to a small saucepan and turn flame to medium high. Bring to a rolling boil, and reduce the liquid to ¼ cup.
Add butterbeans, caramelized shallots, reduced Riesling mixture, capers, salt, and the grapeseed oil to the bowl of your food processor and mix for at least 5 minutes. The sound of the food processor's running motor will change when the mixture becomes smooth.  Add 1 teaspoon of white truffle oil and process for another minute.
Taste pâté to make sure it is smooth and seasoned well. Adjust seasonings to taste.  Spoon into a serving bowl and chill for at least two hours or up to overnight.  Garnish with a few droplets of truffle oil and a few capers. Serve with fresh crusty bread, toast points, or water crackers and a cold crisp glass of Riesling.