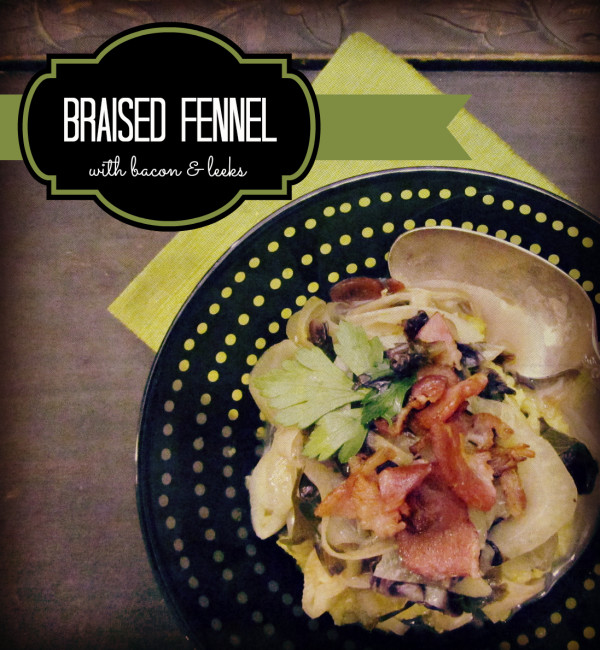 After a breakfast of French Toast at the St. Francis Fountain and a lunch consisting of Salty Sweet Rosemary Cookies (I'll post the recipe when I perfect it) and a glass of local Dogpatch winery, Sutton Cellars Brown Label Vermouth, I figured I needed something nourishing.
I'd been in and out of the rain all day running around, meeting friends for coffee, for breakfast, walking Ruby dog in her new Skull Sweater.  I was craving something suitable for a cold Sunday evening, but I wasn't about to go back out to the store.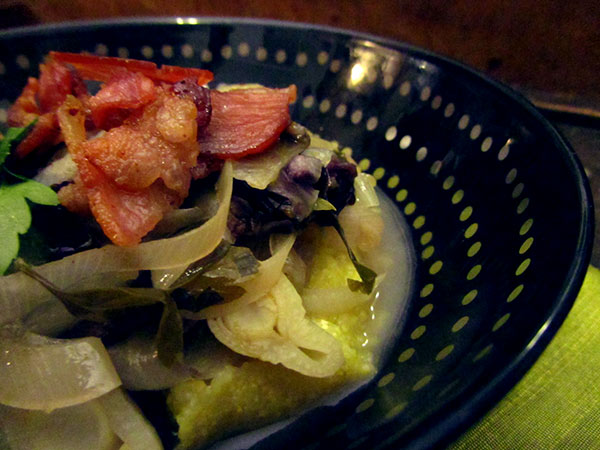 I looked in my fridge and found a bulb of fennel, a head of radicchio, and I knew I had some bacon in there somewhere. There is always homemade chicken stock and Italian parsley. Sounds like dinner, right?
Oh boy, was it dinner- that warm polenta in a bath of fragrant broth topped with soft and delicious leeks and fennel and topped with bacon was the ultimate in comfort food. Rustic and a special at the same time- I hope it's something you will enjoy too.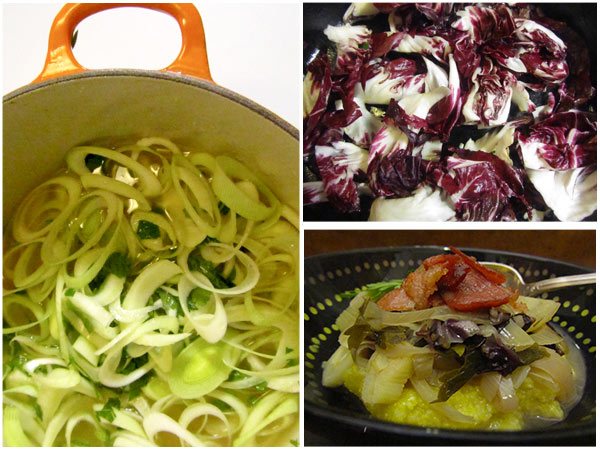 INGREDIENTS FOR THE BRAISE
1 bulb fennel thinly sliced
1 leek white parts only thinly sliced
1 head of radicchio coarsely shredded
½ cup chicken stock
½ cup dry white vermouth
¼ cup Italian parsley
1 tbsp butter
sea salt to taste
pepper to taste
BACON
1 lb bacon
cook bacon on medium in cast iron until crispy then chop into little bite sized bits
POLENTA
Prepare 1 cup dry polenta according to package instructions
INSTRUCTIONS FOR THE BRAISE
Add fennel, leeks, chicken stock, vermouth, & butter to a dutch oven and cook  on medium until they come to a simmer.
Lower temp to medium-low and cover tightly for 25 minutes or until veggies become very tender.
Add one tbsp of the bacon fat to the veggie mixture along with the radicchio and cook uncovered for another five minutes add salt and pepper to taste. Then add parsley and cook for another minute.
Serve with polenta on the bottom, leek & fennel mixture on top making sure to add some of the broth. Then top with bacon and garnish with more parsley.