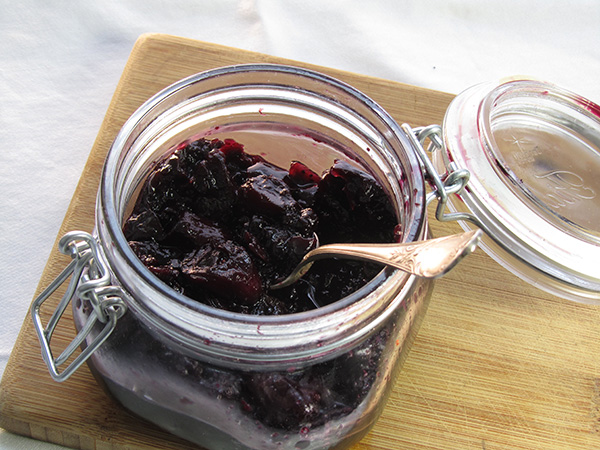 Ginger and vanilla are both on the list of my favorite flavors. The two couldn't really be more different. Ginger is bright, heady, floral, and bitey. Vanilla is warm, round, so soft and inviting. The funny thing is, ginger holds a stronger association to childhood for me. While my grandmother baked, she was French, and her desserts often took the form of galettes and tartes. I loved her custards and cream puffs, but strangely enough vanilla doesn't evoke childhood memories for me like it does for so many.
Ginger, however, does. It's not because my mom or grandmother made gingerbread or spice cookies. It's all about the Chinese food. I grew up in the San Francisco Bay Area, and some of my family members had lived in Asia, others had just traveled extensively. As a result, we were always hunting down the most authentic and amazing Chinese food. Seafood banquets at Hon Lin or Hong Kong Flower Lounge featuring exotic items like Jelly Fish and Sea Cucumber along with lobster and crab were the first choice for birthday dinners out on the town. If we went to another Chinese joint, we would always be sure to request black vinegar and shredded ginger for the table. I can't even speak those words, black vinegar and shredded ginger without my mouth watering. To this day, if I walk into a Chinese restaurant and I smell real black vinegar, I can guess my dinner will be better than average.
I don't know that, as a child, I associated gingerbread and gingersnaps with the real ginger because they tasted so sweet and not very ginger-like.  The first truly gingery dessert I ever had was a ginger cake and ginger ice cream from a Thai restaurant we frequented in Pacifica, CA. It still stands as one of my favorite desserts of all time. As ginger has become popular in American fine cooking, ginger crème brûlée often appears on menus, as do ginger pear tarts, and I've even tried ginger granola from the bulk section of my local grocer.
Recently, I've been seeing a slew of high-priced fancy jams flavored with ginger. Now, I LOVE high priced fancy jams, especially when I'm not buying them. Here's a little secret, with good produce, and a good pot, those jams can be all yours for a fraction of the price. Really, it's very little work, too.  It's true that jams are delightful on toast or with nut butters of all varieties, but I love having jams as part of a buffet or serving them with a cheese plate. This one came about as part of a build your own crostini bar that I did for a wine night with the girls.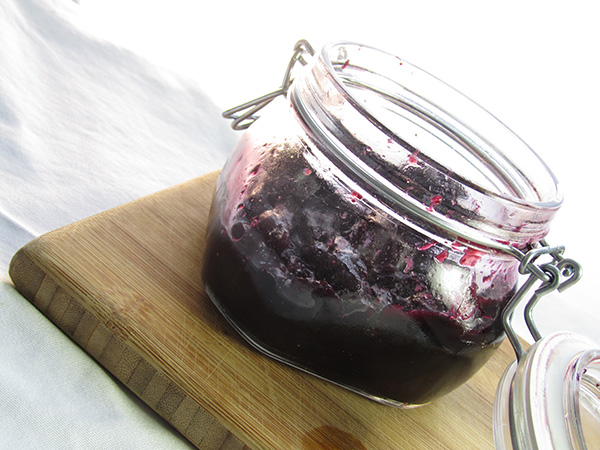 INGREDIENTS

3 cups fresh organic blueberries
3/4 cup organic sugar
1 cup candied ginger chopped into tiny pieces
1 vanilla bean
½ cup water
INSTRUCTIONS

Add blueberries, water, sugar, and ginger to a heavy bottomed saucepan. Split vanilla bean and scrape the seeds into the pan. Add the vanilla pod to the pan as well. Bring to a boil over medium-high flame. Removing any foam with a spoon.
Reduce heat to medium and keep jam at a high simmer, stirring frequently, and skimming the bubbly foam off the top as it arises.
Continue cooking down until you've reached a thick jam-like consistency (45 minutes-1 hour)  Remove the vanilla bean, seed pod and allow to cool.
Serve with scones or over pancakes for a sweet breakfast treat or serve with goat cheese and good salty ham and crusty bread for a savory/sweet appetizer.