Heart Shaped Beet and Goat Cheese Valentine's Day Appetizer with Meyer Lemon Dressing
A couple of years ago, I made a heart-themed dinner for Valentine's Day. We sat at our little kitchen table, and indulged in a meal of cocoa- dusted beef hearts and heart-shaped beet salad finishing with a hazelnut crusted chocolate tart.
This year, we're continuing our tradition of having a home-cooked dinner on Valentine's Day. While I don't know if there will be beef heart, we have continued incorporating heart beets into our Valentine's Day with this gorgeous beet and goat cheese napoleon Valentie's Day appetizer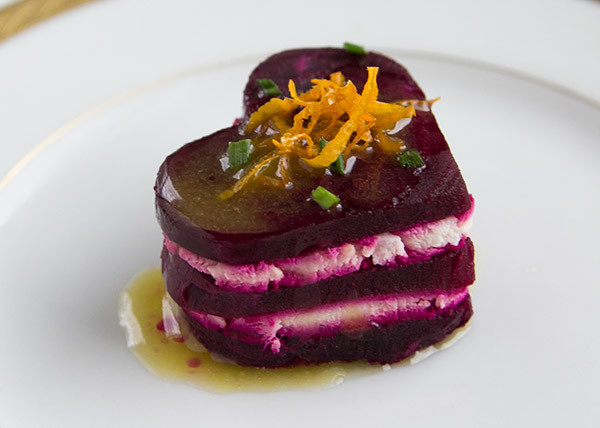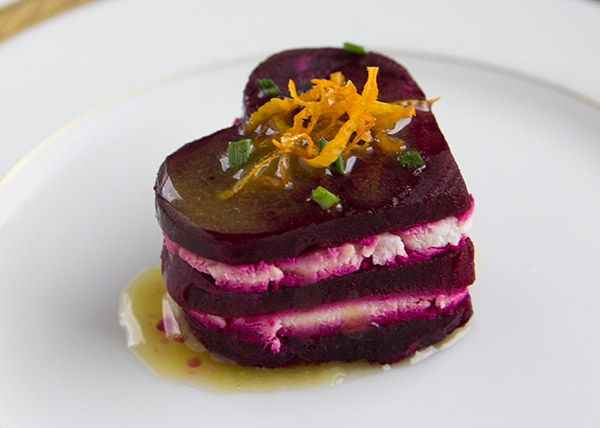 This little appetizer is made from fresh goat cheese sandwiched in between layers of heart shaped beets. The dressing is a meyer lemon vinaigrette because I believe beets and citrus are a serious love match. Now, this particular love match is a love triangle because there is nothing beets and meyer lemon love more than goat cheese. There is something utterly magical about a mouthful of earthy sweet beets, creamy goat cheese, and the bright pop of lemon.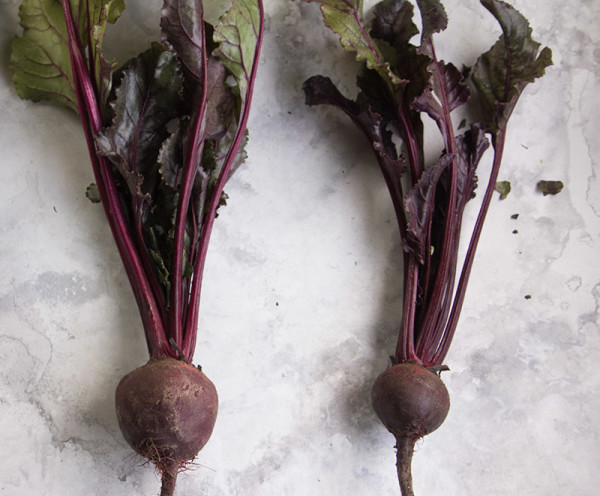 It's hard to talk about this beet and goat cheese appetizer without talking about how lovely it looks. Whether you go for heart-shaped for Valentine's Day, leave the beets in natural rounds, or cut them into squares for an elegant and modern look, these beet and goat cheese napoleons are striking. The rich magenta hue from the beets, sunny yellow zest, and green of fresh chives, will leave you thinking it's almost too pretty to eat. Notice, I said almost.

Heart Shaped Beet and Goat Cheese Appetizer with Meyer Lemon Dressing
This beet and goat cheese appetizer is pretty with or without a heart-shaped cookie cutter
. I find that it's easier to spread the goat cheese with a Small offset spatula
but a regular knife or even the back of a spoon will work.
If you don't have a meyer lemon, you can use a regular lemon and just add a bit more honey. A deeply flavored raw unfiltered honey works beautifully here.
If you're cutting the beets into hearts, choose a cookie cutter that is close to the same size as your beets to avoid waste. I usually eat the scraps, but you could dice them and use them in a salad. In short, this pretty appetizer is simple and no need to fuss about it. As good as it looks, it tastes even better.
Makes two beet and goat cheese napoleons
INGREDIENTS:Heart Shaped Beet and Goat Cheese Appetizer
2 medium sized cooked beets (I like boiled beets for this)
1 tablespoons fresh goat cheese
zest of one meyer lemon
finely chopped fresh chives (optional)
Slice cooked beets into ¼ inch slices. Use a heart cookie cutter to make the heart beets (optional). Place one slice of beet on a plate, spread goat cheese to the very edges of the beet. Press another slice of beet to flatten the layer. Top with another layer of goat cheese and finish with a slice of beet. Use a knife to clean up the edges of the goat cheese and top with meyer lemon vinaigrette, chives, and lemon zest.
INGREDIENTS: Meyer Lemon Vinaigrette
2 tablespoons meyer lemon juice
1 tablespoon honey (slightly warmed if it is crystallized or very hard)
3 tablespoons extra virgin olive oil
heavy pinch of sea salt
pinch of black pepper
Whisk together meyer lemon juice and honey then drizzle in the olive oil to make an emulsion. Add salt and pepper and taste before serving- adjusting seasoning as needed.