It is fig season and I am just mad for their sexy sweet taste. The way their leathery purple skin hides bright sweet seedy pink flesh is so alluring to me. When I was growing up, our neighbors had a fig tree, and if you climbed onto the railing of the inlaw unit in our backyard, you could just reach the ripe figs and pick them warm from the sun. I would rip them open with my hands and suck out the flesh leaving the skin to eat last.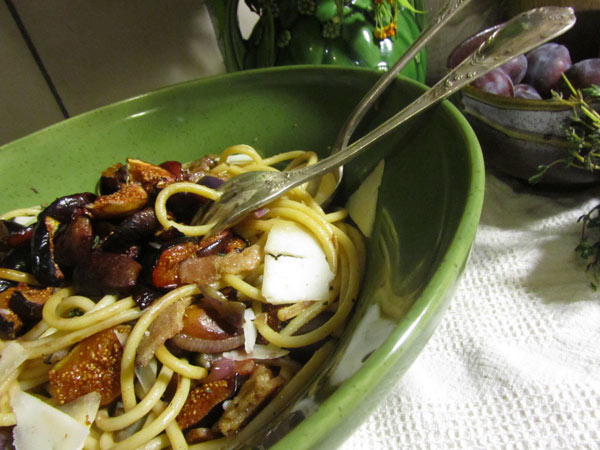 It wasn't until I was an adult that I realized I could eat figs cooked. Of course I'd had them aside cheese or prosciutto and in newtons, but once I began experimenting with them in food, my whole world changed. After a trip to the farmers market this weekend that yielded a bunch of lovely purple food, I was down to only a few purple bell peppers, so I hit Bi-Rite market for a little inspiration.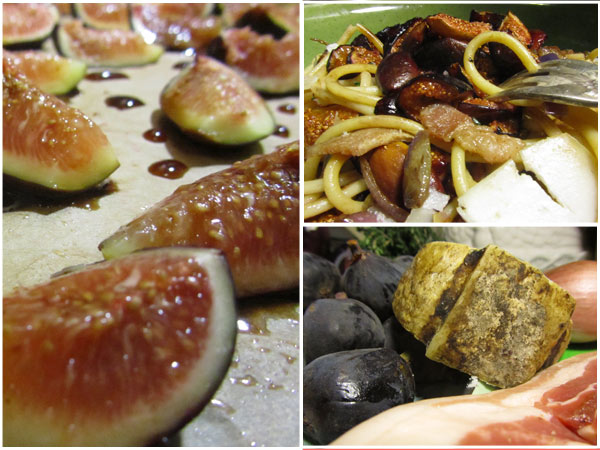 In chatting with my favorite cheese buyer, Anthea, I got inspired by a 5 month old Spanish Goat cheese, called Queso Abrigo. I saw a basket of figs and then the whole idea for the dish just came together in my head. I told Anthea what I was thinking for dinner tonight and she said, "I think I might try that too". We had a talk about figs and how we could just eat baskets and baskets of them- and then I went to pick up some of that delicious Vande Rose Iowa Duroc Bacon. This bacon is so amazing, their pigs are far from the factory farmed lab grown piggies we're so used to in the US and the bacon is applewood smoked and brown sugar cured. If you can find it, do try it some time. Just one more item, some beautiful bucatini pasta, and I was ready to get in line and head on home to start cookin'.
INGREDIENTS
1/2 lb bacon
8 oz figs
3 tbsp balsamic vinegar
1 shallot
2 purple bell peppers
2 tbsp fresh thyme(removed from stems & chopped)
2 oz hard aged goat cheese (shaved)
1 tbsp olive oil
1 package bucatini or other long pasta
salt & pepper to taste
INSTRUCTIONS
Preheat oven to 425°
Cook bacon over medium low heat in cast iron skillet until it is tender and chewey
Quarter figs and place on baking sheet lined with oiled parchment paper then drizzle with ½ of balsamic vinegar and bake in oven for 5-10 minutes until just beginning to caramelize. Then remove from the oven and set aside.
Cook your pasta, but don't throw away the water
Dice purple bell peppers and shallots.
Heat a bit of olive oil in a small pan over medium heat.  Add the shallots- once they begin to soften, add the purple bells and cook for a couple of minutes. The goal is to keep the color while allowing them to get sweet and a little soft.
Toss in the chopped fresh thyme and remainder of the balsamic. Cook for one more minute and remove from heat.
Once the bacon is cooked, drain, pat and chop your bacon into bite sized pieces, and save or throw away all but two tbsp of the bacon grease which you will leave in your cast iron pan.
Into that pan, you're going to toss your pasta, the bell pepper shallot mixture, the chopped bacon, and a nice ladle full of the pasta water. Use tongs to mix it all up and then salt and pepper to taste. Add more pasta water if the "sauce" isn't coming together.
Next,  put that into your bowl, top with the figs and the goat cheese & enjoy.