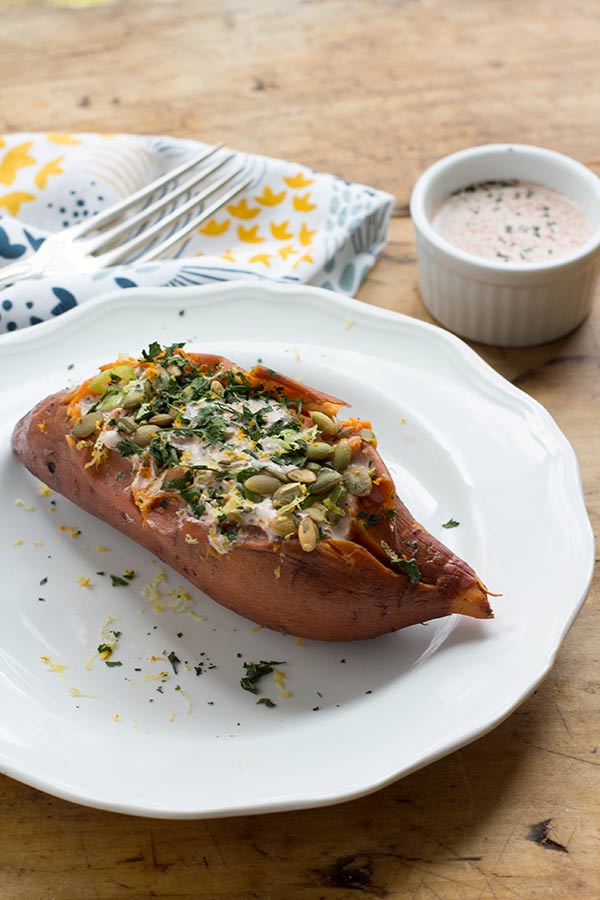 This is a sponsored post. I have been compensated by Green Valley Organics Lactose Free. Although they are now a client, I have bought and loved Green Valley Organics Lactose Free products for years! All opinions are my own and are never for sale. I happily work with brands I love and that I hope you will love too! This post also include affiliate links for books I mention. 
Baked Sweet Potato with Molé Cream Cheese for Meatless Monday
Kat handed me the book during 3rd period science as we ate her mom's homemade bean lasagna. The book was Frances Moore Lappé's Diet for a Small Planet
 and it completely changed my life. So profound were the ideas in Lappé's book, that I would eschew meat for the next ten years.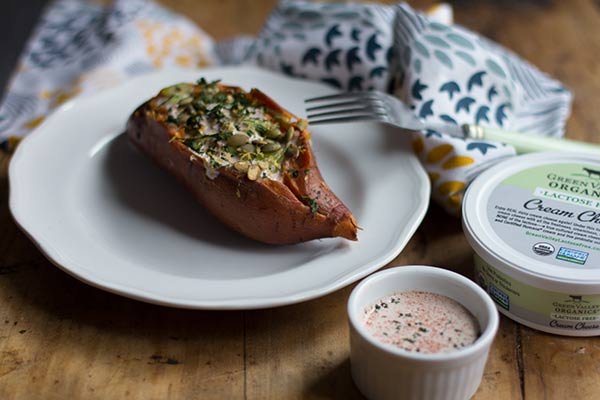 I spent years exploring the environmental, socio-economic, and animal-welfare impacts of the industrial meat producers in the US. I simply knew I would be a vegetarian for life.
And then one day, something changed. My body was demanding meat. My first forays into eating meat were not healthy, humane, or sustainable. I was voracious for flesh and not very discerning in my consumption.
Eventually, the gravity of my decision got to me, and four years ago we made a shift. Today, Joshua and I choose only humanely-raised, sustainable, meat, eggs, and dairy. Often, a weeknight meal features loads of local veggies with a small piece of meat or fish, a nice farm egg, or some great cheese.
We still eat lots of vegetarian meals featuring hearty veggies like this baked sweet potato with molé-spiced cream cheese. I love a simple dinner like this with a nice green salad especially since there are so many rich foods between Thanksgiving and the New Year. It feels good to eat something hearty and healthy- oh and did I mention it's about the easiest dinner there is?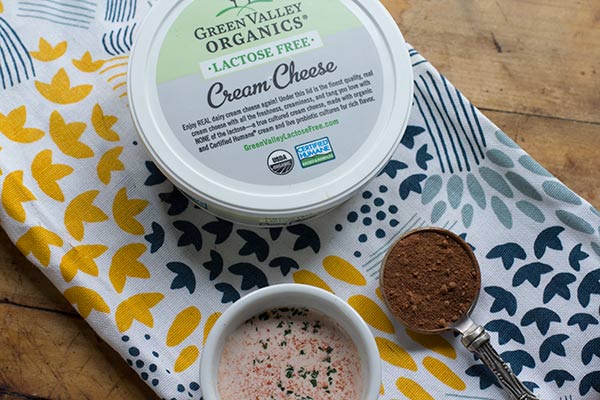 If you are a regular reader of this blog, you may know how I feel about Green Valley Organics Lactose Free Sour Cream. Spoiler alert: I love it. When my friends at Green Valley Organics told me they were coming out with a new product, I said "Please tell me it's cream cheese!"
I love cream cheese but I don't like eating the fillers, gums, and stabilizers that muck up most cream cheese. Of course, this cream cheese has only four ingredients: Organic cream, lactase enzymes, salt, and live cultures. It doesn't get much cleaner than that.
It tastes amazing and, it feels even better to choose a dairy product that comes from a local and sustainable farm. Green Valley Organics purchases its milk from a certified humane dairy where the cows graze on grass and live a healthy life free of antibiotics, hormones, and the cruelty of feedlots. That's a decision I can get behind.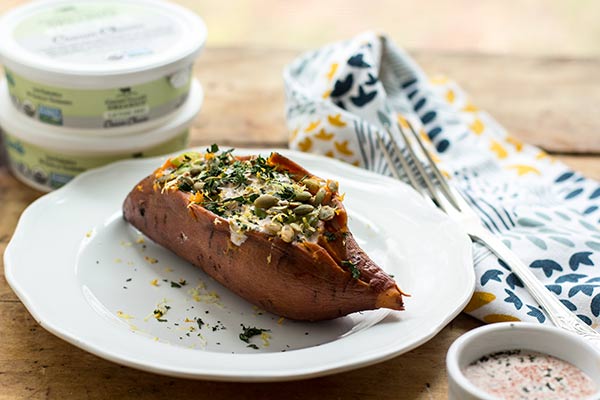 This baked sweet potato is roasted with a bit of olive oil, and then topped with a molé-spiced cream cheese, toasted pepitas, and a bit of citrus zest. You may find you have spiced cream cheese left over! Good. Try it on a sandwich, a cracker, or atop a bowl of hot soup! This recipe is vegetarian, primal, grain free, and gluten free.
4 medium-sized sweet potatoes
1 teaspoon olive oil
1 tub Green Valley Organics Lactose Free Cream Cheese
1 teaspoon cocoa powder
1 teaspoon smoked paprika
¼ teaspoon cinnamon
½ teaspoon cumin
½ teaspoon chipotle powder (adjust amount to you taste for spice)
heavy pinch of cayenne
heavy pinch of coarse sea salt
1 teaspoon of citrus zest (I used lemon and tangerine)
¼ cup toasted pepitas (green pumpkin seeds)
1 tablespoon chopped fresh herbs
Preheat oven to 400º. Rub sweet potatoes with olive oil and wrap individually in foil. Roast in preheated oven until fork tender—about 45 minutes.
While sweet potatoes are roasting, mix dry spices and cream cheese in a bowl. Adjust seasoning to taste then refrigerate.
When sweet potatoes are done, pull from the oven. Cool in the foil for about 10 minutes. Then cut a slit in the top of each sweet potato, add 2 tablespoons molé-spiced cream cheese, 1 tablespoon of pepitas, and top with zest and herbs.