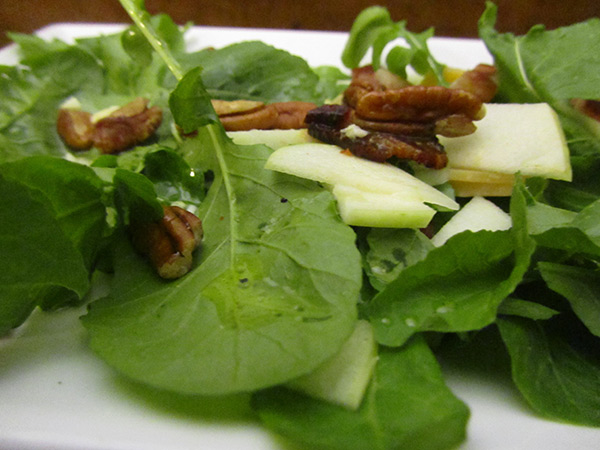 Even though it's wet and bone cold here in San Francisco, (people who are really in cold climates, go ahead and insert your giggles here) I am insistent on eating salads for dinner for a while. We ate so much overwhelmingly rich, albeit delicious, food over the Christamas Holiday, that my cravings for green have gotten out of control.
I once heard that California was the land of Salad For Dinner, and I feel so lucky to have been raised in that amazing and delicious land. Call me weird, but salad was always my favorite part of a meal as a kid, and nothing has changed. Granted, I grew up in a French family so didn't have to suffer the iceberg lettuce salad drenched in thousand island dressing.
The salads of my youth consisted of butter, red leaf, or green leaf lettuce perhaps with a tomato or two, maybe a radish from time to time, but always to be tossed with a perfect vinaigrette made with fresh parsley, Dijon mustard, and a little bit of garlic and shallot. Today, my friends know that when they come to dinner there will always be a salad- sometimes it's a whole meal, sometimes not, but it's always present. This salad was born from a desire to enjoy the seasonal flavor of tart, crisp, local apples in my meal. Pairing apples with bacon and aged gouda (Noors Hollander) makes perfect sense, just like a second helping of this salad.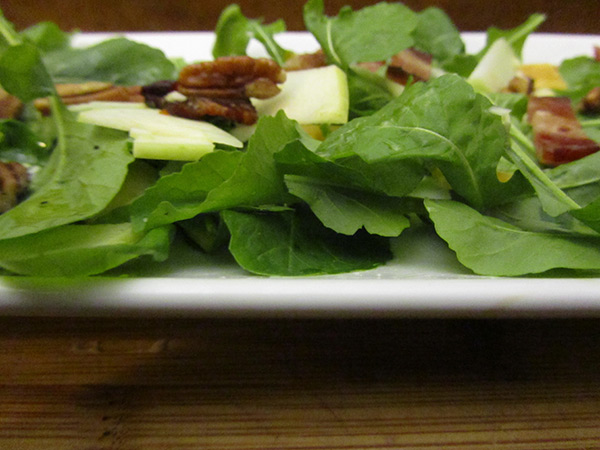 INGREDIENTS
4 cups arugula
1 local organic apple sliced thinly
1 oz Noors Hollander sliced thinly then chopped
½ cup pecans
2 strips good thick cut bacon (Vande Rose Duroc Bacon is the one for me)
4 tablespoons good quality apple cider vinegar (I love Katz & Co. Gravenstein Apple Vinegar- YUM)
1/3 cup excellent olive oil
1 tbsp minced shallots
salt and pepper to taste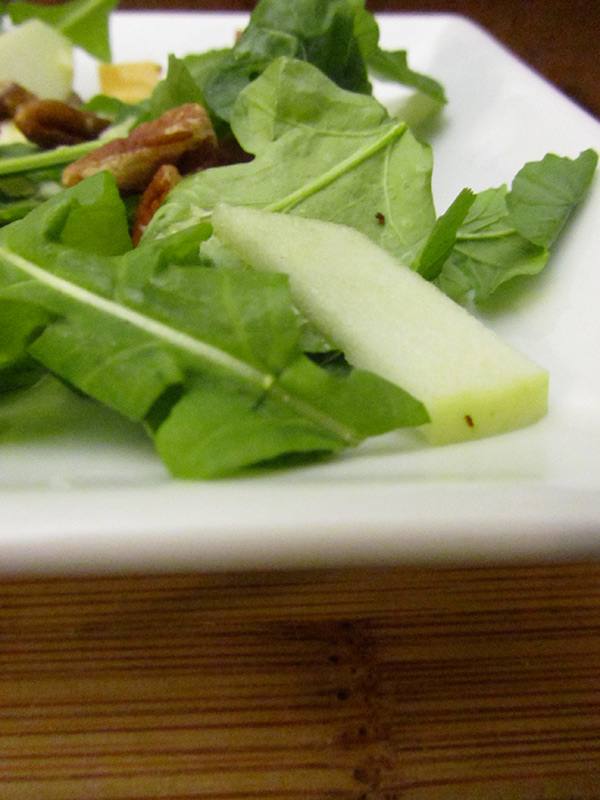 INSTRUCTIONS
Cook bacon on a lined cookie sheet in a NON-PREHEATED 375º oven for 15-20 minutes depending on the degree of doneness you prefer.
Set shallots and a small pinch of salt into the vinegar to soften for 10 minutes.
Whisk olive oil into the vinegar/shallot mixture until emulsified. Then finish seasoning.
When bacon is done, blot excess grease with paper towels and save drippings (if you like) by straining through paper towel or coffee filter and placing in a jar.
Assemble salad, drizzle very lightly with vinaigrette, toss & eat.