If this were a restaurant review blog, I'd have tons of blog posts right now. Since my injury, I have cooked exactly one meal and one batch of cupcakes. For one, it hurts to cook. Even though it is my left hand that tangled with an immersion blender and definitely lost, it is amazing how much we use our hands. Also, I can't do any dishes, so while I like to clean as I cook, instead, I end up with a big fat disaster of a workspace.
THIS IS THE BROCCOLI SOUP I WAS MAKING WHEN THE BLENDER STRUCK!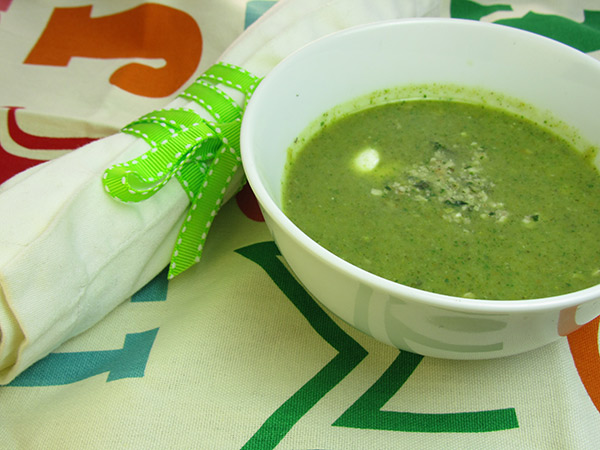 I have had some delicious meals at vegan joints and I've found that some of my favorite restaurants offer pretty delicious vegan options. I am eating vegan at least six days a week. So far, in the last two months, I have tasted a couple of bites of non vegan recipes that I had committed to creating, I have had sushi twice and eaten soup that I am sure featured a healthy dose of butter even though the waitress claimed it was vegan. Since I am eating vegan for health benefits, and the pretty fantastic green consequences are just a plus, I didn't freak out about a little butter. Other than my finger, I feel pretty great.
Right before the Online Bake Sale for Japan, I was making outstanding vegan meals. Between the bake sale and the injury, though, I never finished writing them up, so… I'll share with you, some photos of the dishes we were eating pre-blender incident and tell you a little about them
Chipotle Lentils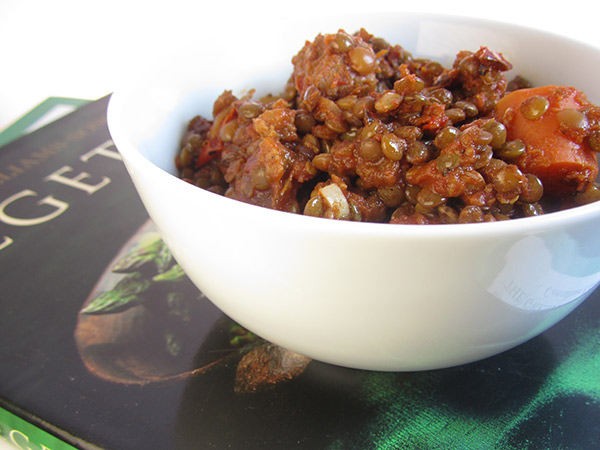 Green Puy lentils are cooked in white wine and fire roasted canned tomatoes with chipotle chilies
Thick cut carrots, red onion, and a vegan chipotle sausage (from Field Roast Meat Co.) give flavor, texture, and a punch of color to the dish.
Don't salt lentils until they're done cooking. It will make them tough.
Roasted Cauliflower, Vegan Chipotle Sausage, & Israeli Cous Cous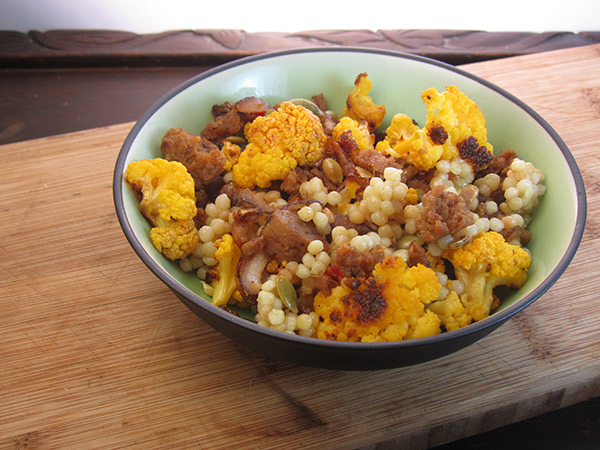 Chop orange cauliflower into florets, toss with olive oil and garlic and roast in a preheated 400º oven for 25 minutes
In a large heated skillet (medium high), pour a good glug of grape seed oil , red onion, crumbled veggie (or real) sausage and cook until caramelized and golden, add cauliflower, pepitas, and more garlic
Toss everything with the Israeli Cous Cous and top with a little toasted pumpkin seed oil.
And a dessert…
Gluten Free, Vegan Mixed Berry Crumble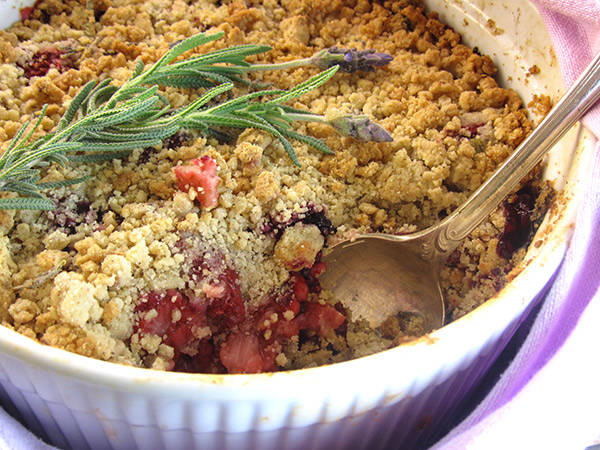 Toss hulled strawberries and frozen mixed berries with corn starch and a little sugar and about a teaspoon of finely chopped fresh lavender flowers.
For the topping (based on this one from My Tartelette )
Mix 2 parts rice flour, 2 parts sorghum flour, 1 part sweet potato flour, pinch of salt, 1 tablespoon (culinary) lavender flowers chopped finely, 1 stick earth balance, cold, in small pieces, ½ cup muscavado sugar with a pastry blender.
Pop into the freezer for 20 minutes or so.
Bake in a 350º oven either in well-greased individual ramekins or in a large soufflé dish as I did.
Remove when the filling begins to bubble through the crumble top.