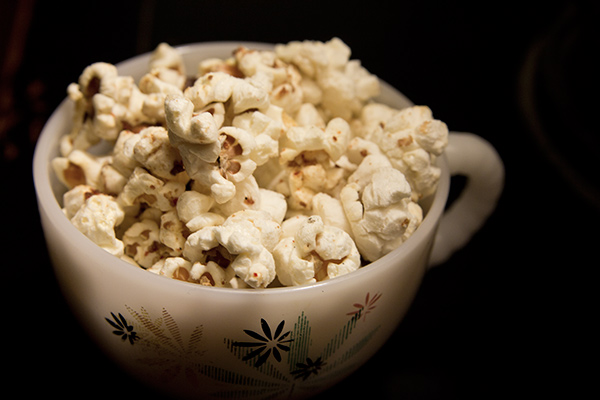 Coconut Curry Popcorn, The Ultimate Gluten Free Snack
When I started the journey of October #unprocessed, I knew that there would be certain challenges. I mentioned the biggies in my guest post on Eating Rules.
Breakfast and lunch had to be prepped the night before since my husband and I eat both meals out of the house on most days
Avoiding eating out and ordering in by having some easy to make meals in the fridge just in case I was too tired or too hungry to make a full blown dinner
The things I thought less about were the little things. Life, is made up of all those moments in between. Sunday morning, some friends invited us out to brunch. That was easily avoided when they accepted an invitation to our house. I made challah French toast and baked eggs. We drank fresh squeezed OJ and laughed and I almost screwed up the French press YET again.
One thing I couldn't (and didn't want to) avoid was an afternoon trip to the movies with my brother. Oh no, I thought, popcorn! I don't generally eat processed junk food, and anything partially hydrogenated was exorcized from our house about seven years ago, but movie popcorn is my rare exception. I decided I would one up the movie popcorn. I called up my rebel spirit and made some amazing coconut curry popcorn to sneak into the theater with two apples and a few squares of dark chocolate. I did buy a bottled water there- not to assuage any guilty concience, just because I couldn't fit my Klean Kanteen in my bag with all that awesome haul!
INGREDIENTS
4 cups fresh popped popcorn (I did mine on the stove with avocado oil)
2 tablespoons coconut sugar
2 tablespoons garam masala spice
ground hot chilies to taste (I used a tablespoon of paper lantern chilies, it was way hot)
2 tablespoons coconut oil
Sea salt to taste
INSTRUCTIONS
Toast coconut sugar, garam masala, and chili powder in a dry skillet for about 2 minutes on medium high heat
Add coconut oil and melt over spices, whisking together as it melts, to incorporate. Cook for another couple of minutes to integrate flavor.
Toss with fresh popcorn, salt to taste, and sneak into the theater or just eat as a savory/sweet snack any time, any place.