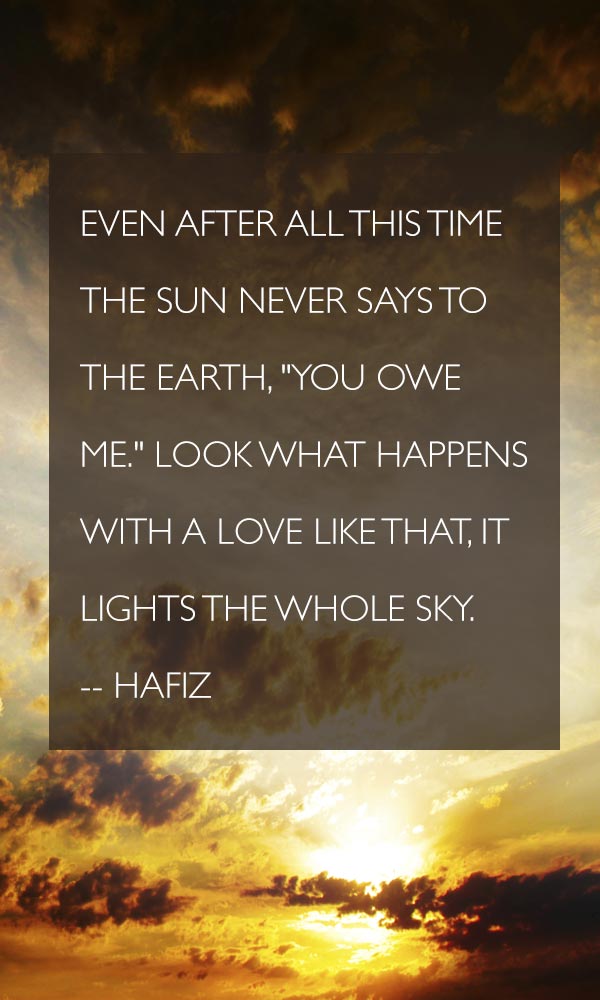 "Even after all this time The sun never says to the earth, "You owe Me." Look what happens with A love like that, It lights the Whole Sky." –Hafiz
This Hafiz quote about love and gratitude is one of the most beautiful quotes. That's saying so much since Hafiz quotes are generally some of the most beautiful in the world of poets.
I like to think of November as a whole month of gratitude. I keep a regular gratitude practice throughout the year and especially lean on it when times are tough.
Though I have little to complain about, it is always good for me to stop and truly appreciate the little things in life. I often find myself grateful for the poet, Hafiz. We could all do with a little more poetry in our day to day life.
While reading Hafiz today, I came across this gorgeous quote. I thought I'd share it with you.
What is it you're feeling grateful for today? What poets, authors, painters, bloggers, artists, inspire you? Leave a comment and I'll be sure to check out your recommendations.