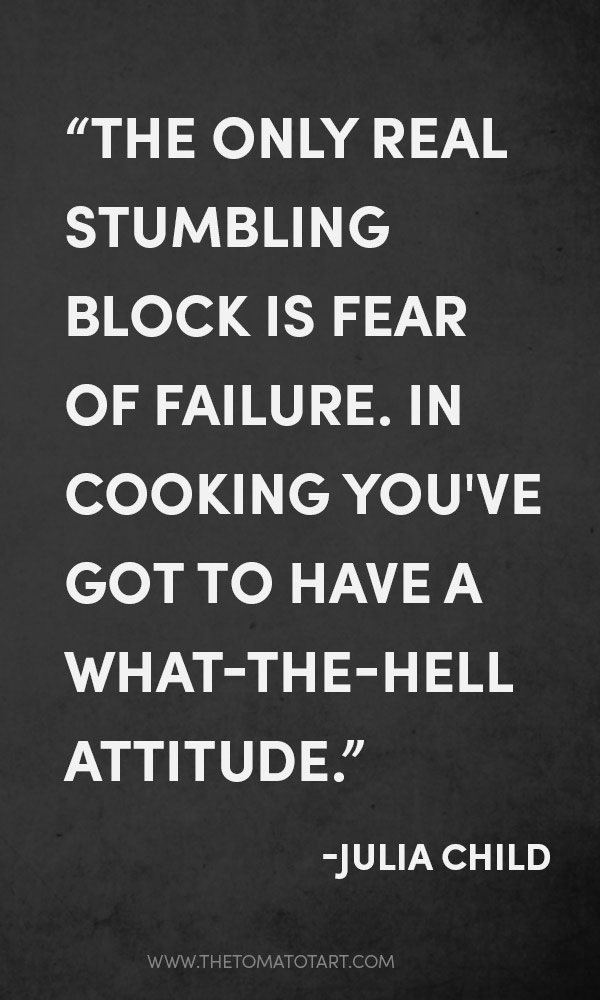 My favorite Julia Child quote, goes like this:
"The only real stumbling block is a fear of failure. In cooking, you've got to have a what-the-hell attitude". –Julia Child
In the kitchen, I am never afraid. I'm in my element- easing between art, science, alchemy, and…
In the kitchen, I am in the moment, tackling the tasks at hand, thinking on my feet, and meeting each challenge as it arrives. In the kitchen, I am at home.
And what if we replace the word "cooking" with the word "life"? In life, you've got to have a what-the-hell attitude?
In life, I've spent the last few years embracing the concept of "letting go"… letting go of old hurts, letting go of material stuff, letting go of perfect, and letting go of fear.
It is in that spirit that I am welcoming the challenge of National Blog Posting Month (NaBloPoMo) for the second year in a row. During the month of November, I will be posting every day. I have some exciting stuff planned for this month and I hope you'll follow along.
As I did last year, I will be including a gratitude list at the end of each post I write. If you're so inclined, please tell me something you are grateful for today.
Daily Gratitude: November 1, 2014
Snuggling in bed with my love as the sound of rain lulls us to sleep
Adorable kids in Halloween costumes
Grey chilly mornings that are so conducive to writing
Neighbors who become great friends
The gifts of time and awareness- so grateful for those moments when I can truly appreciate my life.
Here are some of my favorite posts from last year's NaBloPoMo
The simplest dessert ever! Three Ingredient Decadent Chocolate Pudding
Warm Beet Salad with Citrus Vinaigrette
Kitchen Tip: How to Revive Wilted Greens
On Family, Love, Loss and Vomit