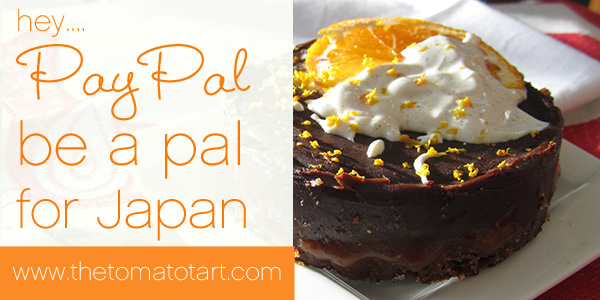 Many of you know that I have put some time into the Online Bake Sale for Japan benefiting Second Harvest Japan. I may have told some of you that I had nightmares about spreadsheets during the administrative phase of the project. Now, this project is facing a much worse nightmare than spreadsheets.
Apparently, I didn't go through the proper channels when I set up the Online Bake Sale for Japan.  I cannot say I knew there were proper channels. I chose my nonprofit, one based in Japan, and one that was extremely efficient. I set up a new PayPal account as a personal account and a new bank account- just so things would be very clean. Please bear in mind, I never said I was a nonprofit or that I was asking for any sort of tax deduction. I even called PayPal and asked how to collect money without incurring fees as I was having a bake sale for a Japanese charity.
Now, PayPal is holding the money and will not release it so that I may donate to Second Harvest Japan. I have answered many questions, Second Harvest has provided a letter from their Executive Director stating that I have permission to raise funds for their organization, and many of you have baked and shipped and eaten, tweeted, and posted. This has been a community effort in the largest sense.
The earthquake, tsunami, and nuclear crisis has been a tragedy on a global scale, but the community of bloggers, readers, eaters that came together for this bake sale was also global and a beautiful example of what people can do when they work together.
The current reason PayPal is giving for holding the money is that Second Harvest Japan is that they are not a US nonprofit. As I have mentioned to a couple of people, the donation I am making (by check) to Second Harvest Japan will not be tax deductable, and even if it was, how could I take it, as only $200 of the money donated came from my husband and I? It would be wrong. I did not do this for a tax deduction, just as anyone who bought baked goods didn't buy them for a tax deduction.
People from all over the world have donated to this ten-year old nonprofit- the first food bank in Japan, a member of the Global Food Banking Network. Cargill, INC, an American company based in Minnesota recently donated $250,000 to Second Harvest Japan. I spoke with Stacey, in their charitable giving department this morning, and she gave me a little hope. I will not give up this fight. I hope that you will join me. If you feel it is important for PayPal to do the right thing, and release the money to this worthy cause, please leave a comment on this blog saying so.
Or write compliance@paypal.com with the case # PP-001-272-592-886  in the subject line. I appreciate your help.
Warmly,
Sabrina Modelle
The Tomato Tart