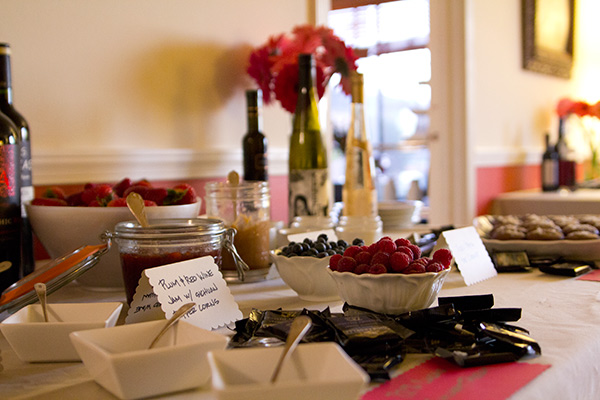 There's nothing like a deadline to help a girl get moved in! When Ghirardelli approached me about hosting a tasting and pairing party for their Intense Dark chocolates, I may have thought better of it considering we just moved into our place a month ago.  I love chocolate, of course, and you know I love wine, and parties… don't get me started. I truly couldn't resist, though, when I learned that during the month of October, Ghirardelli would be donating $50,000 plus $1 from each specially marked Intense Dark chocolate bar to the National Breast Cancer Foundation. The tasting parties, would be a way to help raise awareness, and so, I was in!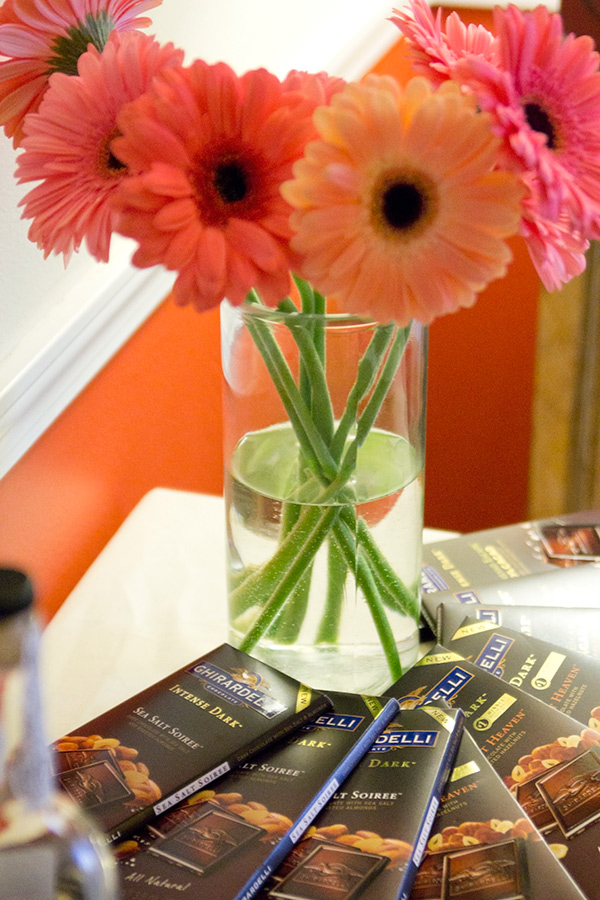 Last Saturday, with the help of two of my besties, I put the finishing touches on my living room and kitchen (we won't talk about the bedrooms). I'd already been cooking for days prepping a pretty extensive tasting menu.
Before we get into the menu, I'd also like to thank  Leslie Sbroco who was so kind as to give me some amazing wines, especially the extraordinary Sandemand Armada Rich Cream Oloroso Sherry which, I'm still savoring the last few sips of.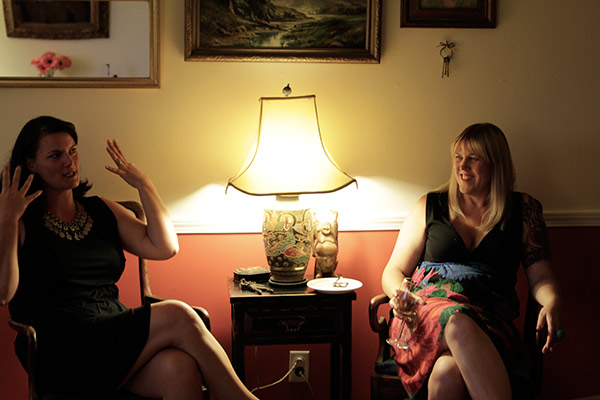 Evening Dream 60%: Yuzu Pots De Cremes, The Gluten Freed Gourmet's Gingerbread, Lemon Brioches
Served with: Rieslings, Ice Wines, & Late Harvest Rieslings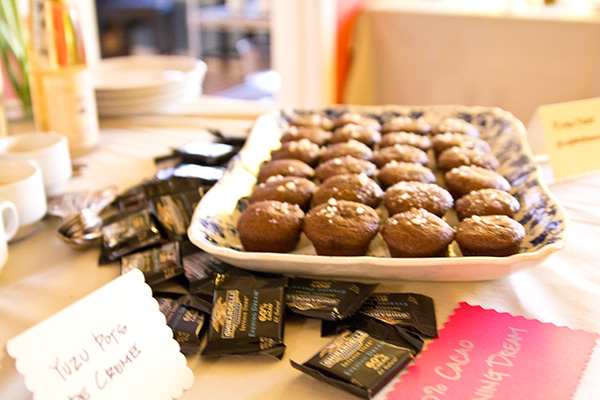 Twilight Delight 72%: Spiced Plum Jam, Spicy Caramel Sauce, Strawberries Blueberries and Raspberries, Ciabatta,
Served with: Garnacha, Spanish Red Blend, Merlot, Bay Spiced Lager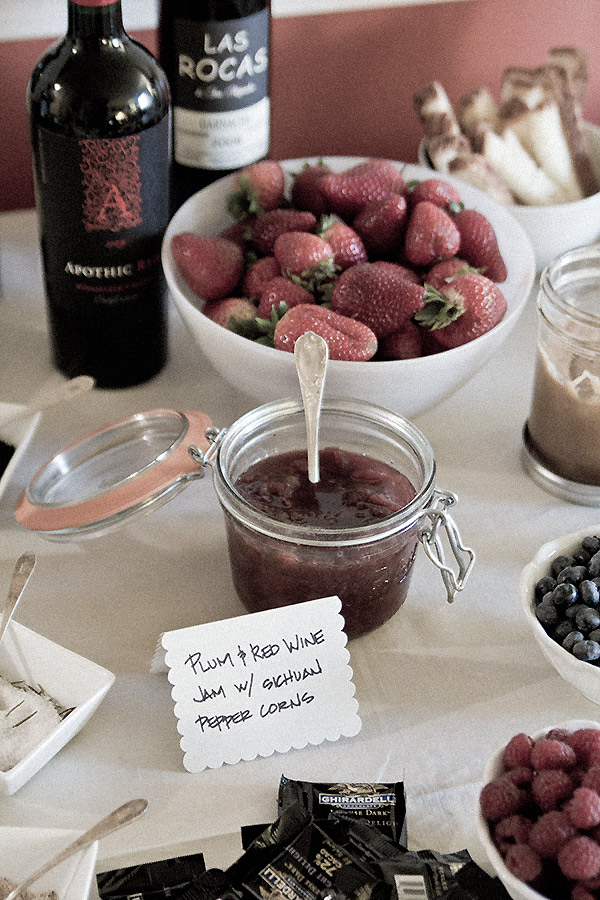 Midnight Reverie 86%: Carmelized Onion and Parmesan Tart on my flakey crust, Goat Brie, Roasted Figs with Bacon and Balsamic
Served with: Malbec, Syrah
Toffee Interlude 60%: S'mores in a jar featuring boozy (rye) marshmallows & Coffee Confiture,
Served with: Tawny Port, Sherry, Ruby Port, Belgian White Ale, & Belgian Black Stout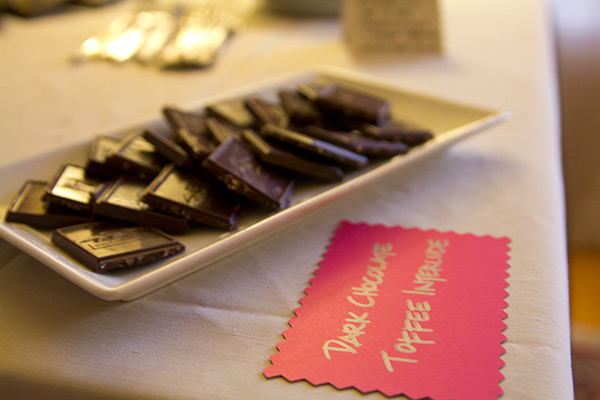 The guests began arriving at around 7 and included some of my favorite people in the blogging community including Chef John of Food Wishes and his lovely wife Michelle (of SFQ Sauce Fame), Stephanie of Desserts for Breakfast, Anita of Dessert First, Angela the amazing pastry chef and writer of the San Francisco baking Examiner, Mary of The Gluten Freed Gourmet, Annapet of The Daily Palette, Carina of Mission Fruition, Kris Mulkey, Sean and Joey of Cooking with Sean and Joey, Kate of Blue Chair Fruit, Ashley of Spirit of the City, a secret guest whose name I will not mention, and that's just over half of the fantastic guests! It was such a pleasure to have my new home filled with laughter and conversation all night. There was talk of food, wine, and chocolate– conversation filled every corner.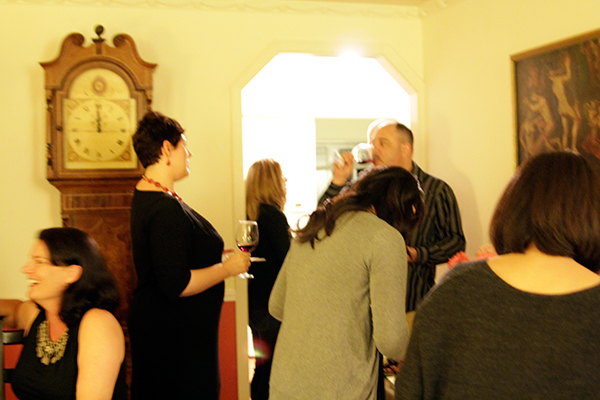 We drank, and tasted well into the wee hours of the evening, and Ruby dog came up to join us once most the guests had gone home for the evening.
Some of the favorite pairings of the evening seemed to be the onion tart  and the figs with bacon with the 86%, the yuzu pots de crème and the gingerbread with the 60%, and the spicy caramel with the 72%. Guests were split as to whether they loved the toffee chocolate with the s'mores or whether the darker (less sweet) chocolate would have been best. I fall into the latter category, although don't get me wrong, the toffee was awesome.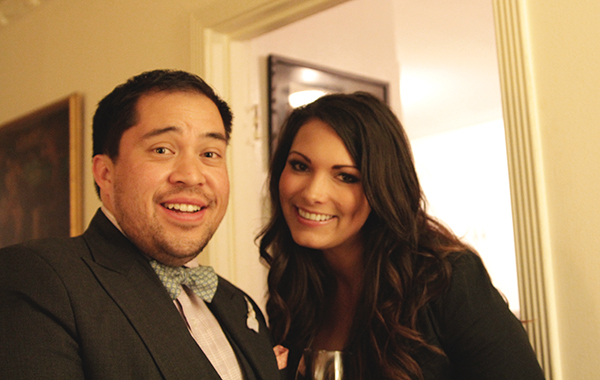 All in all, it was so much fun. I am constantly reminded how much I LOVE being a member of the food blogging community. I'm grateful that that folks at Ghirardelli chose me, and pushed me to get my house together that much faster.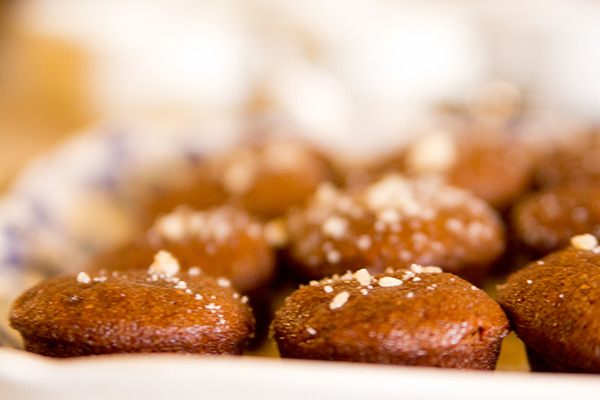 I can't wait to have another party! And speaking of parties, I invite you to join a Twitter Chat tasting  and pairing party with Leslie Sobroco on Wednesday October 5th at  5pm PST (8 Eastern) #TGTASTE is the hashtag. More information on the twitter chat here.
Recipes for yuzu pots de crème, spicy caramel, onion tarts, and boozy marshmallows may just appear in the following days and weeks. What do you think you'd like to see first? Let me know in the comments below.
………
sponsored post: this has been a sponsored post. Ghirardelli Chocolate Company has provided cash compensation as well as product. My policy is to only accept compensation from companies whose products/services I enjoy. The monies received have had no influence on the opinions expressed in the article above, and I was not asked to review or provide an opinion of the product provided.