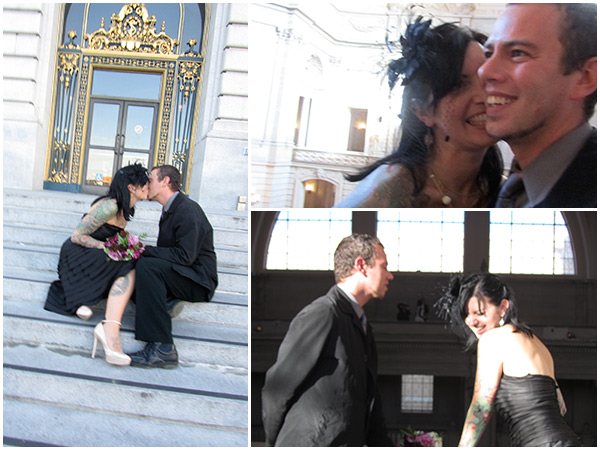 What do you feed to people who are madly in love on their wedding day? Of course, there's the cake- arguably the most important part. I knew Stacie wanted a coconut cake and I was thrilled to make it for her and Brendan on their wedding day.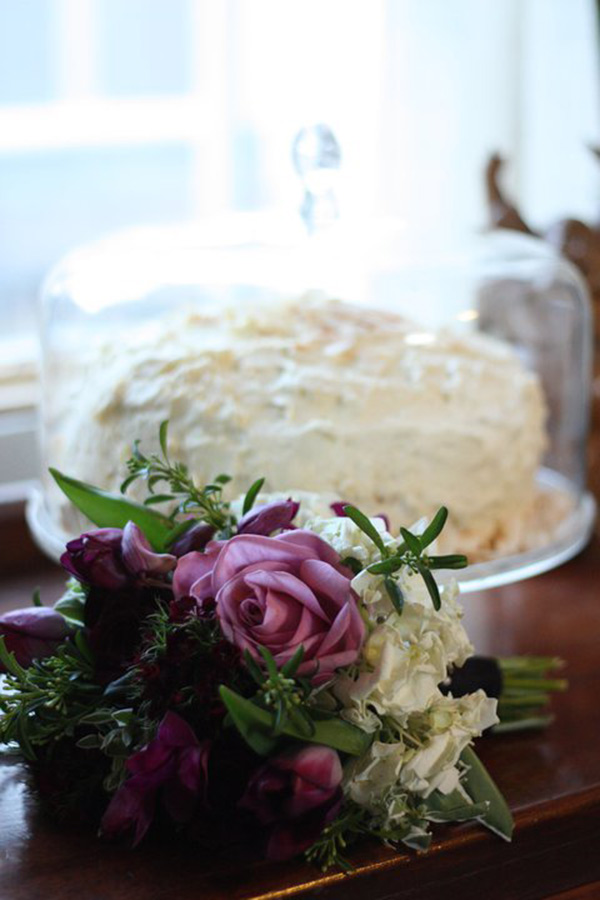 Let me back up. Stacie and Brendan and I all met on a six-day silent retreat in Northern California. Over the course of those six silent days- during which we avoided eye contact, did not speak to one another, and spent 14 hours a day in meditation, Stacie & Brendan somehow fell in love. This week, they were married!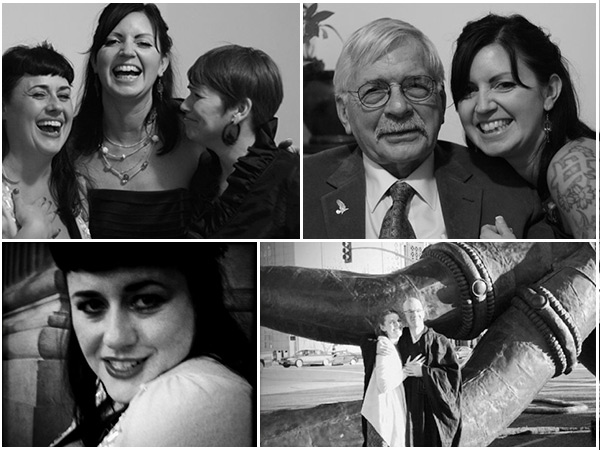 I offered to have the reception at my house. It was a tiny wedding just the bride and groom, the father of the bride, the groom's brother & his lovely gal, and the two flower girls (aka my friend Cynthia & me), so there wasn't a ton of cooking to do, but I knew there would be some dietary restrictions. The groom's brother is a Zen priest, so I knew he'd be veggie. Cynthia doesn't do dairy and since this is California I figured I'd better be safe and make something gluten free, just in case.  I also didn't want to make anything heavy because, afterall, this was someone's wedding night!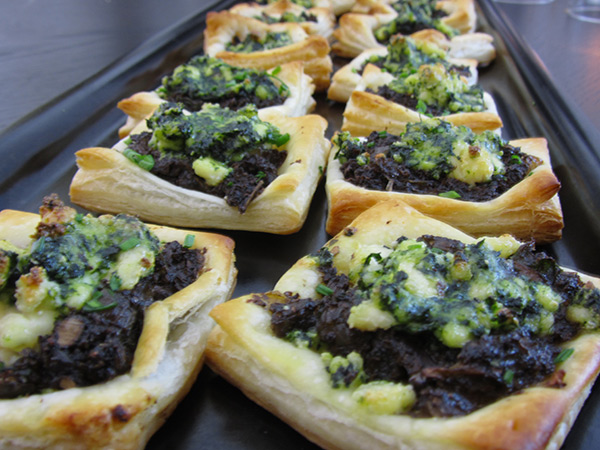 Here's the little menu I came up with:
Mushroom & fresh ricotta puff pastry squares
and..
A coconut layer cake with passion fruit curd, lemon whipped cream, & coconut buttercream.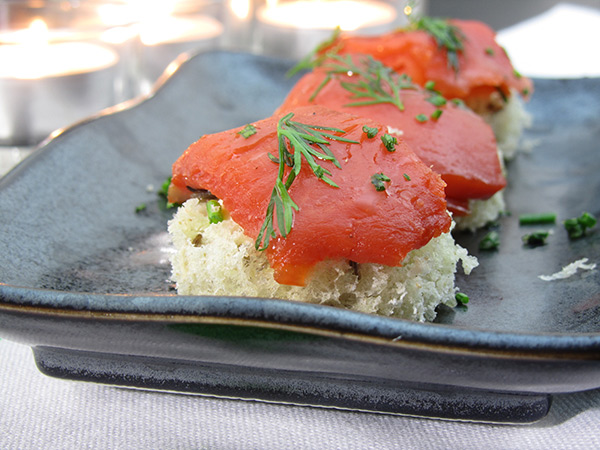 The night before, I made the cake, the tomato jam, and the soup. In the morning, I made the mushroom mixture, mixed the ricotta with the fresh herbs, and made the croutons for the soup. Right before I left for the wedding, I made the canapés so I would have something to put out as soon as guests arrived.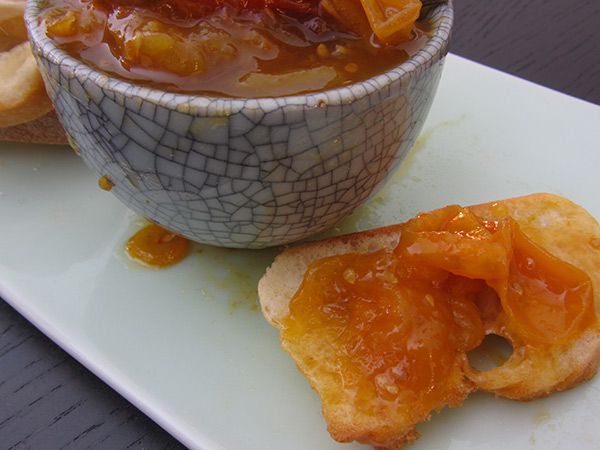 Back to the important part… my friends got married at San Francisco city hall in front of the Christmas tree in the sweetest and most beautiful ceremony.  We all gathered round and watched as the (seriously awesome) justice of the peace joined them as husband and wife.  It was lovely to be so close and intimate at a wedding- to hear every word and see every expression.
After taking some photos, it was time to head back to my place. We arrived a few minutes before the bride and groom, so I was able to put the canapés out, serve some drinks, throw the ciabatta in the oven, and slowly warm the soup.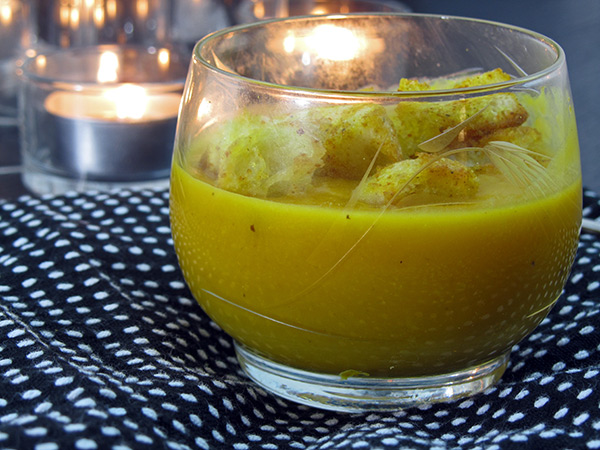 Once Brendan & Stacie arrived, the party got rolling. We had food and drinks and lots of laughter. I can't imagine a better day! Then, of course it was cake time. I was so nervous considering I've really baked very few cakes in my life. This was a doozy! It had layers, and two kinds of filling, and a heaping of real buttercream- pretty far out of my general comfort zone. It turned out to be delicious but even better was watching the bride and groom sitting on my floor, eating cake with Ruby looking on waiting for a bite or even just a morsel to fall on the floor.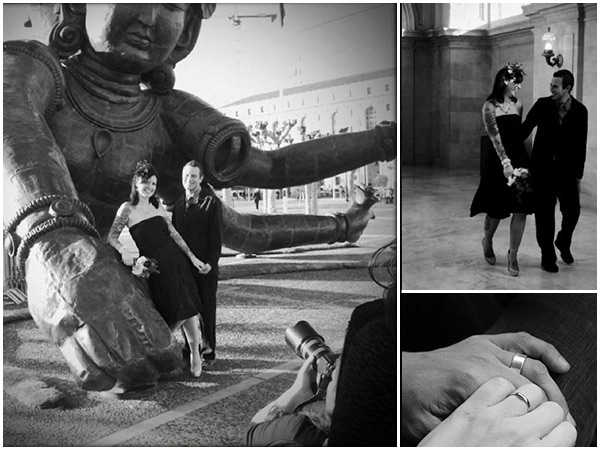 My darling Stacie has headed back home to Canada, and my friend Brendan is here in California. Soon, they will be together all the time and then I'll throw a REALLY big party,
All the best to my dear friends- may you have the happiest of lives together. I love you both.