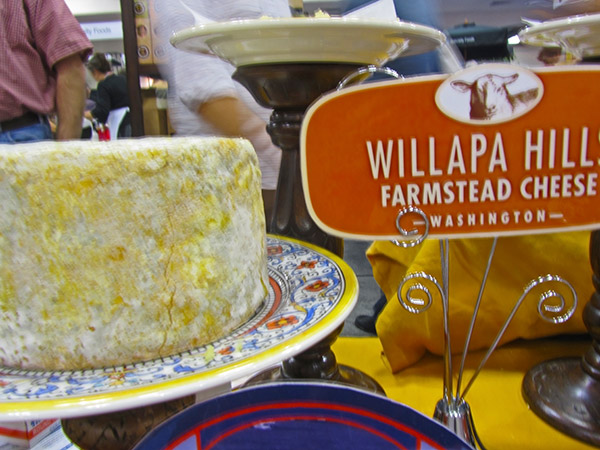 San Francisco has a well-deserved reputation as a food town. One might say you can't throw an heirloom pumpkin without hitting a farmers market, gourmet grocer, or specialty market. For three days every January, San Francisco's Moscone Center is home to the West Coast's largest specialty food and beverage event, The Winter Fancy Foods Show.
Now in it's 36th year, the show featured thousands of foods from 1,300 vendors, but I was there to check out the Organic and Natural Foods Pavilion which featured over 120 vendors. Today, roughly 85% of specialty food companies have organic or natural product lines. Local, sustainable, and eco-friendly products are the products that are expected to have the most growth in the coming years. I spoke with Bill Carvalho, of Wild Planet, Sustainably Caught Wild Seafood who has been an exhibitor at the show since 2003, "No one even talked about sustainability at the show in 2003, now everyone is talking about it."
In addition to Wild Planet there were some other exciting companies who really "walked the talk". One of my favorite discoveries was McClure's Pickles owned and operated by the McClure family. The pickles are delicious (I liked the spicy ones) and they slice the cucumbers by hand and pack each jar in Brooklyn and Detroit. The jars are labeled with soy and veggie inks using chemical-free plating and use wind-powered electricity.
If pickles aren't your thing, perhaps you'll have a taste for cheese. I met Amy Turnbull's, Big Boy Blue, at the very end of the day, and I was smitten. I could taste the smallness of it even though it had immense flavor. The Willapa Hills Farmstead goat's milk cheese tasted so handcrafted, so made with love, and yes, so magnificently pungently, funkily, blue, that I had I giant cheese-eating grin on my face when we met. Two days into a long and busy conference, Amy was easily engaged and the embodiment of an artisan cheese maker. She happily divulged that the adorable kids on the labels were her own and that the milk came from hers. Soon, I was invited to the farm in Washington.
And what would a food show be without chocolate? NewTree is a Belgian chocolate company that stood out to me at this year's show. Their chocolate bars have healthy additions to them like lime blossom for relaxation, and flax seeds for the Omega 3. The flavors are pretty divine- chili pepper, ginger, and cinnamon have become ubiquitous these days, but lavender, pink peppercorn, lime granola, and Belgian biscuit are unique and delicious. These chocolates have less sugar than similar chocolates on the market and the company is very eco-friendly. They're 100% C02 Neutral and their packaging is printed with veggie inks and has been FSC certified from a properly managed forest. Also, they make a contribution to the Amazon rain forest for every product purchased. Oh, and did I mentioned these chocolates taste really yummy?
The explosion of so-called natural brands can be looked at in two lights. The upside is that we are becoming more aware that we need to be connected to our food, but it also means that we have to be informed consumers. When checking out food labels, it's good to remember that natural doesn't mean organic and organic doesn't mean healthy.