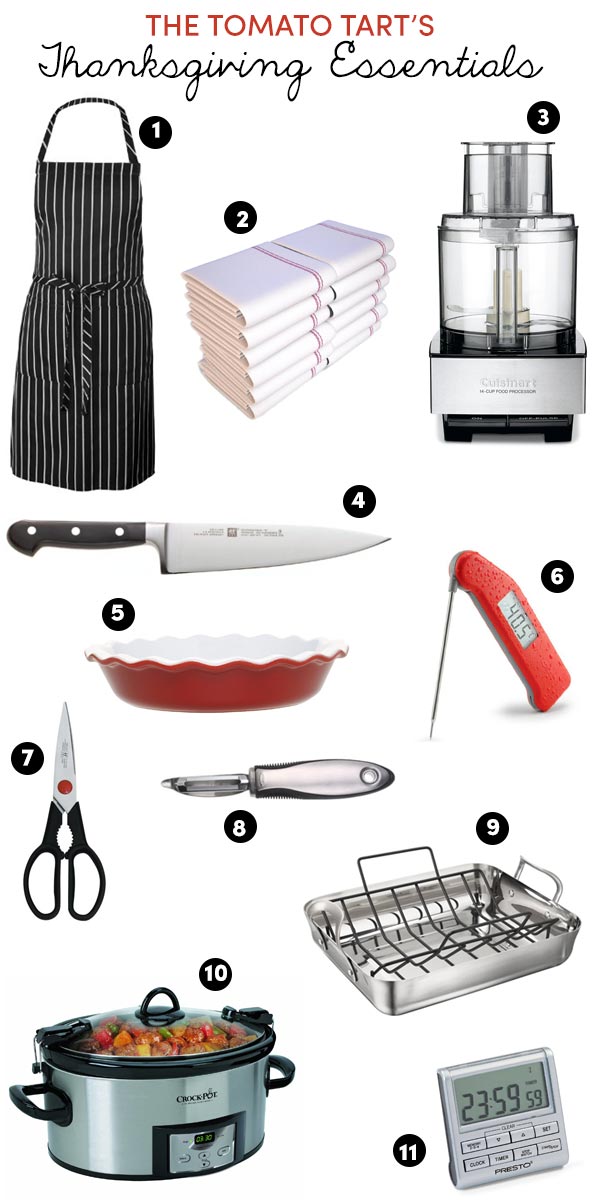 I've been hosting holidays for a long time. I love to host friends and family in my home. Preparing food for people I love… can't imagine anything I'd rather do. These days, because of my dietary restriction, I almost always wear the hosting hat (or apron such as the case may be).
I've learned a few tricks since my first Thanksgiving as a hostess in 2003. Not the least of which is that the job is easier if you prepare ahead of time, go easy on yourself, and also invest in a few tools.
My absolute musts are a good roasting pan, a sharp knife, a kitchen timer, an instant read thermometer, a fantastic peeler, and 100% cotton kitchen towels. The rest of the items on the list are pretty darned important, too. But if I was cooking dinner on a deserted island and I could only grab a handful of things, those would top my list.
I've put together this list of Thanksgiving Essentials
. Most are available with free shipping, so unless you're buried by snow in Buffalo, you should be able to get them in plenty of time for the holiday.
Please note, these links have  a little snippet in them and if you buy them after viewing them here, I'll make a little dough. Not the pie kind, but the dollar kind.
 1. A great apron
I always stop an hour before guests arrive and spruce myself up. I put on a fresh apron over my clothes and then I'm pretty much ready for company. This is also one of my best tips for hosts. Don't forget to take care of yourself on party day.
Chef Works CSBA-BCS Chalk Stripe Bib Apron with Pockets/White
2. A stack of kitchen towels
Fresh clean kitchen towels are essential in my kitchen. I use them for everything from cleaning up splashes on serving dishes, to cleaning counters, to drying the dishes. Oh, and they also make really cute napkins.
Kitchen Dish Towels with Vintage Design, Super Absorbent 100% Natural Cotton Kitchen Towels (Size: 25.5″x15.5″) – 6 Pack Dish Towel Set – White with Red Stripe
3. A fabulous food processor
When cooking for a crowd or attempting a lot of dishes, the food processor is one of my best friends. It shreds cheese a heck of a lot faster than I can, and I never lose a knuckle in the process. It's also great for emulsifying viniagrettes, making soups and sauces extra smooth, and thinly slicing vegetables for crudité or gratin.
Cuisinart DFP-14BCN 14-Cup Food Processor, Brushed Stainless Steel
4. A sharp knife
A good knife is the difference between struggling to get through your prep work and whizzing through it like a breeze. A good sharp chef's knife is a workhorse and an ally when you're cooking.
Zwilling J.A. Henckels Twin Pro S 8-inch High Carbon Stainless-Steel Chef's Knife
5. A gorgeous and sturdy pie plate
Thanksgiving=Pies! I love my Emile Henry pie plates so much. I have two and both have been with me for many years. A good heavy pie dish helps prevent burning and it also just looks really pretty on the table.
Emile Henry 9-Inch Pie Dish, Cerise Red
6. An Instant Read Thermometer
Turkey is a bear. Well, no, turkey is a turkey. I would never attempt to roast this magnificent (persnickety) bird without a thermometer like the Thermapen. There's a reason every chef recommends this tool. It's accurate, it's fast, and it's tough.
7. Kitchen Shears
I use my kitchen shears every day. Chopping herbs, check. Cutting through the breastbone of a chicken, check. Opening those incredibly annoying "resealable" bags, that too.
Zwilling J.A. Henckels Twin L Kitchen Shears
8. A vegetable peeler
This may sound obvious, but when was the last time you invested in a good peeler? This is a case of an inexpensive tool getting the job done really really well.
OXO SteeL Swivel Peeler
9. A killer roasting pan with rack
Don't try to cook a turkey in a pyrex dish. I did that once. Not a great choice. A proper roasting pan with a v-shaped rack can really help get an even cook and save all the nice juices and fond at the bottom to make delicious gravy.
Calphalon Contemporary Stainless Roaster with V Rack
10. A slow cooker
You could go mad trying to do everything in the oven and on the stovetop. A crock pot can be used for making everything from cranberry sauce to gravy and it's fantastic for hot apple cider- which tastes amazing and leaves your house smelling like the holidays.
Crock-Pot SCCPVL610-S Programmable Cook and Carry Oval Slow Cooker
11. A Digital Kitchen Timer
With everything you've got going, it's easy to forget the little things. This digital timer has several built-in timers so you never miss a beat. You might even have time to sit down with a glass of wine.
Chef Alarm with Digital Probe, countdown, and count up timers!
What are your best tips and tricks for Thanksgiving?