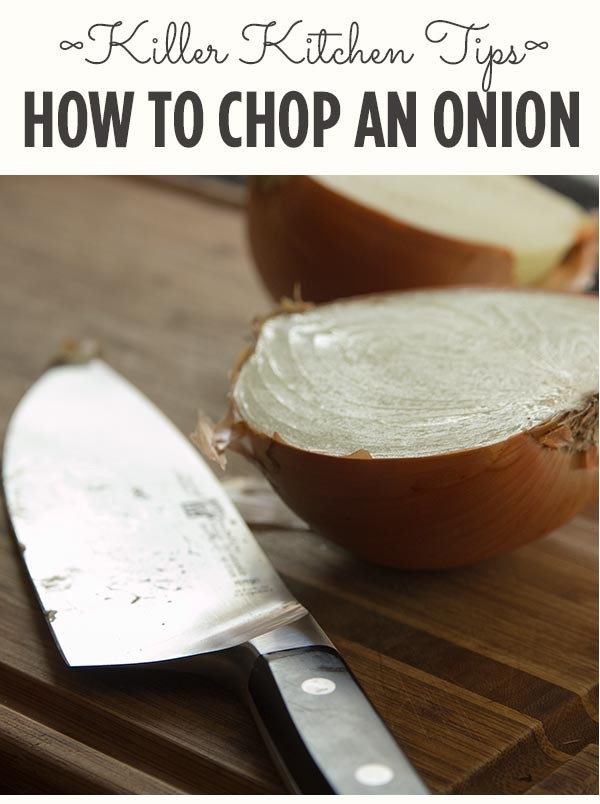 Disclosure Statement: I received free products from Zwilling J.A. Henckels including the 8" Pro Chef's Knife featured in these photos.  My opinion is never for sale. I only work with brands I love, and I really really really love this knife. It is fast becoming my favorite go-to knife, but please don't tell the others. They get their feelings hurt, easily. I hope you'll love this knife just as much as I do. 
I am always shocked to hear someone say they are afraid to use sharp kitchen knives. Did you know that you're less likely to cut yourself with a truly sharp knife? That's because a sharp knife glides through food easily, while a dull knife is prone to slipping off the food and slicing through things you'd rather not cut… like your finger! Even if you do cut yourself with a sharp knife, it will be less severe than with an dull one. True story.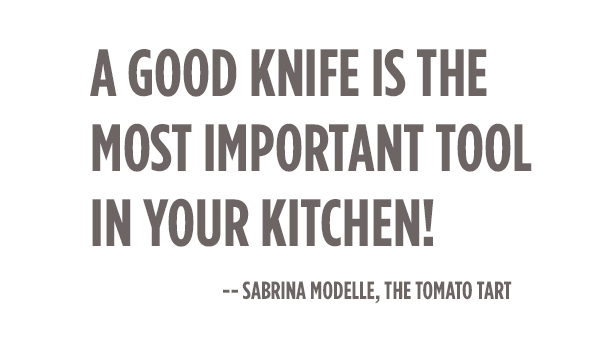 Knife skills are so important in the kitchen. I remember when I first started cooking, I wanted to chop quickly just like the cooks in my family and the chefs on TV. Those early days were a total mess! Going quickly, without the skills to back up your speed is not a great idea.
Today, things are different. I cut much more cleanly and pretty quickly. My knives are my little soldiers. They go into the kitchen at my side and we take care of one another.  I'm not exaggerating when I say, a good knife is the most important tool in your kitchen.
Of course, knives aren't magic. You're not going to go from a Top Ramen Chef to Top Chef just because of a knife, but I do believe you'll find your time in the kitchen more pleasant and less frustrating with the proper tools. If you've ever struggled through dicing tomatoes, chopping onions, or mincing garlic with a dull knife, you know it's no fun.
Many recipes start with onions, yet so many people are challenged by cutting them. This technique makes cutting onions simple and quick. I can break down a dozen onions in about as many minutes using this skill.
So, ready to get started? Here's how to chop an onion in step by step photos.
First, lay a kitchen towel under your cutting board. This keeps your board from sliding and is one of the MOST important kitchen tips I can share with you and is literally life-changing.
Second, slice your onion in half, bisecting the stem and root ends. It is important that you go in this direction. Think of the stem end as a little handle. You'll be using it later.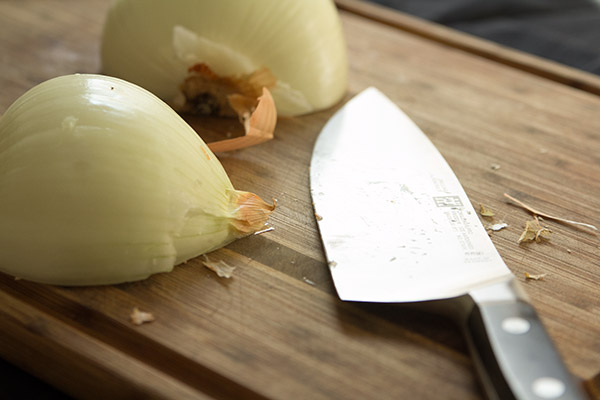 Peel the skin off your onion. Don't worry about being perfect and only getting the paper off. I peel off the whole first layer of the onion and freeze it to use in stock later.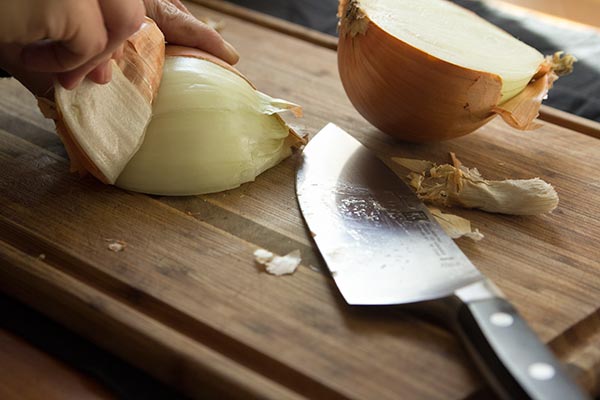 Cut one end off of your onion. I tend to leave the stem-end, but you may prefer to leave the root.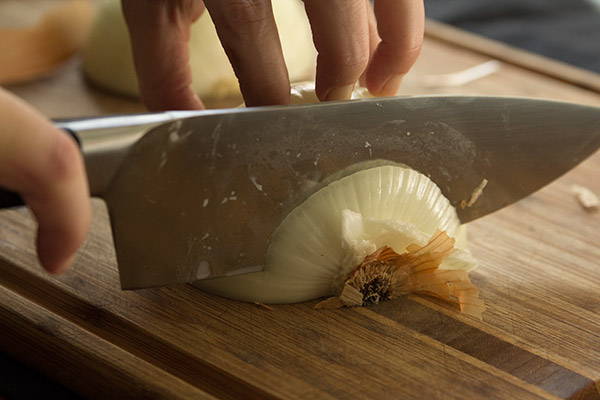 Slice into your onion with your knife angled slightly towards the center.  You don't want to go all the way through to the back of the onion. Leave about a half inch- this keeps the onion steady. The distance between these cuts will determine the size of your dice.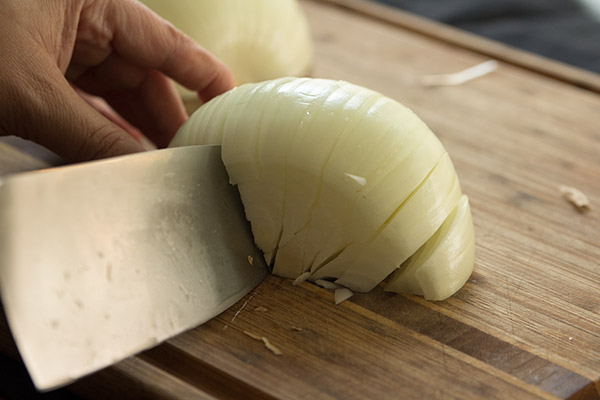 Turn your onion, and cut down crossways  to create a perfect dice. Repeat until you reach the stem/root end of the onion!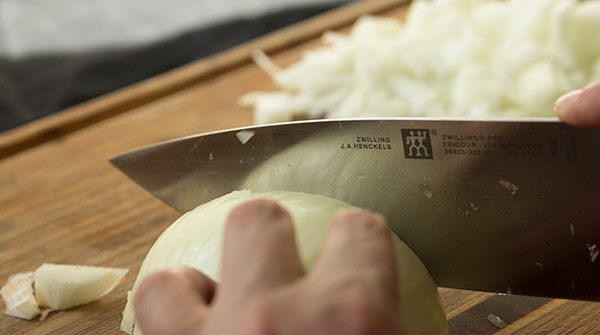 That's it! Now you know how to cut an onion, easily.