I'm Sabrina Modelle, the gluten free blogger at The Tomato Tart.
Writing, Recipes, & Photography
I am available for freelance recipe development, photography, and food writing. I love to work with magazines and with brands I believe in. I occasionally do sponsored posts with brands that are a good fit for the readers and followers of The Tomato Tart.
The Tomato Tart boasts an active and engaged audience on the blog and on social media channels. If you think we're a good fit, email me or head to my contact form. I'd love to hear about your ideas and I'll be happy to send on my media kit.

You can find my writing, recipes, and photography in some pretty cool places including:
Hannaford Fresh Magazine (Jan/Feb 2015)
California Avocado Commission
The Discovery Channel's Green Wine Guide
Mission Local
Eco Love Winery
Care2
Jerusalem Post
The Green Market Baking Book- By Laura C. Martin
Life By Design
By trade, I am a designer, branding expert, usability geek, and creative director for web projects. If you're looking to rebrand your blog or just do a refresh, I'd love to help you.
Speaking of helping bloggers with their brands, I am a seasoned speaker on the subject of branding, design, social media, gluten free living, and photography. I have spoken at conferences including BlogHer Food (Atlanta and Austin) and Foodbuzz Food Fest.
You can catch me speaking at Camp Blogaway in May, 2015. If you're looking for a fun, knowledgeable, and seasoned speaker for your conference, please reach out. I'd love to help.
A sampling of my work with bloggers: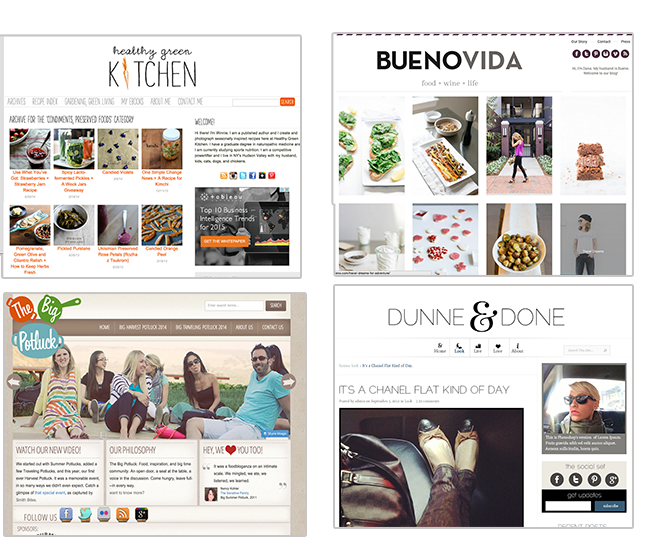 Healthy Green Kitchen • Bueno Vida • Dunne & Done • The Big Potluck
Got a project in mind? Contact me here or through email.